It was after ten in the morning when we returned to our room for refreshing. We were invited to a lunch reception on the last day of Maryada Mahotsav. Sri Gulabchand Samsukha hosted it for all VIPs who reached from all over India and abroad. The lunch reception was scheduled quite early at 10:30, as the Main Function started as usual at 12:15 at Taal Stadium. This planning was made to be sure that none of the invited had to go to the function with an empty stomach. Further this hospitable get-together was an opportunity to meet and talk to friends. So we wanted to be prepared for an afternoon with manifold activities, socially and spiritually.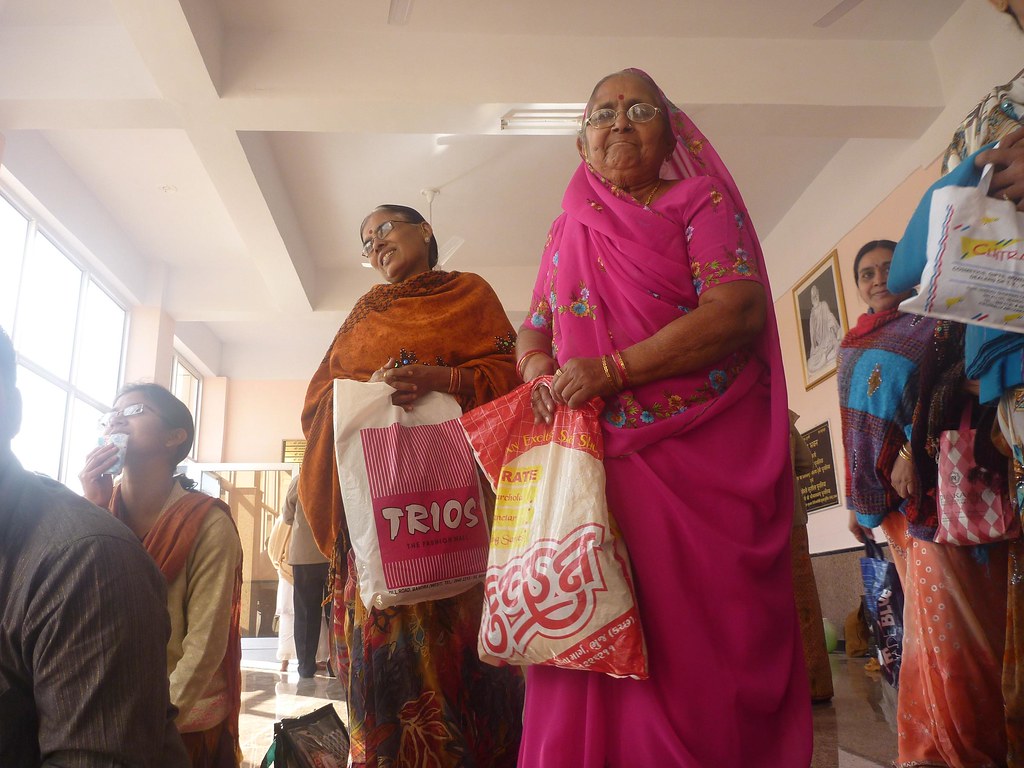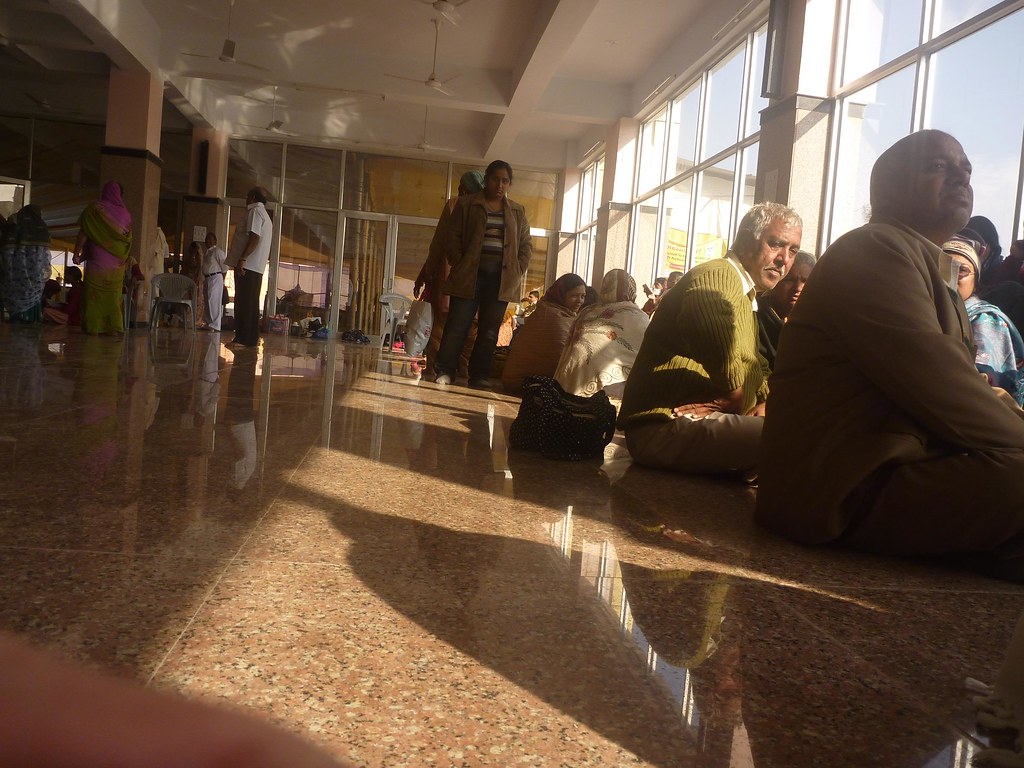 When we came down to the Main Hall again, the sun had succeeded in dispersing the morning fog. It looked like a promise for a nice warm day. For us, coming from –15°C, it was a bit like a sunny dream, and so we felt, activated, not very tired, only a little bit drowsy, but inspired by the mood. Many people had arrived in Terapanth Bhawan for this last day of the Festival of Rules, Maryada Mahotsav. The main hall of newly constructed Terapanth Bhawan was the meeting point for all this morning. Families and devotees were there to meet with former relatives, now ordained or to meet a Muni. Terapanth Bhawan was the location where the Munis were accommodated, as everybody knew.
Further it was the location to get the information when to start to be in time at Taal Stadium. Naturally there was also some nervousness in the attitude of some, hasty movements, ending up in looking disoriented and helpless. One likewise might find such coming and going in the main hall of a station.
But there was a difference. Unlike in the main hall of a station, people were paying attention to each other in a relaxed way, no stress was created, no fear to miss whatsoever. Instead those looking helpless for too long were noticed, which resulted in a kind offer to do support.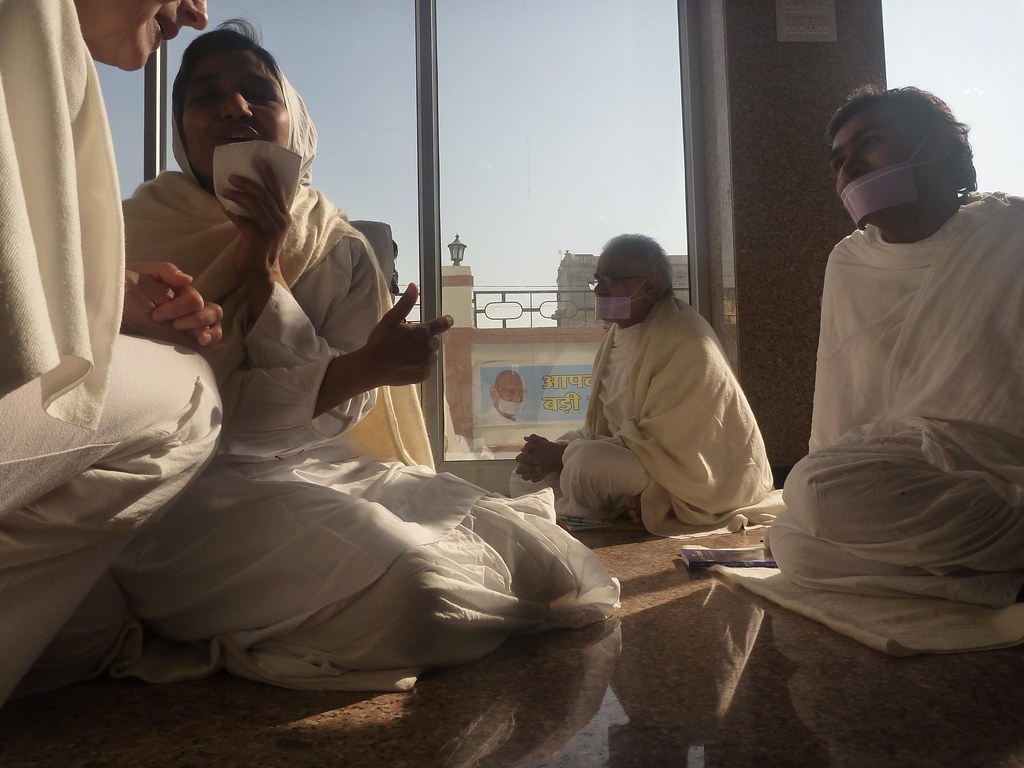 Samani Punya Pragya (l)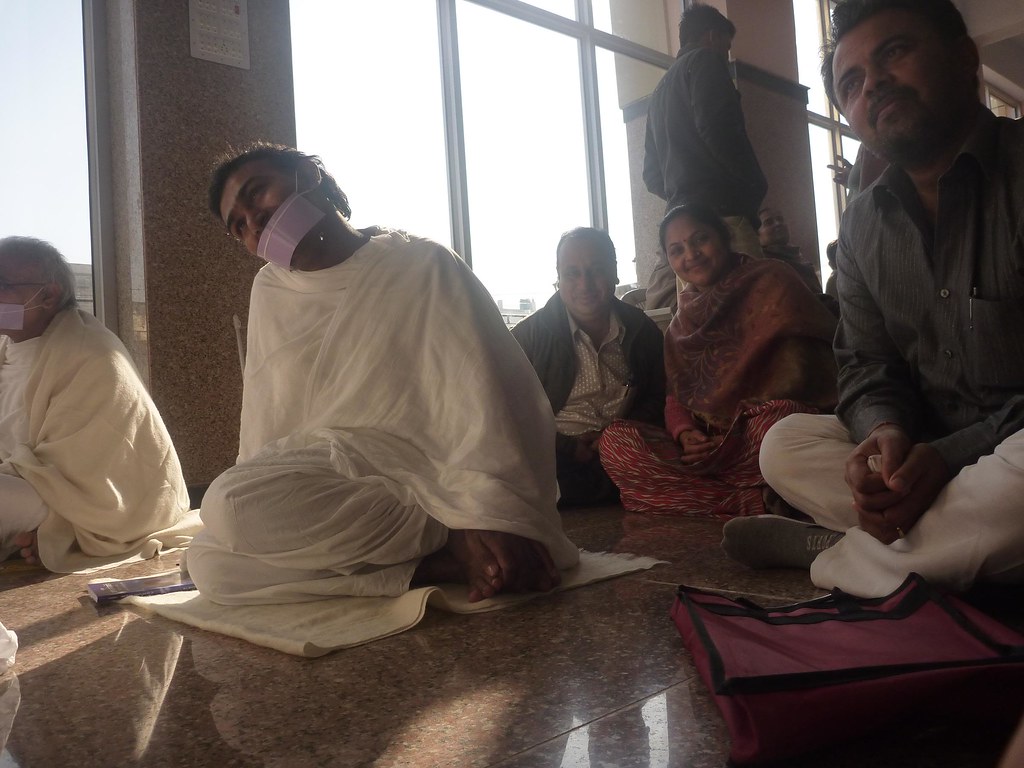 Suddenly I heart my name, softly called by a melodious voice, which was familiar to me. I turned and looked into the smiling face of Samani Punya Pragya ji who was sitting near a big window with a Muni who in worldly relations once was her cousin. It was a very cordial encounter, as we had not met for more than two years. When Samani Punya Pragya ji was in London, I had stayed with Samanijis at JVB London Centre several times. Since then we know each other quite well.
We promised to meet again, as for the moment both of us were busy. It was the start of many encounters with Munis, Sadhvis, Samans, and Samanis. More enlightened people in the small desert town Sri Dungargarh than in my hometown, the German capital! For me this was the outer manifestation of the spirit of Maryada Mahotsav, coming to a remote location and meeting those who had dedicated their lives to follow non-violence and non-possession. It seemed to me as if the remoteness of the location belonged to the ceremony of living a life of restrictions voluntarily accepted for a balanced spiritual and social life, as if such ceremony could not take place in the noisy bustle of the world.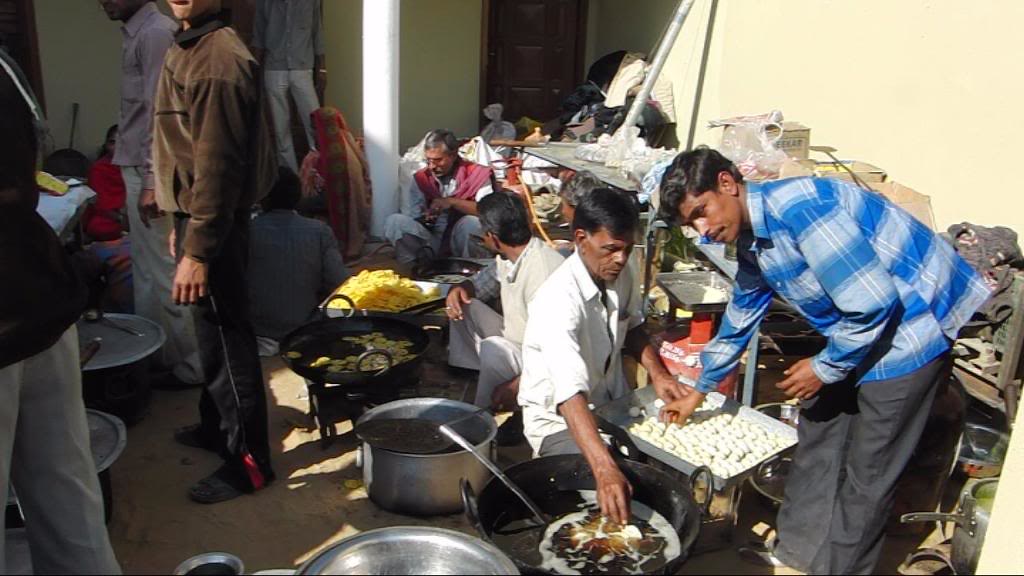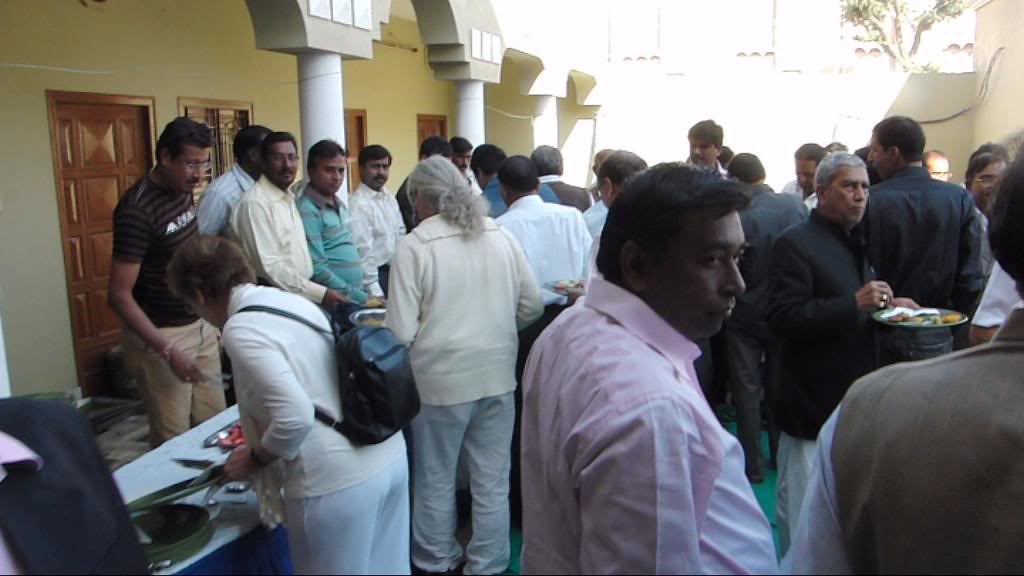 When I came to the social aspect of the ceremony, I noticed the one-sidedness of this impression. Traditionally an important member of the community hosts an official lunch reception for the lay followers. We came to a beautiful house, it was newly constructed or reconstructed. It was loud. People greeted each other from one end of the courtyard to the other. Plenty of food was offered. Servants busily prepared more items, happy for the opportunity of a job. Adults and youngsters, all male, worked on an area traditionally kept for women, the preparation of a meal. In their homes this would be unimaginable. But here it was nothing against what tradition so ever. Here it was a chance to earn. Incredible, wonderful India!
Where the women might have taken their meals? The majority of the hosts were gentlemen. The 3 ladies we saw were the wife and relatives of the host.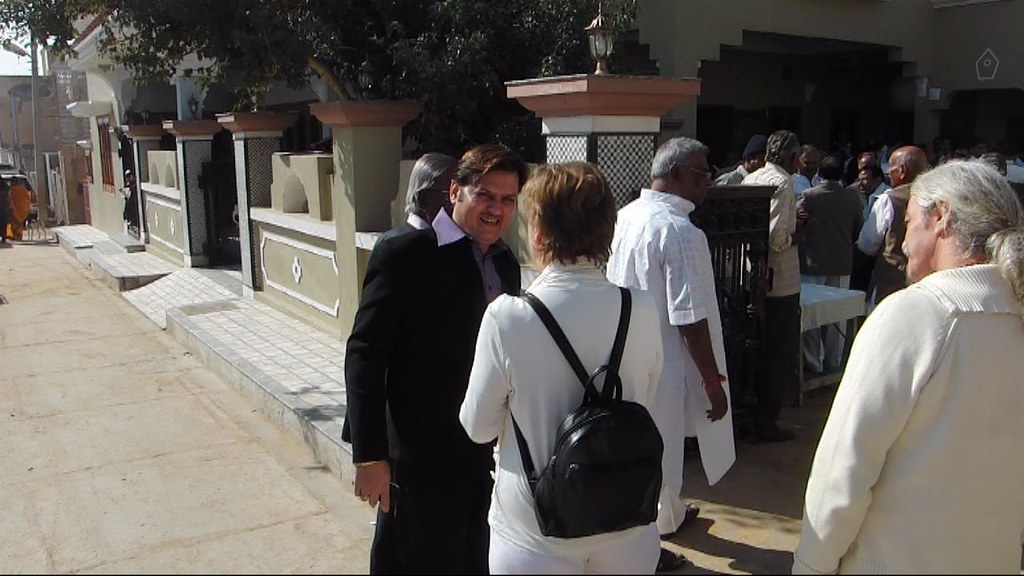 Dilip Bhadani (l), Karuna Jain, Conrad Zieme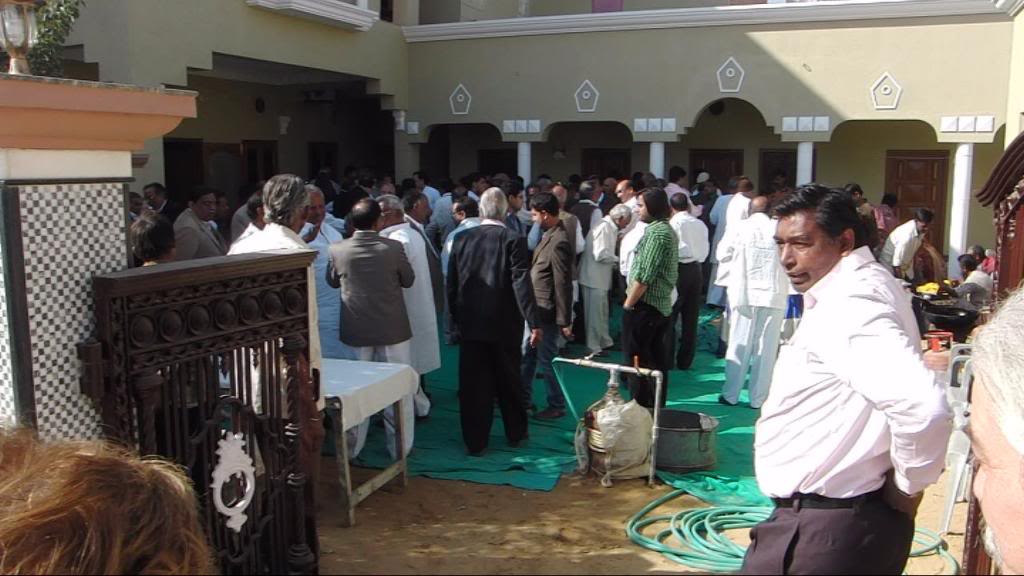 Mr. Sushil Bafana, HereNow4U Kolkata correspondent, in his home town
HereNow4U Kolkata correspondent Sushil Bafana had escorted us through the astonishing heavy traffic to Taal Stadium and showed us our place at the main function. Where to put the video camera, from where to take electricity, all for best coverage. Further our sitting arrangement in the first row in front of H.H. Acharyashree was fixed.
Then we went to Mr. Samsukha's house for the lunch reception. At the entrance Dilip Bhadani from Kolkata welcomed us. His father Mohanlalji also was among the guests. The Bhadani family had hosted us in Kolkata nearly three years ago. They already had invited us for lunch the next day.
Immediately after lunch we thanked the host and moved to the car. It was time to head towards the function. On the way to Taal Stadium we gave lift to Mr. Bhadani sen. and jun. whose house was on our way. Sushil Bafana guided us. He had made all the wonderful arrangements for us. For him this was a matter of course, as Sri Dungargarh is his native place.