"All Religions Amiability Rally"
Sarva Dharm Sadbhawna Rally

Sadhvi Kanak Shri's arrival in Mahasabha Bhawan, Kolkata for Chaturmas 2009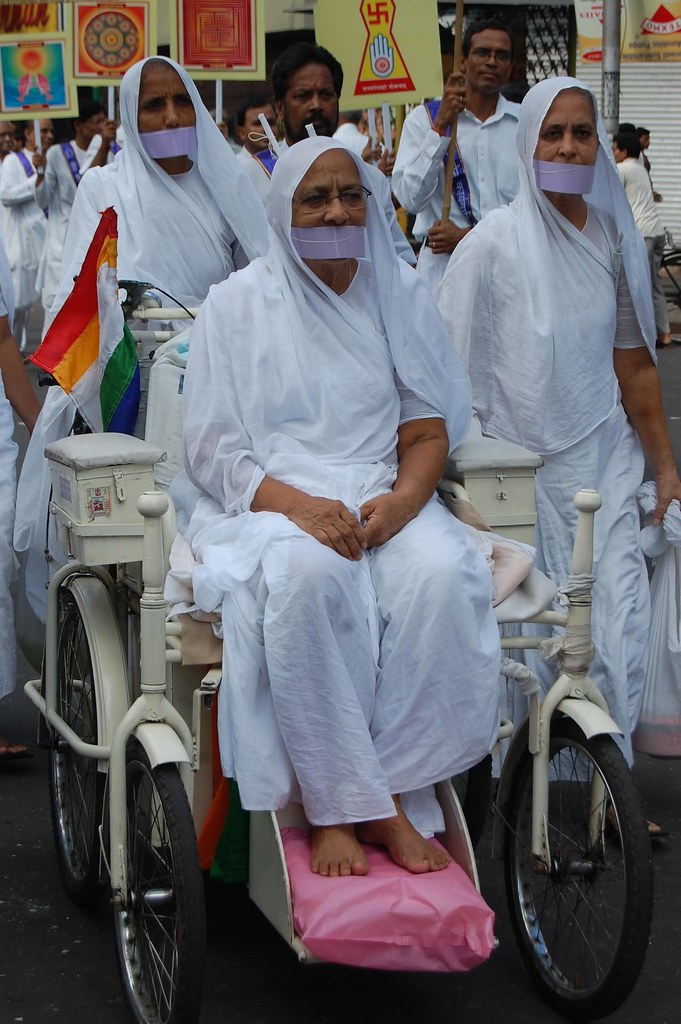 Sadhvi kanak shri
An "all religious amiability rally" was organized on the occasion of arrival of Sadhvi Kanakshriji at Mahasabha Bhawan, Kolkata from Gujrat Mansion at Bentick Street for Chaturmas for the year 2009 on Thursday 25th June, 2009, spreading the message of religion, spirituality and culture in various areas of Greater Kolkata along with Sadhvi Veenakumari ji, Sadhvi Madhulata ji, Sadhvi Madhulekha ji and Sadhvi Shanti Prabha ji.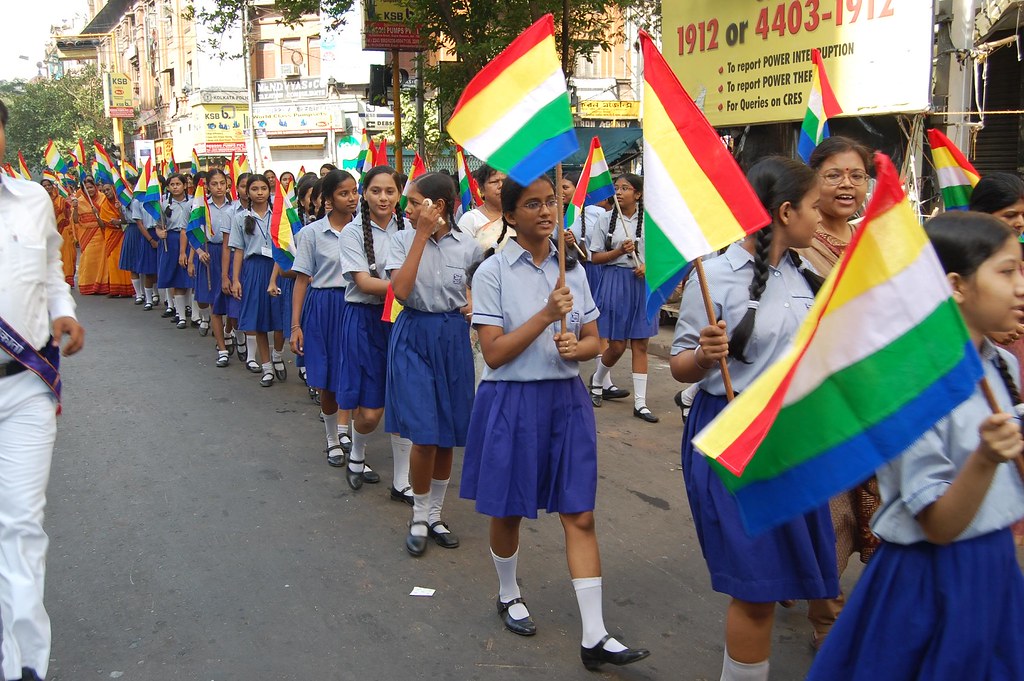 School girls in rally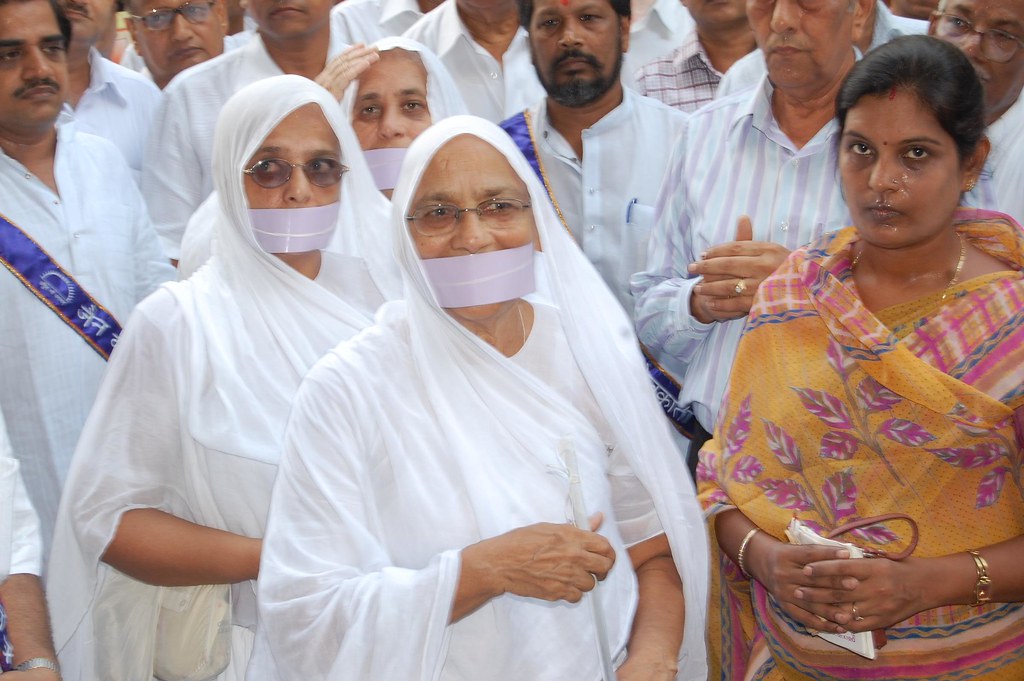 Sadhvi kanak shri and sunita jhanwar entering in mahasabha bhavan
Smt. Sunita Jhanwar (Local Municipal Councilor), Sri Binod Choraria (General Secretary, Mahasabha), Sri Karan Singh Nahata (President, Kolkata Sabha) Smt. Pratibha Kothari (President, Mahila Mandal) and other dignitaries and hundreds of lay followers welcomed Sadhvi Kananshriji at Mahasabha Bhawan.
| | |
| --- | --- |
| | Addressing the gathering, Sadhvi Kanakshri said - Saints do not belong to a particular sect., caste and community.  They always release music of amiability on the pyre of amity, love and compassion.  They propagate the value of culture and heritage in the market of distortion.  This effort converts people like 'Kansa' in graceful people and some one amongst them develops as pious soul and gets illuminated like God.  Illuminating the audience about spiritual upliftment, she said - when a Sadhak thinks about attachment and worldly materials, then the wisdom attaches with worldly pleasure. Where as when one gets company of saints and watches their austerity, penance, and practices the same then he is acquainted with their thinking, his prudence is penetrated and luck flows into him.  In the present context Sadhvishri ji said - India is a republic. Caste, creed, terrorism are enemies of its status. |
On the occasion, Sadhvi Madhulataji asked the lay followers to have time management and utilize the pious presence of Sadhvishri to get maximum advantage of spiritual enlightening.  She produced emotional songs.

Sri Karan Singh Nahata (President, SJST Sabha, and Kolkata) welcomed Sadhvishriji and her group of nuns and asked the lay followers to be alert in timely presence in all the programmers.  Sri Binod Choraria, Sri Surendra Dugar (president-south kolkata sabha), Sri Janwarilal Nahata (president-south Howrah sabha), Smt. Pratibha Kothari, Sri Jatan Lal Sethia (President, North Howrah Sabha), Sri Kuldip Manot (President, TYP) and the guest speaker from Surat Sri Deep Chand Sankhla also expressed their views.  Sri Deep Chand Sankhla who brought the message from his holiness Acharya Mahaprajnaji, Yuvacharyashri and Mahashramani Sadhvi Pramukha Kanak Prabhaji, read the same.

Male audience

Sri Narendra Kumar Manot, secretary of Kolkata Sabha, offered vote of thanks.  The rally began from Gujarat Mansion and was well co-ordinate by Jain Karyavahini. The lay followers were present mostly in white uniform, Mahila mandal members in their uniform. The procession was headed by Jain /terapanth flag in the front followed by students from Shree Jain Swetambar Terapanthi Vidyalaya.  The residents of Gujrat Mansion were overwhelmed with joy on the occasion, for getting this opportunity and pious presence of Sadhvishri for one day.
More photos from Rally: