Medhawi Chhatra Protsahan Karyashala
First Day: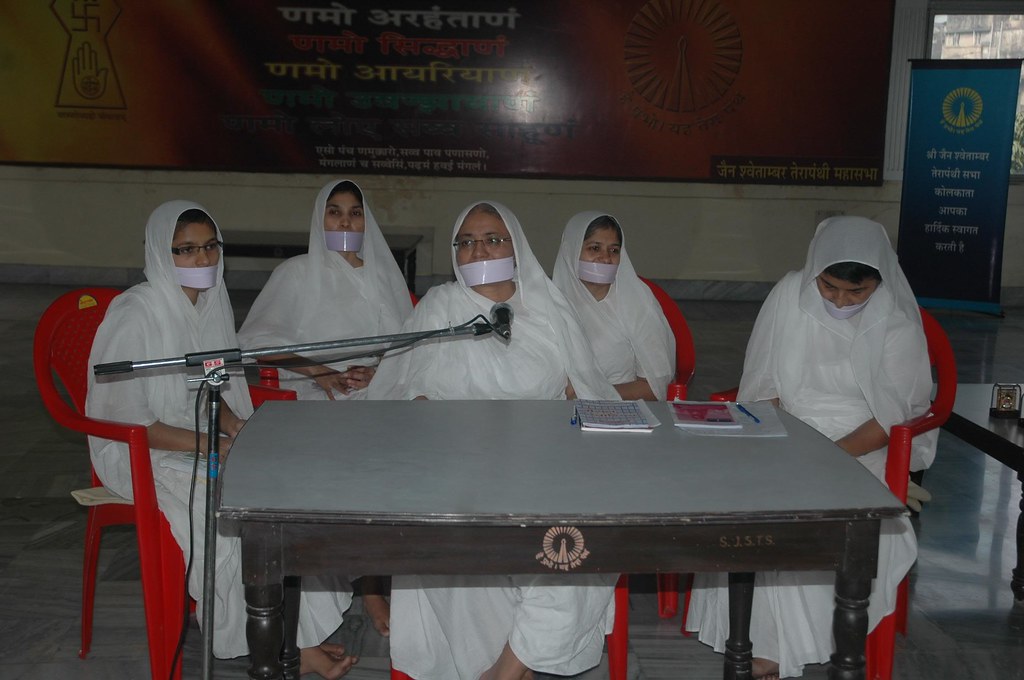 Sadhvi nirvanshree and her group
Inaugration Session:
The two-day workshop for encouragement of brilliant students was organized by Shri Jain Swetambar Terapanthi Sabha, Kolkata under the aegis of Terapanthi Mahasabha in the pious presence of Shadhvi Nirvanshree, a learned disciple of H.H. Acharya Shri Mahaprajnaji at Mahasabha Bhawan, Kolkata. On 13th and 14th Dec. 2008.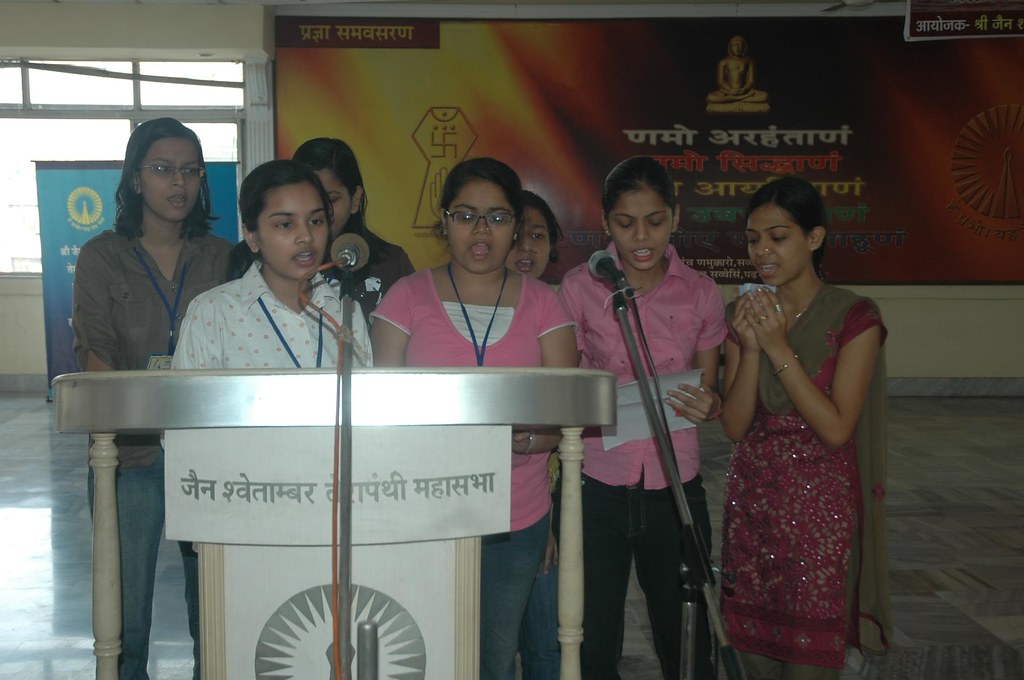 Participant girls presenting mangal song in starting of function
PARTICIPANT GIRLS PRESENTING MANGAL SONG IN STARTING OF FUNCTION

Sadhvi Nirvanshree inaugurated the workshop with chanting of namokar mahamantra.  Shri Karan Singh Nahata, President of Kolkata Terapanth Sabha explained the workings and welcomed all that were present. Sri Binod Kumar Choraria, general secretary of Mahasabha, informed about the plan of such workshops conducted by Mahasabha all over the country.
Sadhvi Yogkshemprabha, spoke on the topic of Talent & Competition - there is a direct relation between talent and competition. Some children are born with talent. While some with their intelligence polish their talent. Competition is born out of the need to always come first in the race against time. To achieve the top they have to decide the barometer of progress and move ahead with planned study, regular new findings and researches, and regular experiments, which increases their effectiveness of effort and efficiency. The one who keeps himself/herself away from excess greed and manages the tension, he is the one who moves ahead in the race.
Learned  Sadhvishri Nirvanshriji spoke on Physical & Mental Fitness - physical and mental fitness are the two basic components of a personality. For physical fitness, we need to practice yoga, pranayams and stay laborious. Without physical fitness it becomes difficult to compete in the race of life. Today most of the work is done by sitting in front of a computer or on a chair; thus, physical fitness becomes a matter of prime importance. For mental fitness we need to practice breathing techniques and meditation. Sadhivishri also taught the students the correct breathing technique.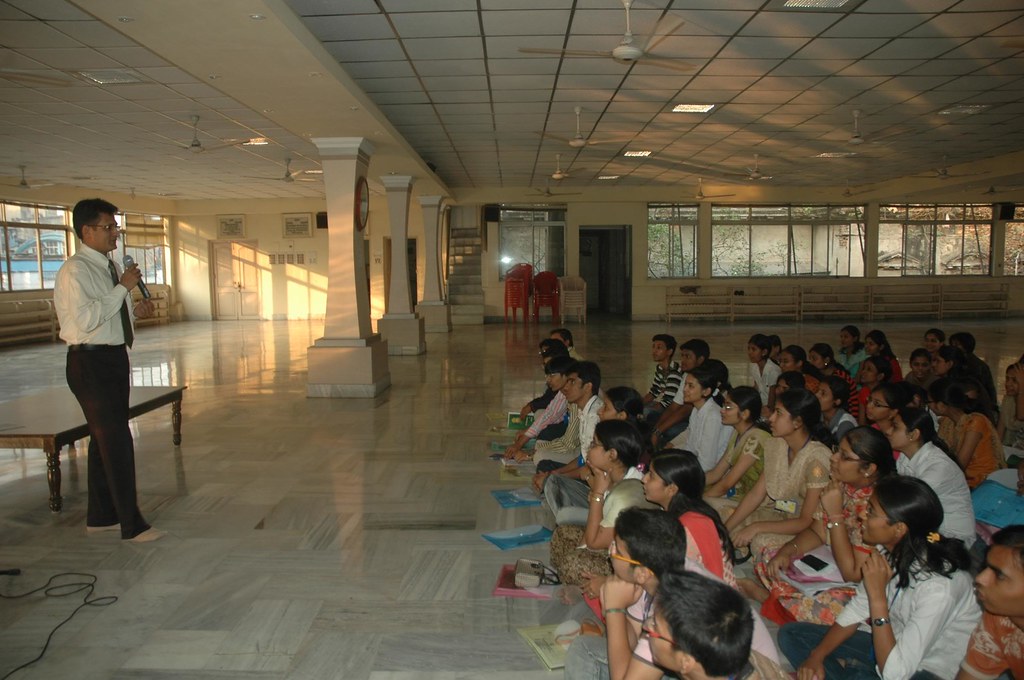 Dr. Raj sethia giving training to participants
Second Session:
Psychology expert Prof. Dr. Raj Sethia carried out this session. All the students were divided in 8 groups. He gave the students some practical problems to solve, which they performed really well.
Night Session:
In the night session the students presented their views on various social and national problems. All the seven groups presented their talent in a much defined way. Mahalchand Bhansali, the former president of Kolkata Terapanthi Sabha, carried out the thanksgiving procedure.
The students of all the three sections were awarded.  The convener Sri Pratap Singh Dugar compered all the three sessions
Second Day:
First Session:
The First Session of the Second Day started at 7.15 A.M. The participating students, with the help of meditation experienced self-satisfaction. Learned Sadhvishri oriented the students on meditation. Sadhvi Lavanyaprabha explained Kayotsarg and sadhvi Kundanyasha taught the ways of Yogic Kriya.
Second Session:
The Second Session started from 9.30 A.M. The participating students started the Session with the chorus song " Jaage Subh Sanskar". Shri Karan Singh Nahata, President and Shri Narendra Kumar Manot, secretary; expressed their gratitude. Shri Raj Sethia appreciated the Short Drama presented by the students without prior practice and also encouraged them. Mahavir group, Tulsi Group, Parshavnath Group and Rishabh Group respectively presented their views over corruption, misuses of a mobile phone, recession. Among the participating students, Dipika parakh, Neelam Dugar, Chandni Surana expressed their views.
Sadhvi Yogkshemprabha delivering her speech told, "Where there is life, there are challenges". The innocent and carefree path of childhood has led you to adolescence where the upcoming path is full of challenges. In this era of competition and ranking the test is to be able to provide basic needs to the family and only those who stand by their principles shall be able to pass this test of time. Loss of mental peace is another major problem and the solution is Prekshadhyan.
Sadhvishri Nirvanshriji talked on growth and its two important components - social and individual. Till now you were in quest of wanting something from the society. Now you have to broaden your thinking. Your personality is unique. You should use your personality for upliftment of society. The one who always asks from the society becomes its debtor. We should always remember to give and move forward. She also said, along with growth and up gradation of I.Q.; S.Q. i.e., Spiritual Quotient should also rise. Achievement in life lies in spiritual upliftment. If we have to become successful in life we will have to broaden our horizons and work. Sadhvishri encouraged the children to keep growing and to keep moving ahead towards the goal.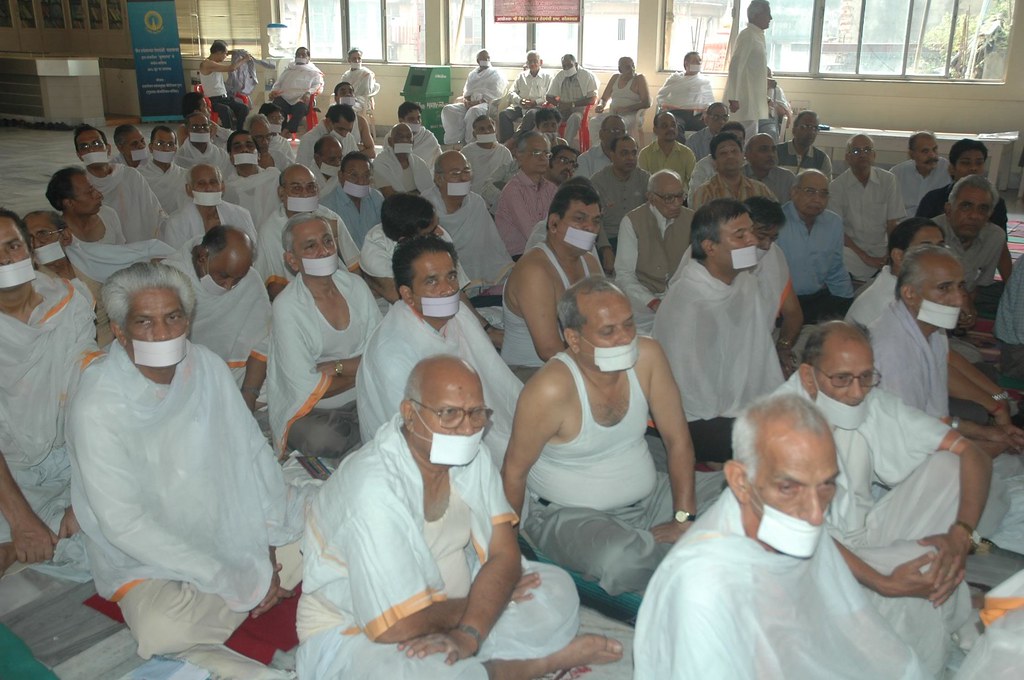 Audience
Of workshops.Sri, Pratap Dugar read the holy message received from HIS HOLINESS yuvacharyashree. The participating students were given the certificate of participation as well as momentos. On the encouragement of Sadhvi Dr. Yogshemprabhaji all, the students promised to prohibit any kind of addiction.

Sushil choraria presenting memento to binod kumar choraria
The gratitude proceeds were carried out by the Treasurer of Kolkata Sabha   Shri Sushil Choraria. Around 108 students registered for this event.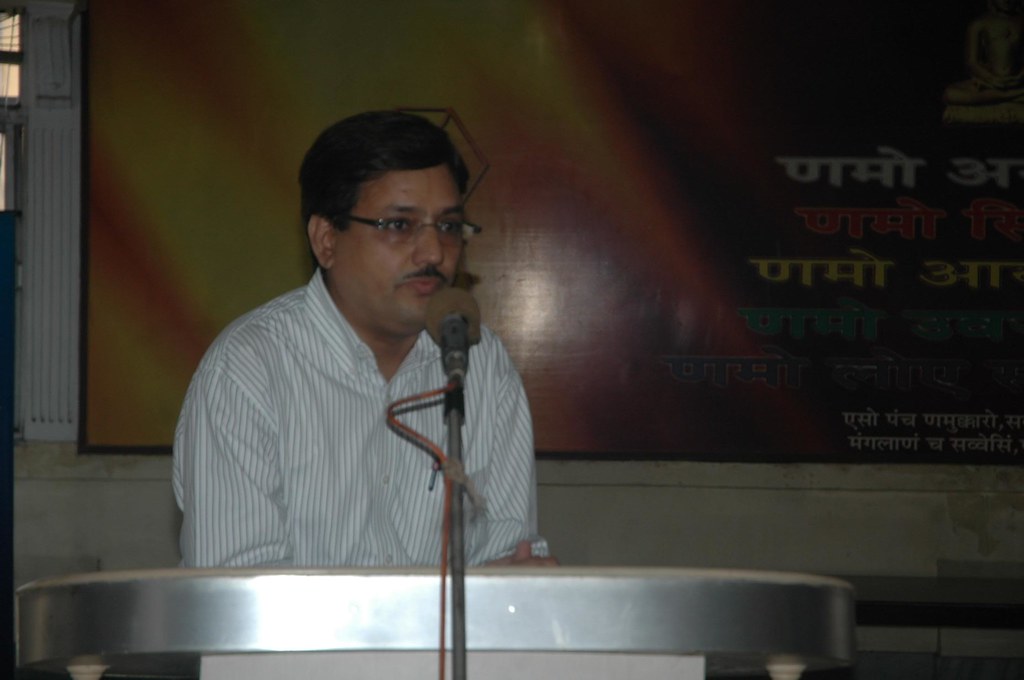 Sri pankajrai sethia compereing function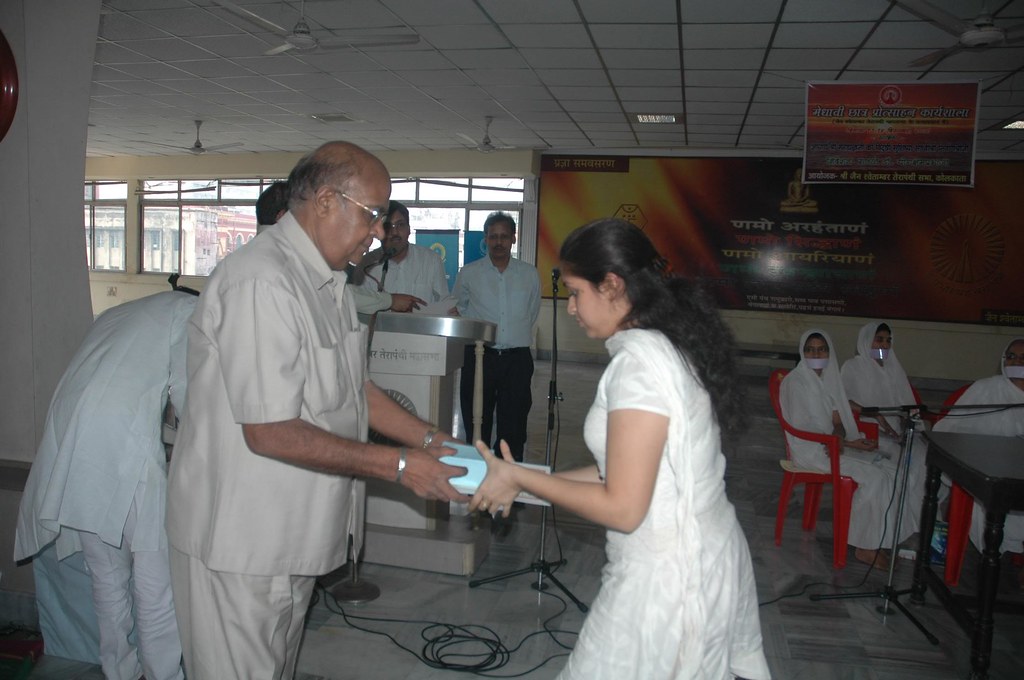 Sri malchand bhansali former president of kolkata sabha honouring brilliant studnets
The Programme was excellently convened by the convener Sri  Pankaj Ray Sethia.  He also expressed thanks to Sri Jatanlal Khemchand Rampuria family and Sri Shardul Singh Bhutoria for the assistance given by them in organizing this Programme and they were also honored by mementos..
Shri Rajkaran Sirohia, the former president of Mahasabha introduced the event and encouraged more and more people to participate in such type
On this occasion, the guests present Sri Pannalal Baid (president of Jaipur Terapanthi Sabha) and Smt Sobhag Devi Baid (president of Akhil Bhartiya Terapanth Mahila Mandal) expressed their encouraging remarks for the future generation present in the programme.