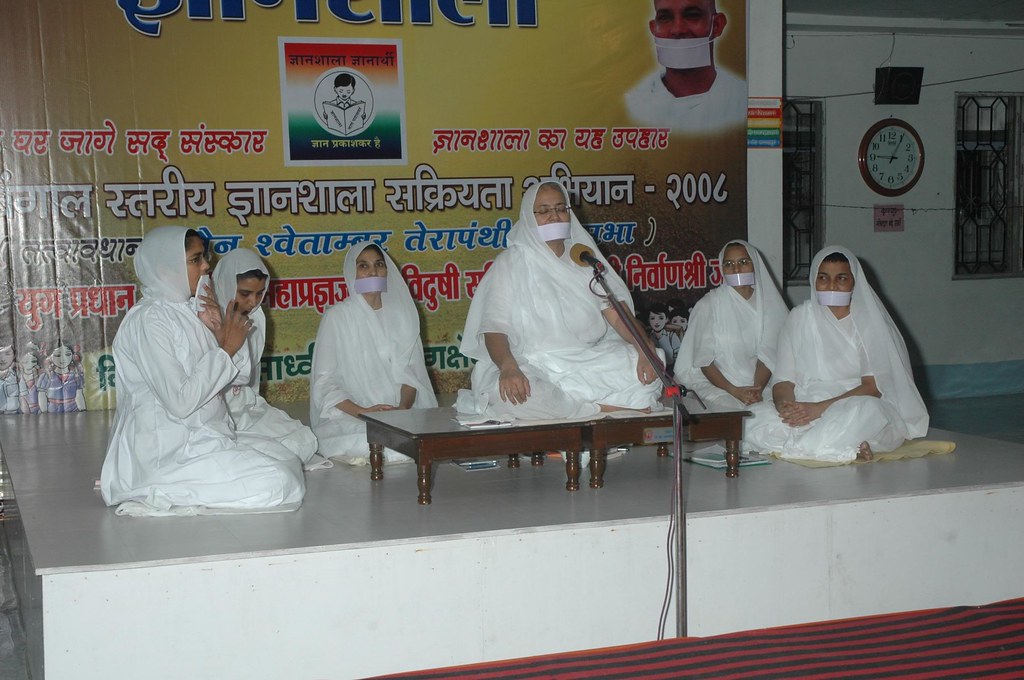 Sadhvi nirvanshree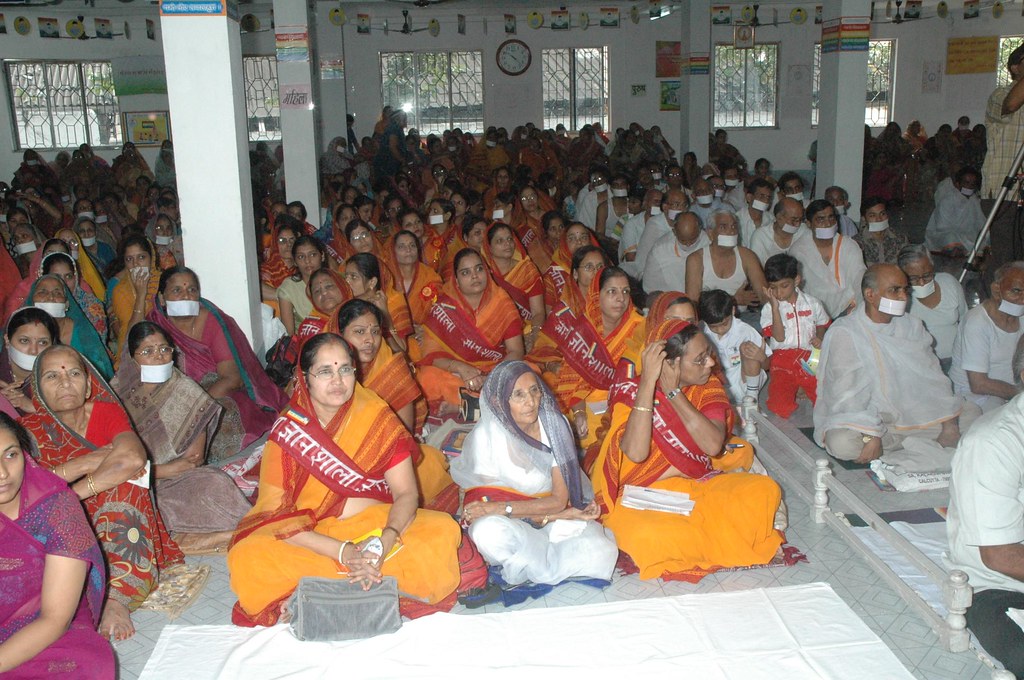 Gyanshala trainer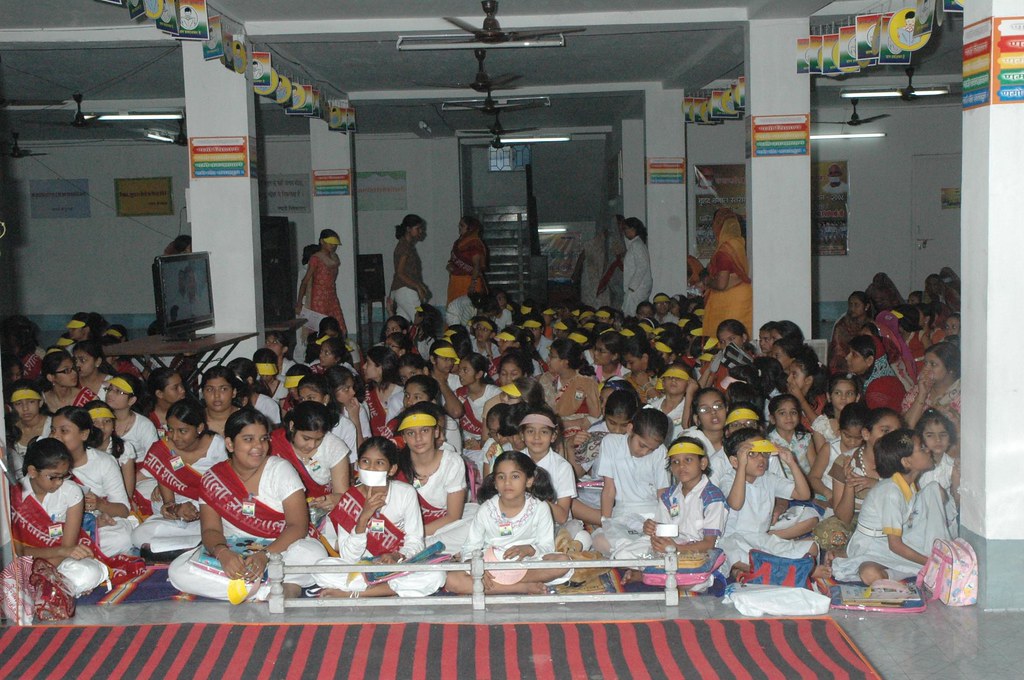 Boy gyanarthi using cap and girls gyanarthi using dupta
Addressing a large gathering of Gyanarthis (students), trainers, guardians and the general devouts on the occasion of All Bengal Gyanshala Effectiveness Campaign on Sunday,19.10.2008, Acharyashri Mahapragyaji's learned disciple Sadhvisri Nirvansriji delivered her inspiring message " In the intellectual era, Gyanshala has its own utility because it teaches the art of controlling emotions. Today there is tremendous improvement in the intellectuality of children. However, without controlling emotions, they will not be able to live a joyful life. Gyanshala imparts both experimental and practical training with equal importance. With the joint efforts of Gyanarthis, teachers, guardians and organizing bodies, we can achieve the desired result. For this, volunteers of organizing bodies are to approach each and every Terapanthi house. The day guardians will understand the necessity of spiritual training apart from swimming, dancing, music and painting, number of Gyanarthis will automatically increase."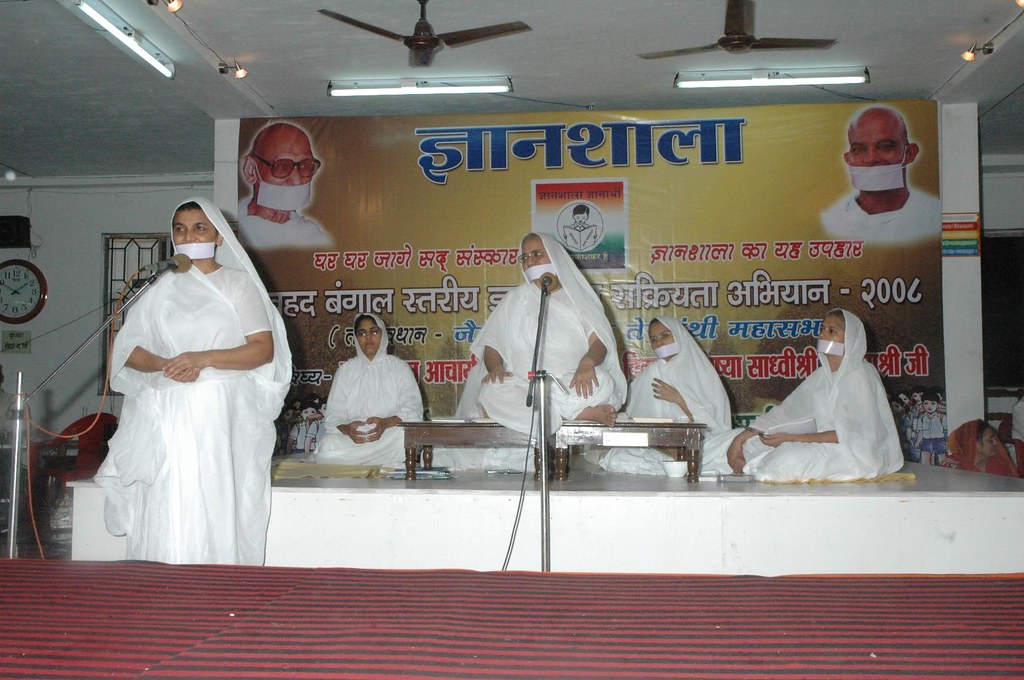 Sadhvi Dr. Yogkshem Prabhaji in her splendor speech said "Gyanshala is the school of perfection. Perfection at childhood makes the life happy and prosperous. Those children, who adopt the perfection since beginning, definitely show something unique in future. Devotion towards mother, Guru and the spiritual organisation (Sangh) is the mirror in which one can have a glimpse of his own bright shadow. Those children who do not have a feeling of respect towards their elders are dwarf even if they climb to the top of success. Guru (spiritual head) is the source of great energy which transmits to the soul of disciples." She further said " there is a tremendous increase in the number of Gyanarthis and Trainers with the inspiration of Sadhvisriji. We can see a new wave of awareness in whole Kolkata after organizing such grand events. To make the feel a permanent one, local Sabhas and committees are to make determined efforts."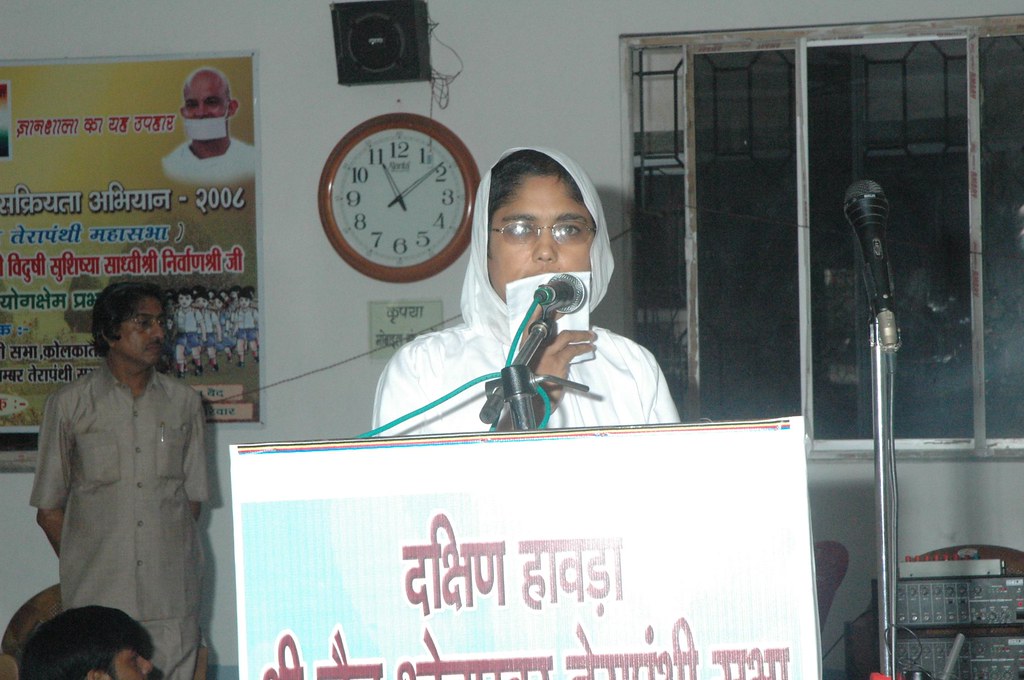 Samani pratibhaprajna shares some of her impression about maturity of children at abraod
Samani Nirdesika Pratibha Pragyaji expressed her sentiments by saying "I am pleased to see such a large number of Gyanarthis and trainers. This is the result of vigorous efforts made by Sadhvis and dedicated workforce of enthusiastic layperson." She expressed hope that such campaign will not be a mere event but will prove to be a milestone in itself."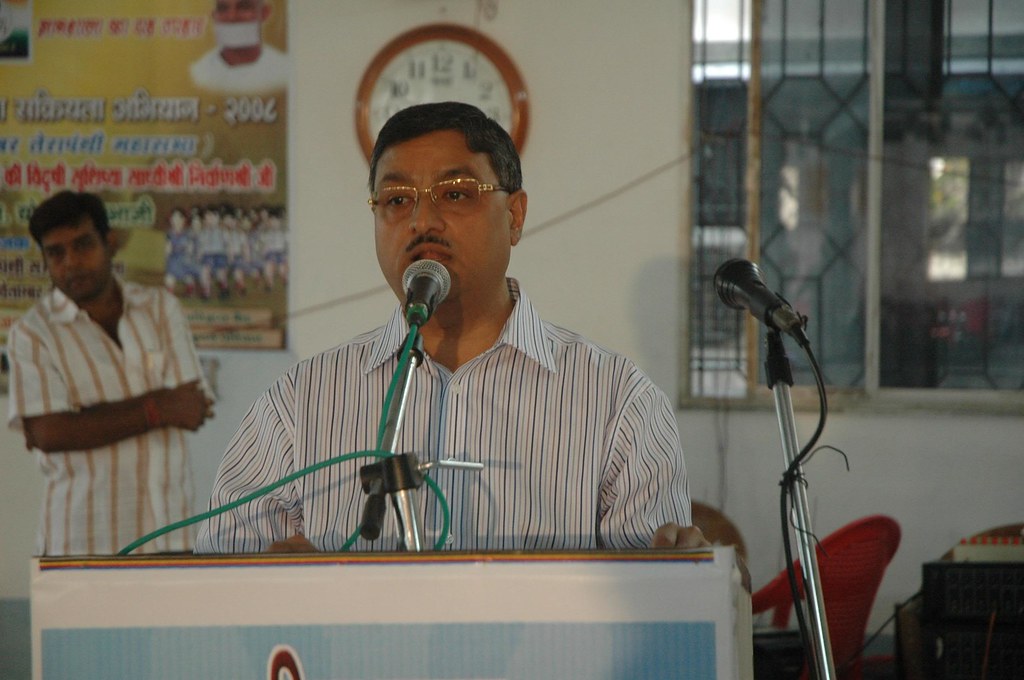 Sri chainrup cindaliya chief trustee of mahasabha who chaired function
The program was organised in the auspices of Jain Swetamber Terapanthi Mahasabha. Chief Trustee Sri Chainrup Chindalia spoke on the occasion " when I learnt the glorious history of our Spiritual Head Acharya Shri Mahapragyaji from the President of Chek Republic himself, I felt very proud of myself and our Dharma Sangh. I wish each and every child present here to become an ideal Gyanarthi and serve the family and Sangh in a true way."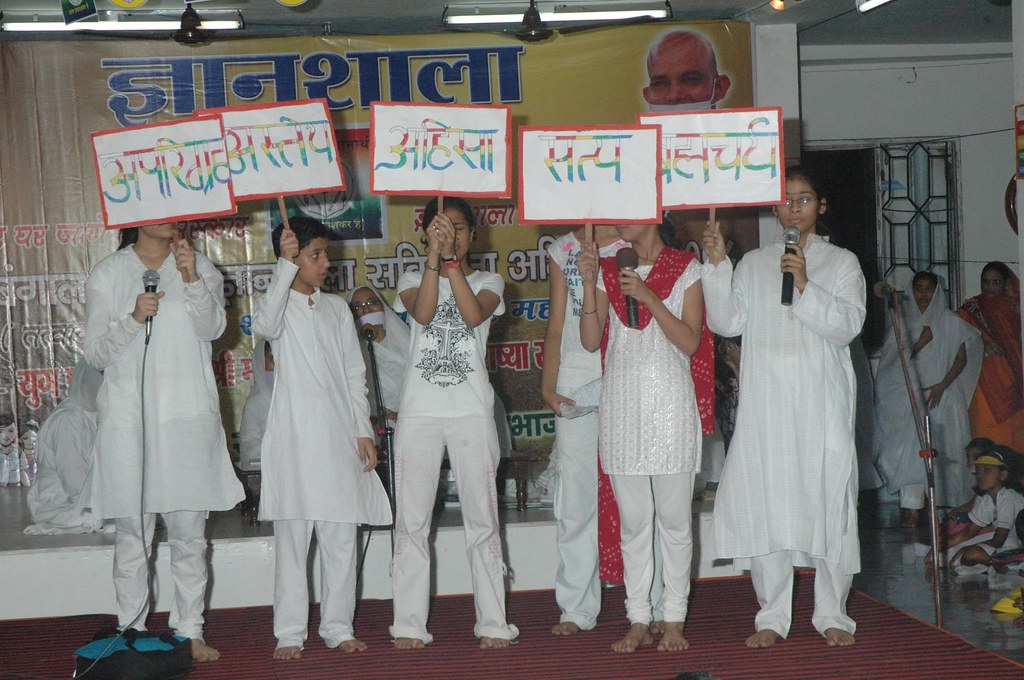 Gyanarthi displaying 5 great vows
Chief guest of the event, Sri Sohan Raj Chopra, National convener of Gyanshala division of mahasabha expressed his happiness and said "the smiling face of children proves that Gyanshala has become a necessity to their daily life. With this, the dream of Acharya Sri Tulsi has been accomplished to some extent. With the inspiration of Acharyasri and Yuvacharyasri and with the active participation of our different organizations, we are to reach our destination in a grand way. I express my sincere thanks to the volunteers of Kolkata for their zeal and efforts in this direction."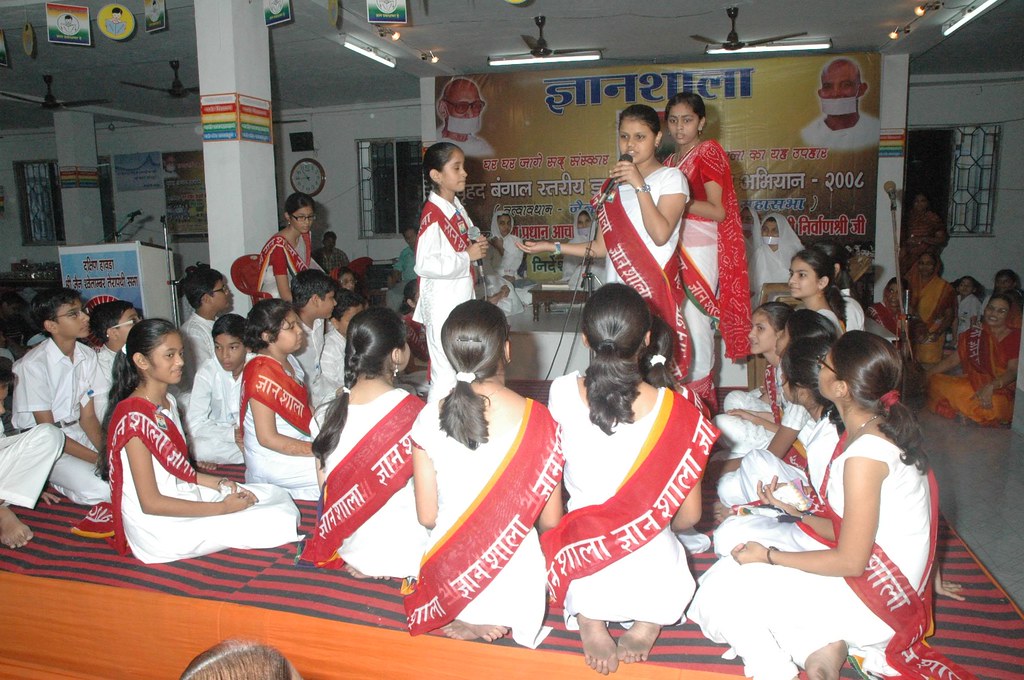 Presenting metaphysics (Pachis bol) In new way
General Secretary of Mahasabha Sri Vinod Choraria congratulated both Kolkata Sabha and South Howrah Sabha for organizing such a grand event and said "Today's event will create a new sense of energy among the children and parents. This enterprise of Mahasabha is the forum which shapes the future of each Gyanarthi. I appeal to each and every office bearer and the society in general to create awareness for Gyanshalas. Different cultural shows presented by various Gyanshalas are praise worthy.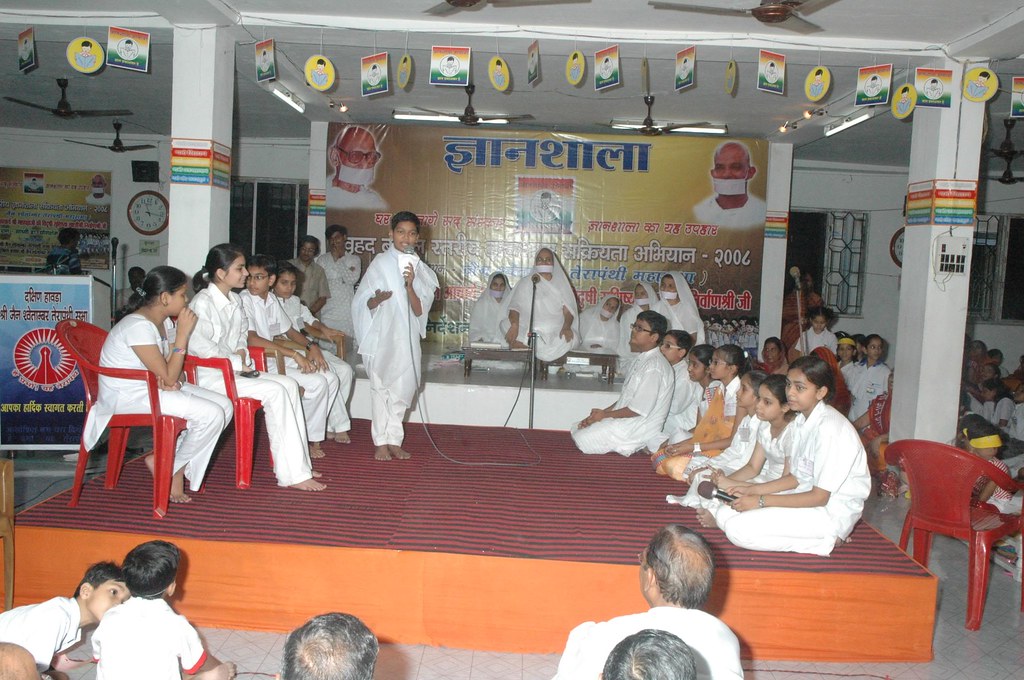 Vikas parishad and heads of different organisation telling their activity and trying to prove that they are best. But gyanshala activity was judged best and award given to mahasabha. ( Gyanarthi presented live vikas parishad)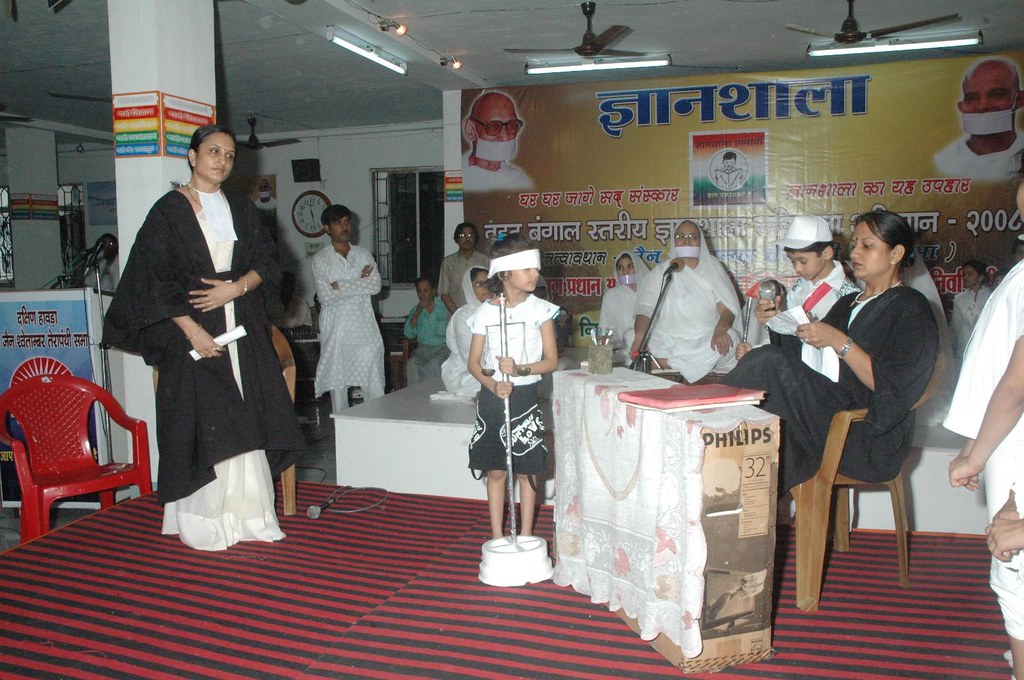 Ahimsa court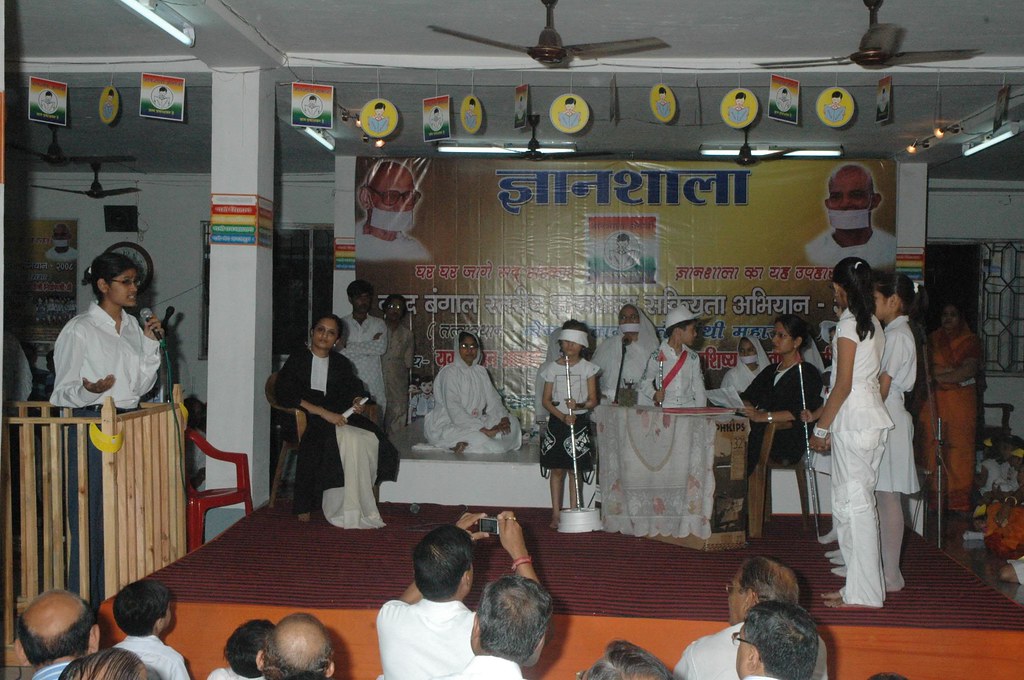 So they are keeping authority of mahasabha and gyanshala deparment to witness box
The mega event started at 9 AM and continued till 3 PM with the participation of Siliguri and Alipurduar Gyanshalas apart from 21 local Gyanshalas. The grand hall of Ahimsa Nilayam looked very attractive with the presence of about 500 Gyanarthis, hundreds of Trainers and thousands of parents and general audience. Each Gyanshala gave wonderful presentation. For some presentations, it was really difficult for judges to reach to the final conclusion. Among the 15 presentations, Best of all award, Ahinsa Adalat, Tatvagyan ke Darpan mein, Preksha Se Parivartan etc. gained laurels from the public. South Howrah Sabha's two Gyanshalas gained first and second best Gyanshala award. It is pertinent to mention here that there are about 300 Gyanarthis in South Howrah with 6 Gyanshalas. Terapanth Bhavan, South Kolkata Gyanshala and Alipurduar Gyanshala came third. Sri Banechand Maloo and Dr. Manju Nahata were in role of judge.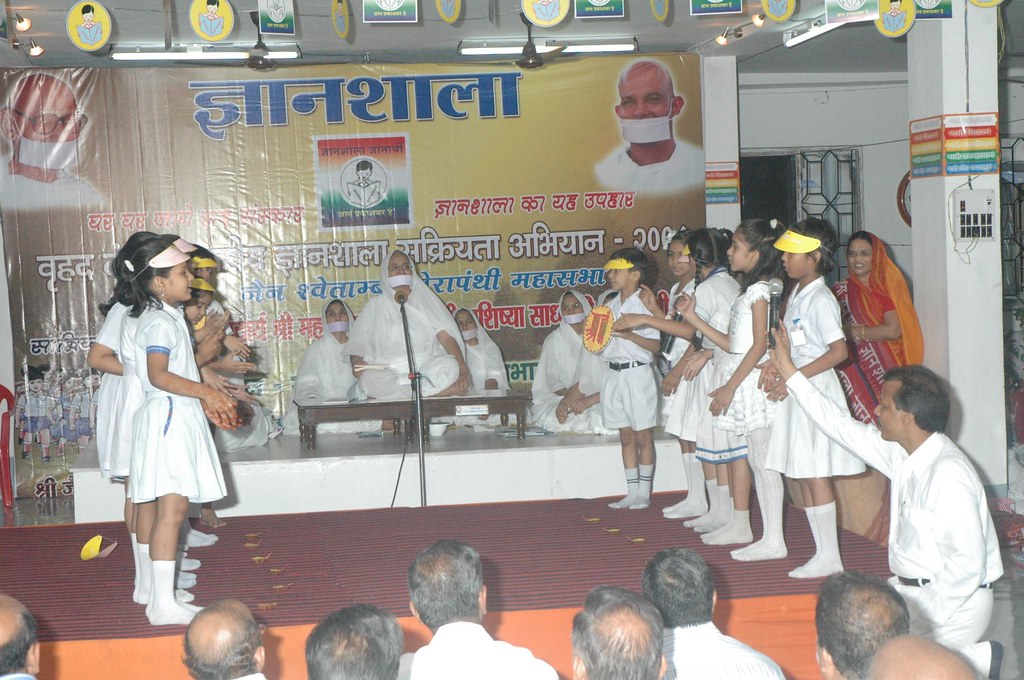 Gyanshala children of south howrah presenting arham vandana
The event begin with Arham Vandana recited by little children. All gathered were very happy to listen the pious message of Yuvacharyasriji on this occasion. 16 Gyanshalas participated in the Poster competition. Terapanth Bhavan, South Howrah and Shree Apartment, South Howrah came first and second in this competition whereas Dumdum Gyanshala also stood second. Third place was begged by North Howrah (Mukhram Kanoria)Gyanshala.
Sri nirmal nowlakha
Shri Nirmal Nolkha, national convener of Upasak Stream, Shri Mahavir Dugar, Shri Narendra Manot (secretary of kolkata sabha), Shri Malchand Bhansali (Vice-president of South Howrah Sabha), Shri Mahendra Kochar (Secretary of South Howrah Sabha) delivered speeches during the occasion. Shri Dalchand Sancheti, regional convener of Bengal-Bihar region was also present during the event. There was a selection of one best Gyanarthi and three best parents and trainers from each Gyanshala.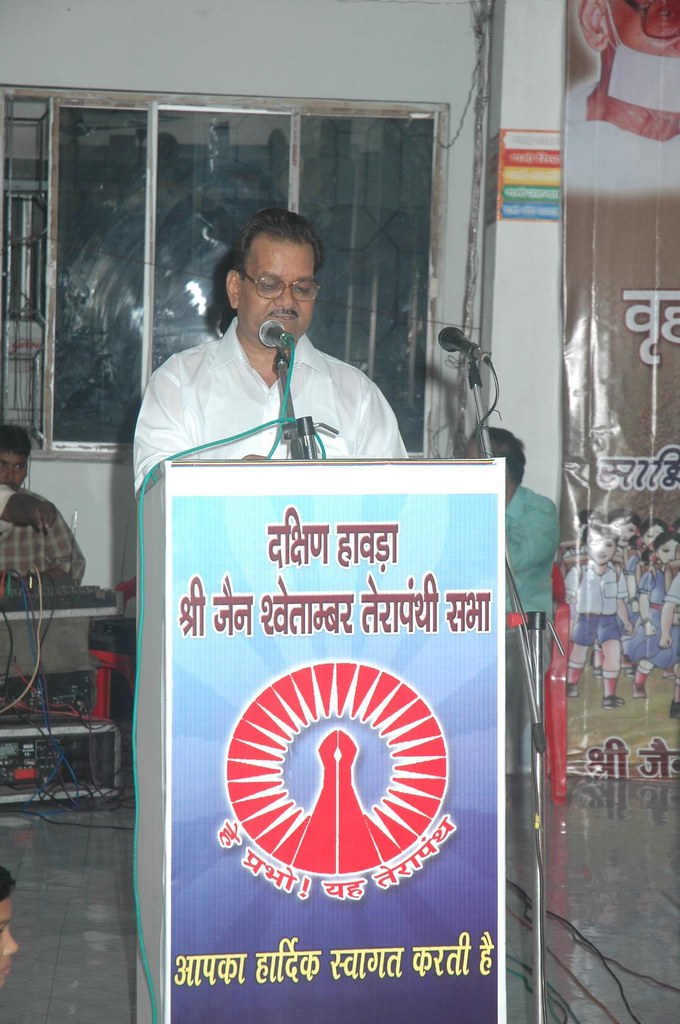 Welcome address by janwarilal nahata president, south howrha jain swetamber terapanthi sabha
Shri Jawarilal Nahata, president of South Howrah Sabha welcomed all guests and they were honoured by South Howrah Sabha. Vote of thanks was delivered by Shri Karan Singh Nahata, president of Kolkata Sabha.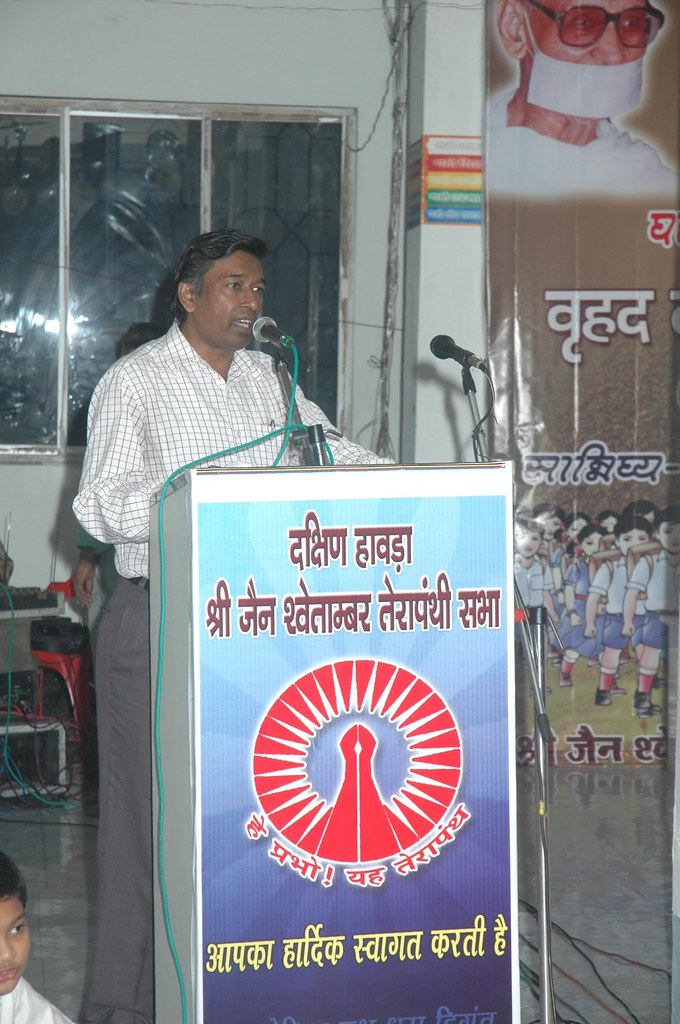 Sushil bafana compering function
 First session of the program was anchored by Shri Sushil Bafana. (Member central committee of Gyanshala) and the second session by Shri Nortanmal Barmecha in an excellent way.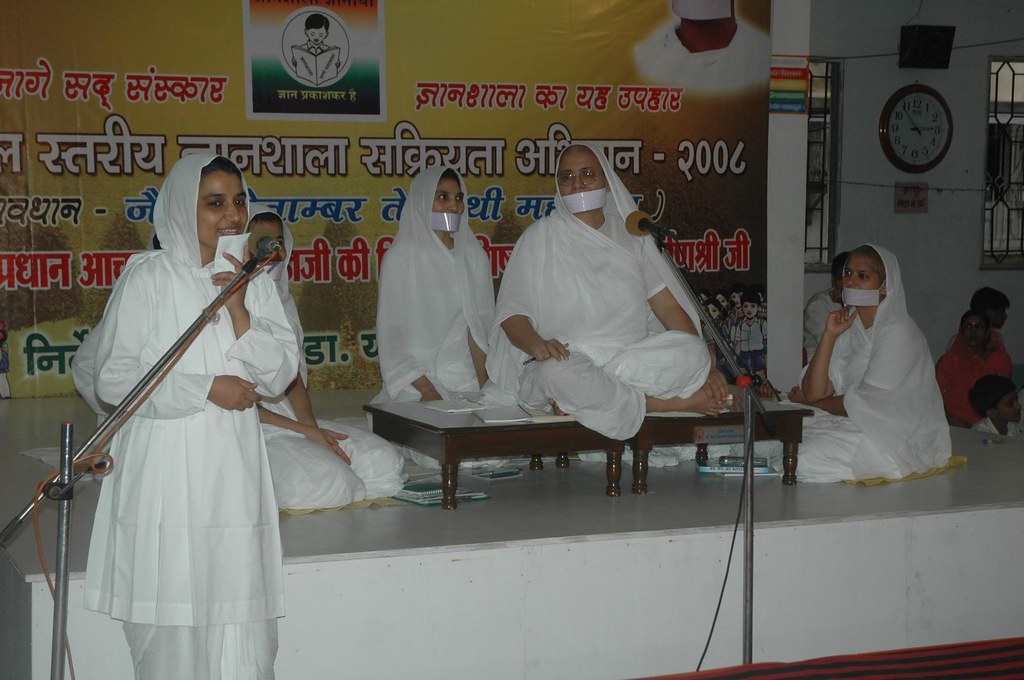 Samani punyaprajna--------and when she sings audience feel sweetness coming from her voice
Melodious song by Samani Punya Pragya ji towards the end of the program added new dimension. The event concluded with full vigor and grandeur. To make the event a grand success, efforts of children, trainers, executives and volunteers are noteworthy.