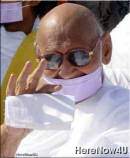 Deccan Herald

The mind is like the hair in the shadow. The more we try to control it, the more does it evade us. When we try toss stop the mental processes, they become more active.
Thousands of people tried to control the mind but failed to do so. Even the psychologists are of the opinion that the mind cannot be stabilised for more than five minutes. The Acharyas of Yoga have, however, found a method of controlling the mind. Breath is the means of controlling the fickleness of the mind. By controlling breath, you can control the mind. The is why we have taken breath as the basis of our exercises. Breath travels outside the body as well as inside it. It is like a lamp which illumines the somatic as well as extra spasmodic atmosphere in the midst of which man lives. Let us become introverts. That is the essence of spirituality.
Now let us consider the question of energising the body. Every object of the world, whether small or big, contains energy. There is no substance which does not possess energy, and a thing which does not possess energy cannot be called a substance.
Philosophers have discussed the nature of sat (that which exists) and asat (that which does not exist). Asat is that which has no activity. Sat is that which has activity. There are two terms, vrksa-kusuma (a flower on the tree) and akasa kusuma (a flower in the sky). The first is a real object while the second is a thing of imagination. The flower on the tree is real because it has activity whereas the flower in the sky is unreal because it has no activity. Is energy the characteristic of living beings also?
That which has energy as well as consciousness is called a living being. Atoms have energy but they do not posses consciousness. The soul has both energy and consciousness. Human beings combine in themselves both. We have feeling also an is the consequence of consciousness.
We have experiences and feeling and also energy. An atom has so much energy that, if it is split, it can burn the entire universe into ashes. The soul also has infinite energy. It has an infinitely larger concentration of energy than what the atomic particle contains. Consciousness is also infinite. The human being has a combination of both in him. Man who possesses such a fantastic store of energy can work wonder, not to speak of leading a truly religious life or of controlling the mind which are the preliminaries of sadhana.
Our sadhana does not aim at controlling or arresting the mind but with doing away with the mind completely or with rendering the mind completely empty.