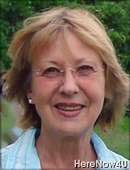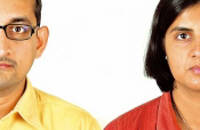 Visiting India in summer is an experience I until now had avoided. But when the invitation to participate in a Preksha Meditation Camp under the auspicious presence of H.H. Acharyashree reached us, I immediately felt that I should accept. As both of us were not free, I decided to go alone on this spiritual trip & informed our friends Shivani & Sanjeev Bothra on my plans. Shivani immediately responded with an invitation to stay with the family. About six months ago they had completed their new home. During our last meeting in November 2006, when the house existed in the minds of the family members only, they already had given a warm invitation to us.
Flight Berlin – Frankfurt – Delhi was booked on 24th June, I arrived on 25th June 03:45 as scheduled in Delhi. O wonder! One of the few exceptions to the rule of Air India flights from Frankfurt... By taxi I went to Adhyatma Sadhana Kendra. Based on former experiences, I precautionary had asked to not being received at the airport because of insecure schedule.
My first day in India I spent in Adhyatma Sadhana Kendra with Swami Dharmanandji who kindly had organised my train ticket to Jaipur for 26th June at 06:00, scheduled arrival in Jaipur at 10:45. As there was plenty of time next morning when we were on our way to the station, we took Darshan of Muni Sumermalji in Anuvrat Bhawan, which is very close to the station from where the trains to Jaipur are starting.
When the train started to move at 06:00 sharp, I happily looked forward to Preksha Meditation Camp (in Hindi!) and to meet with our friends Shivani & Sanjeev Bothra. The train arrived in time. On the station Shivani received me, whereas Sanjeev had to wait in the car due to some knee injury he got after trying to arrange something in a height he should have used a ladder, but thought a chair would do. Many of us are doing likewise, and I remembered the statistics of insurance companies saying that most accidents are happening at home. Sanjeev now had to receive again the ayurvedic bone specialist who already some years ago had treated him successfully.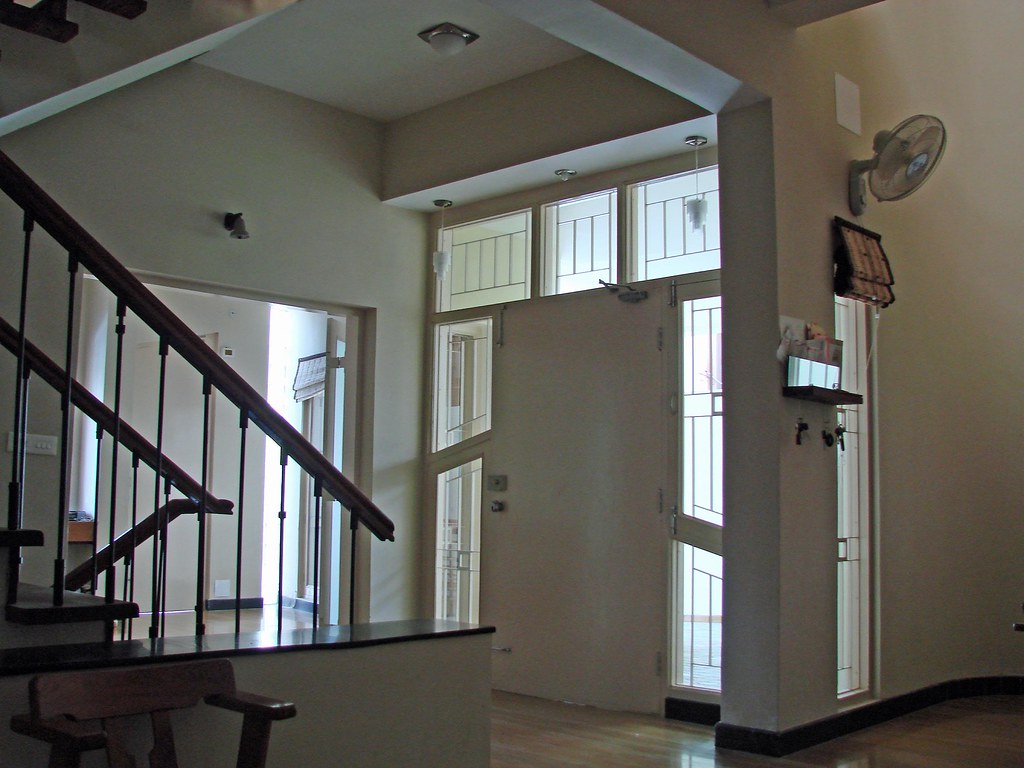 Entrance door with staircase
After dropping Sanjeev, Shivani & me headed to their new home. I really admired how competently Shivani was conducting the car in the midst of what I called by myself chaotic traffic. During the 3 weeks to come, I did not succeed to comprehend the rules – if any! – behind it, nevertheless people are driving very cautiously and treat all road users with equal respect, animals included.
In the house I met my now dear friends Premji & Vijoyji Bothra for the first time and immediately felt at home in this beautiful, extraordinary, but in no way flashy house, where all the details meticulously are designed according to the object's utility.
I was happy to hear that Shivani's mother Kanchanji also would participate in the Preksha Meditation Camp and we probably would be roommates if possible. These were good news, as I do not speak Hindi, and my understanding of it is limited to titbits only. Kanchanji was supposed to arrive the same afternoon from Kolkata. We coordinated all intended activities and decided to go to Anuvibha Bhawan after lunch, where I were supposed to stay while Shivani & Sanjeev would receive Kanchanji at the airport. This would enable all of us to realise our intentions and would give enough time to me for Darshan of H.H. Acharyashree & Munis & Sadhvis to whom I am familiar who are familiar to me. Further I thought to use the opportunity to meet with Dr. S. L. Gandhi whose office is located at Anuvibha Bhawan where Acharyashree and the Sangh are staying during their Jaipur Chaturmas.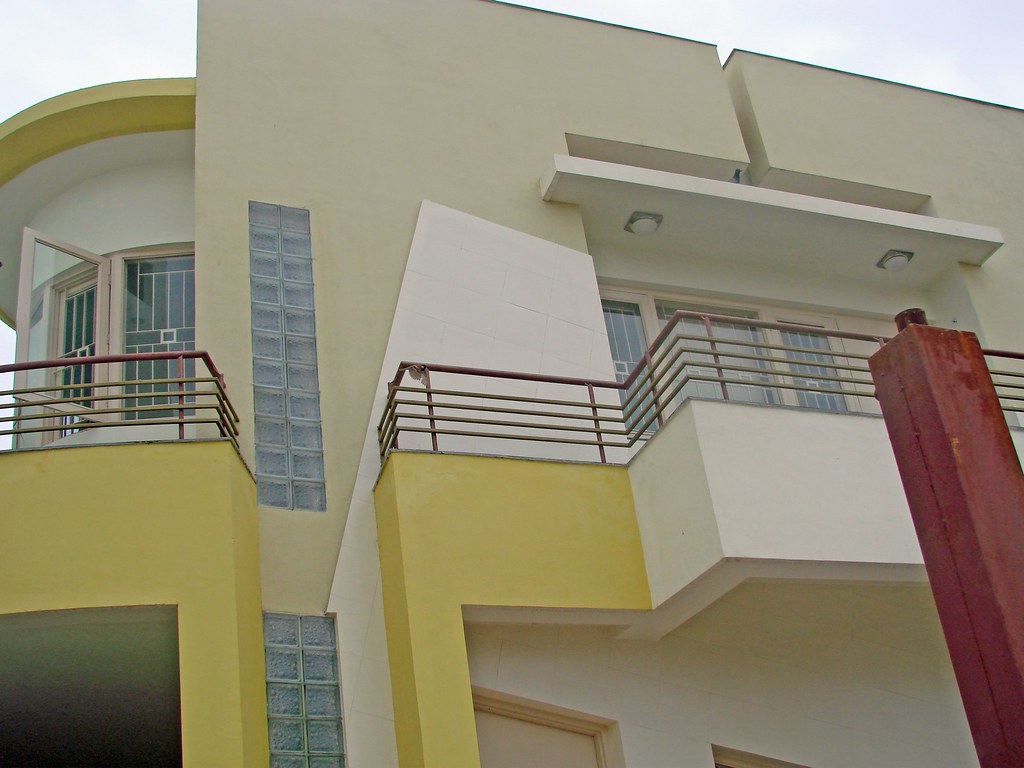 View from road side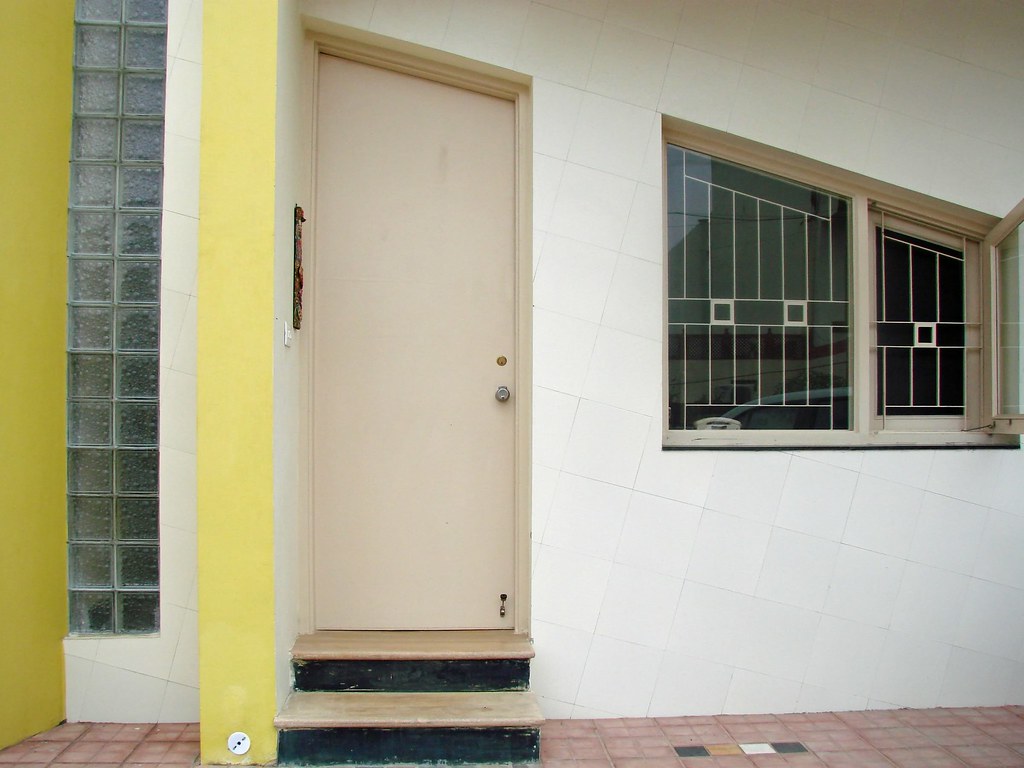 Entry for business visitors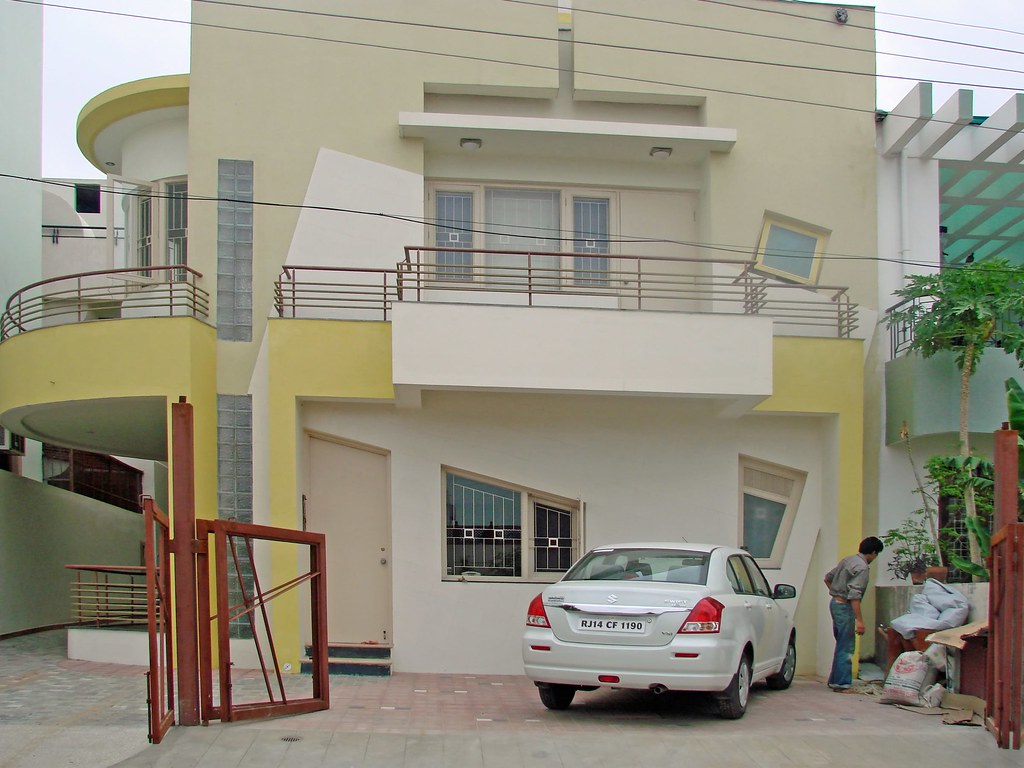 View from road side with open gates & neighbour houses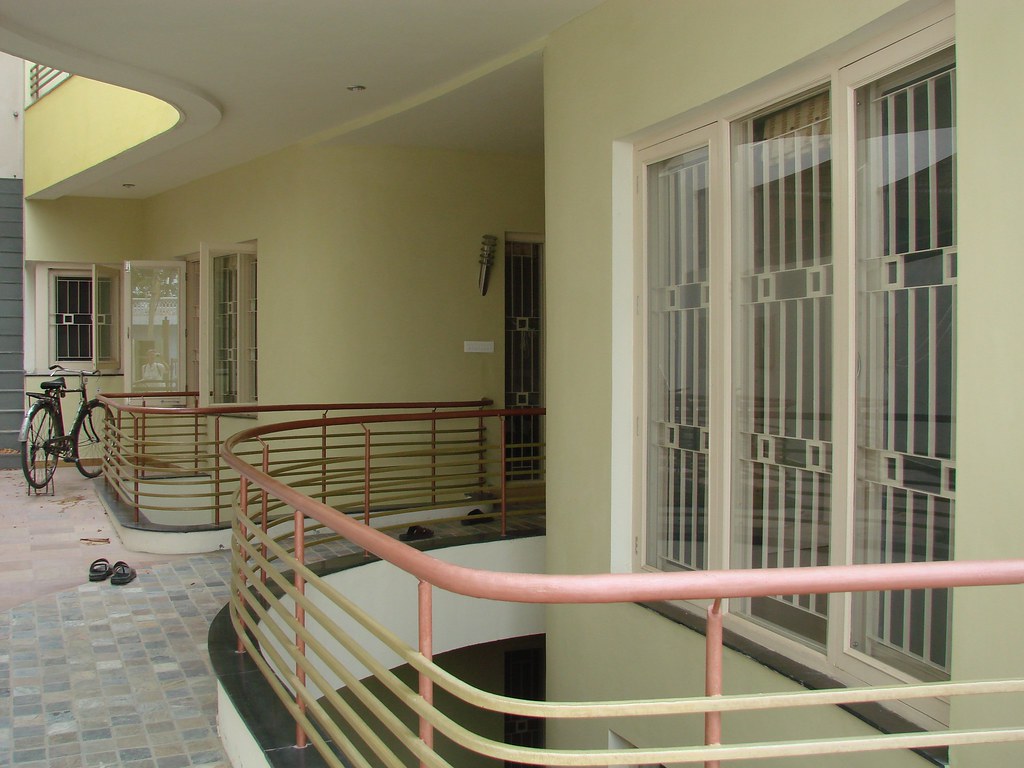 Entry area with view to the basement where Shivani's & Sanjeev's working places are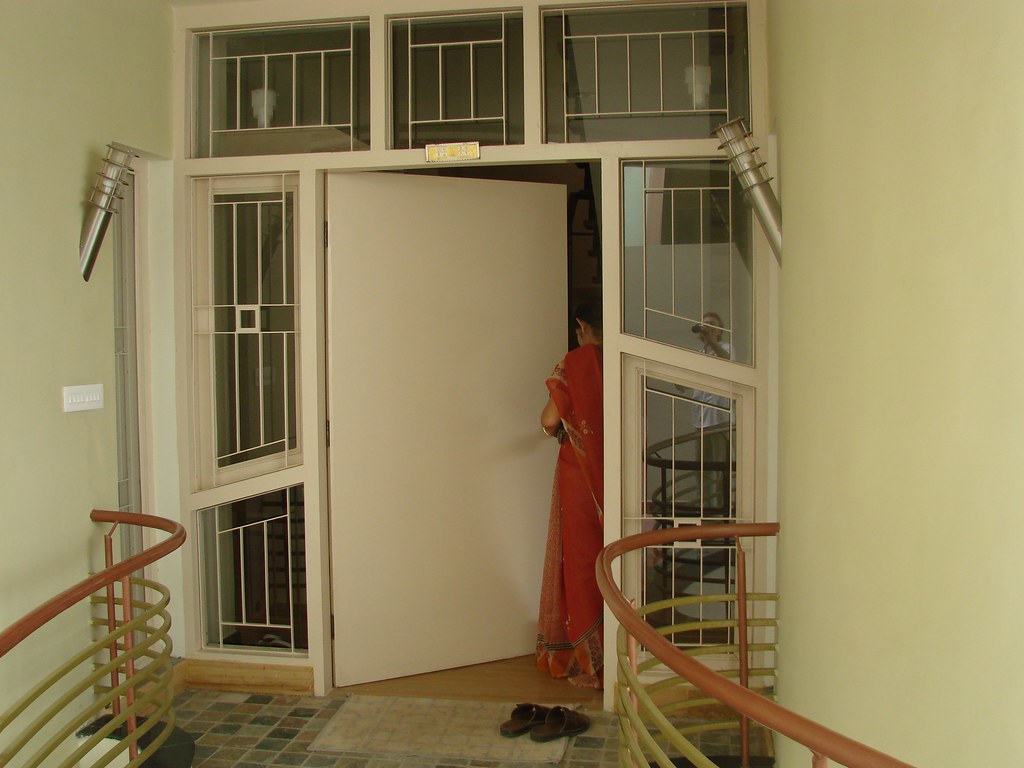 Entry to the living hall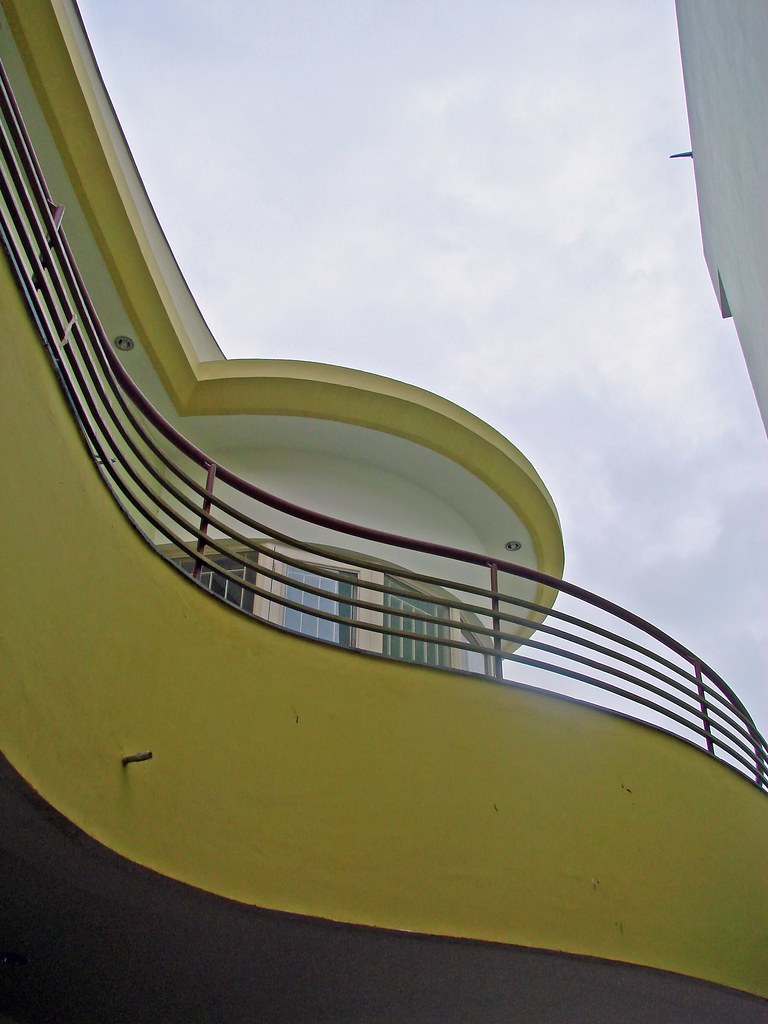 View to the library's rotund shaped balcony & outer wall seen from the entry area