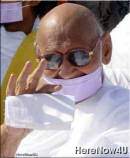 Saturday, May 10, 2008
Mahavir organised the world on the basis of relativity. He said that the streams of oneness and differences flow together. In this flow of coexistence, there is no space for the "either-you-or-I" thought.
Along with the acceptance of the idea that all men are one, there should also be the acceptance that each man is different. All men are one is a relative principle. Relative unity cannot exist without difference. Between men there are many differences in their nature, occupation and activities. On the basis of this, one man is different from another. This is the real acceptance of human unity and differences.
Mahavir explained the above principle from the perspective of religion. He said that in the human being, both oneness and differences co-exist and both are real. Therefore, they cannot become the basis of religion. If on the basis of oneness we love mankind, then can we hate them on the basis of differences? We hate people on the basis of differences only because we love them on the basis of oneness.
The attachment born out of this conflicting situation is not true spiritual attachment. The perception of the soul, which lies beyond oneness and differences, is religion. From this religious perspective, oneness among them means the end of hatred and conflict between them.
Mahavir explained oneness from the perception of religion but did not give any importance to tradition (sampraday). So, it is not important which tradition the person is ordained under. The measure would be how sincere, pure and free from passions he is.
Religion is the purity of the inner soul. Therefore, it is not bearing on caste, creed or ritualistic tradition. And yet the exterior form of religion presents itself in ritual and so caste gets associated with it.
Mahavir kept the door to his religion's domain open to people of all castes and creeds. He would never have imagined that his religion would get associated with any creed or caste and thus close its doors on some people.
We can present Mahavir's principle of oneness among men to the whole world. Non-possessiveness (aparigraha) is a significant principle of human oneness. This can be presented to the entire world as a lofty principle but the Jain society cannot be held as an example of this principle.