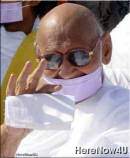 Saturday, February 16, 2008
Man is imperfect. As he is imperfect, he tries to make himself perfect through the acquisition of material objects. He is confronted with many problems -- suffering, unrest, poverty, etc. To tackle them, he wants other people's support. He looks around for shelter and refuge. He finds some support and refuge in the material world, but these are temporary assistance.
The truth is that shelter or refuge lies in one's own endeavour. One who is not fully acquainted with his own being cannot feel secure anywhere. Lord Mahavira said: "He who mistakes insecurity for security and security for insecurity goes astray." One's security, therefore, lies with oneself.
The practitioner of meditation is alert and awake. The man who visualises security in others seems to suffer from illusion. Everything, after all, cannot become a refuge.
A man holds on to his fortune, family, wife, son, friend, house, etc. He believes that someone or the other would provide him support. It is illusion. Religion says: "There is no refuge; let go your belief. Why accumulate attachment, delusion and sin for nothing? Just relinquish your hold. That's all. No need to escape from life."
When Valmiki saw this truth, he found salvation. When Anathi Muni realised that nobody was able to cure him of his disease, he turned his gaze inwards and saw that the eternal is beyond disease and death, and nothing could touch it. Emperor Shrenik said to him, "I shall be your master." Anathi Muni replied, "How can you be my master? You must first become a master of yourself. Right now you are a slave to the very people you call yourself master of. I have found the master -- within myself. When you, too, find the master, all your present state will dissolve and a new state shall come into being."
A thinker of Denmark observed: "You are genuinely worried when you feel that the ground has slipped from under your feet. This is the moment, which decides one's future. But if before that one has had no direct experience of truth, one generally renders one's future darksome. Even in the moment of surrendering one's body to death, one's consciousness hovers like a kite around one's own people and things; consequently, after death, one is reborn in the same old environment."
No wonder Gautam Buddha once exhorted, "Seek refuge in yourself."