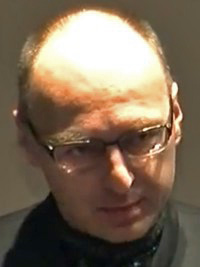 Lifetime
Born:
1964
Contact
E-Mail:
About
Piotr Balcerowicz (born 1964 [1] ) - orientalist , philosopher, cultural studies professor at the University of Warsaw and founder of the Association for Peace Education .
He was active in the Federation of Government Secondary School City of Toruń, founded in autumn 1980, occurring against indoctrination in schools that took part in the organization of self-education share.
In 1990 he graduated from the University of Warsaw on Oriental philology.
In 1992 he obtained a doctorate at the University of Hamburg, where he studied from 1992 to 1996.
Former member of the Committee of Orientalist Sciences of the Polish Academy of Sciences .
He taught in the Department of International Relations, Faculty of Humanities and Social Sciences in the School of Social Psychology in Warsaw and is a professor at the Faculty of Oriental University of Warsaw.
Since 2002, founder and CEO of the Association Education for Peace .
Academic Degrees:
MA in Cultural Studies / Oriental Studies (1990), University of Warsaw (Poland), recognised (1992) as equal to the MA degree of the Humboldt-Universität, Berlin (Germany).

MA thesis: The outline of the Jaina doctrine: the translation of chapters 1, 2, 5, 8 of the Tattvarthadhigama-sutra of Umasvamin and the commentary Tattvarthadhigama-bhasya of Umasvati.

PhD in Philosophy / Oriental Studies [Doktor der Philosophie] (1999), Universität Hamburg, Institut für Kultur und Geschichte Indiens und Tibets, Hamburg (Germany).

PhD thesis: Jaina Epistemology in Historical and Comparative Perspective: Critical Edition and English Translation of Logical-Epistemological Treatises: Nyayavatara, Nyayavatara-vivrti and Nyayavatara-tippana with Introduction and Notes — Dissertation zur Erlangung der Würde des Doktors der Philosophie der Universität Hamburg.

Published as: Volume I & II. Alt- und Neu-Indische Studien 53,1 & 53,2. Franz Steiner Verlag, Stuttgart 2001. XLI + 536 pages.

Habilitation (post-doctoral degree) in Eastern Philosophy / Oriental Studies (2005), Institute of Philosophy and Sociology, Polish Academy of Sciences, Warsaw, Poland

Habilitationsschrift: History of Classical Indian Philosophy. Part One: Beginnings, Analytical Trends and Philosophy of Nature. [Historia klasycznej filozofii indyjskiej. Część pierwsza: początki, nurty analityczne i filozofia przyrody]. Wydawnictwo Akademickie Dialog, Warszawa 2003. [488 pages, 165x235 mm; in Polish]. www.dialog.edu.com.pl/sklep.php?s=karta&id=251