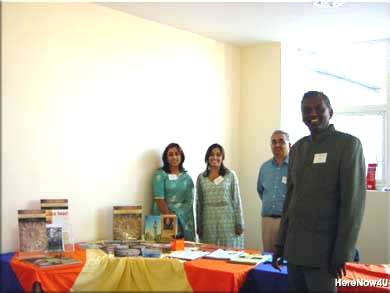 On Sunday, 28th August 2005, Jain Spirit Magazine had hosted a get-together for members of the London Jain community at Sayer Centre, Oxgate Lane. Many members of the community gladly had followed the invitation; they support the universal outlook of the magazine, and appreciate its cultural support to young artists and students likewise.
Dr. Atul Shah (right), editor of Jain Spirit Magazine, had decided after receiving his master's degree and PhD at London School of Economics, to spend his life with sharing the universal aspects of Jain teachings globally, instead of continuing his career based on his study researches.
'Jain Spirit Magazine does not emphasize Jain, but the universal Spirit contained therein', he stated smilingly.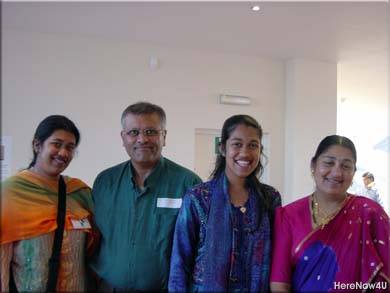 Jayesh Gudka (second left), his wife Varsha (right) with their daughters; Jayesh is a free lanced photographer (www.inaphoto.com) who had worked for some photo projects together with Jain Spirit Magazine. His daughter Jainy (left) seems to come after her father; she had taken about 3000 photos at Pratishtha Mahotsav 2005 at Potters Bar near London.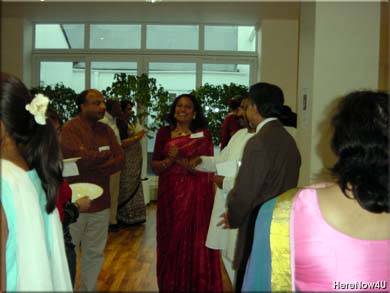 People were happy to meet and talk to each other. Views were exchanged, and many acquaintances renewed or started.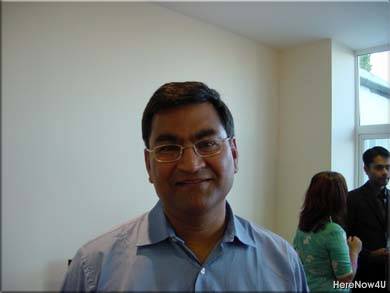 Manik Choraria, chairman of Jain Spirit Magazine since last autumn, had provided the location at 'Sayer Centre' which is named after his mother, Sayer Choraria. He shares Atul's views on spreading Jain teachings globally, "When talking of religion, many people are boggling with embarrassment nowadays, but when talking of ethical values, they are more than ready to listen. We have to collect people where they are, and to talk of their concerns. Jain Spirit Magazine is realising this insight.
I wished more people would subscribe to Jain Spirit Magazine, we need subscribers' support to maintain the quality of the magazine, and to contniue our cultural activities. Cultural efforts are too often seen as additional, but cultural formation is one of the qualities we all are profiting from a lot.
When we think it over, nearly all levels of our living together are mainly motivated by our cultural activities, such as taking care for each other, to be concerned on the well being of our next as much as on our own," he said.
Manik Choraria himself is a successful businessman and lives what he is talking on.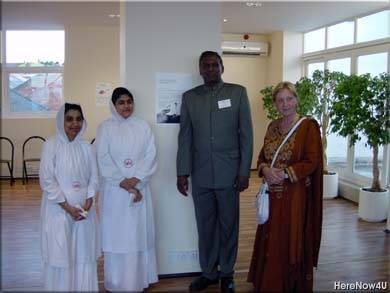 Samanijis Pratibha (second left) & Punya Pragya (left) were this evening's guests of honour. They gave their blessings for the wonderful work presented in the magazine. Dr. Atul Shah (second right) offfered his support from their first hour at JVB London, when he called one hour after their arrival, three years ago.
Editor Karuna Jain (right) was happy to be with them.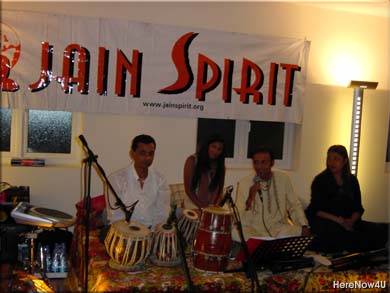 After tasty dinner and nice talks, people were in the right mood to appreciate the musical presentations singers Kaushik Kah Khajiriya (second right) and Anurata (right) gave. Their melodious voices uplifted everybody listening to them.
Popsinger Sina (second left) presented her song 'I believe', which will be on CD very soon. Her amazing modern and likewise traditional voice came right from ther middle of her heart.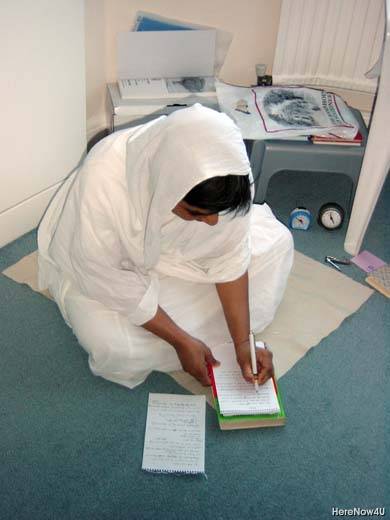 Just the same afternoon, Samani Puny Pragyaji casually had composed in a few minutes a song valuing the high spirit in which the work for Jain Spirit Magazine is done.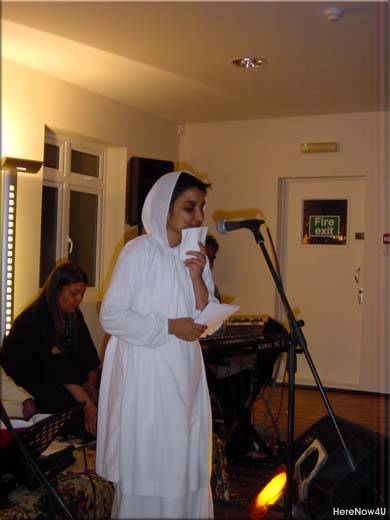 With this song, the beautiful get-together was finalised.