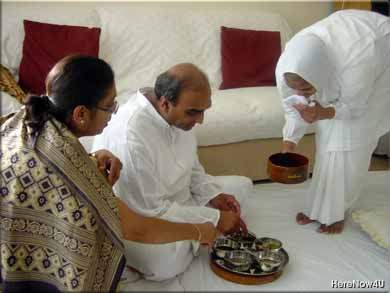 This businessman (middle) had done 11 days of complete fast by taking water only from sunrise to sunset. He and his wife (left) are offering Gochari to Samani Pratibha Pragya. Many family members and friends had gathered in his house to be present when he would take the first spoonful.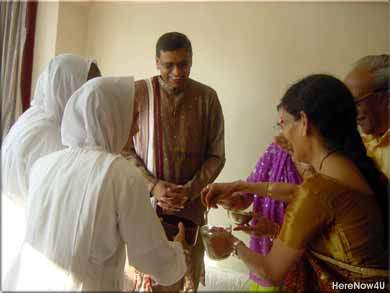 Bipim Sheth (middle) had completed 16 days of complete fast; at Paryushan 2004 he had fasted already for the whole time of Paryushan. This experience was motivation and encouragement for him, to go even more far this year. His wife Neeta (right) supported him strongly. They reported that many wonderful things had happened to Bipim during his fast. When he was sitting in his prayer room at the beginning of Paryushan, the image of a statue, owned by a friend of his, came before his inner eye. He thought that it would be beautiful to do the prayers in front of this statue of Lord Mahavira. He talked about this to his wife, and both of them realised that their friend had bought it in India, and that it was not available in London. Then they visited the friend, and when they were about to leave, the friend said that he was very touched by Bipim's decision to practise fast for so many days this year. "Please select one of the statues," he said, pointing to his 24 statues brought from India, "I want to offer it to you." Bipim and Neeta were more than happy; self understood, he had chosen the one he had visualised in his prayer room.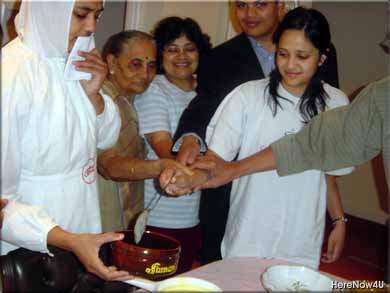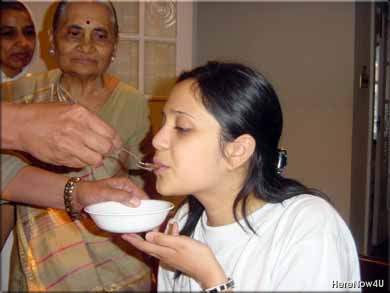 At the Dadia family's house, daughter Meera (right), her father (right, only his arm is visible), her brother (second right), her mother (third left), and grandmother (second left) were giving Gochari to Samani Pratibha Pragya.

Then Sonal Dadia gave the first spoonful to her daughter. 18 years old Meera had completed 16 days of fast, and had taken water only from sunrise to sunset. It was like following a family tradition, as her mother had done a fast of 30 days in her youth. Meera had completed 8 days of fasting on Paryushan 2004.
She had finished school this summer and is about to start her studies in English literature at Warwick University.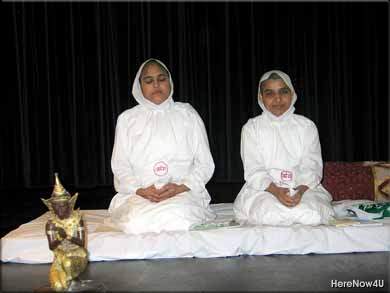 In the evening, the family had hosted a big ceremony for all family members and friends. The Samanijis Pratibha & Punya Pragya recited Mantras and prayers on the stage of the hall where the ceremony took place.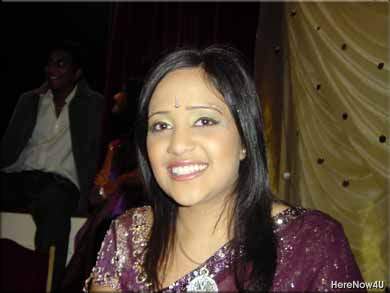 Meera was happy with her fasting experience, "This will help me a lot for my studies; my concentration power has really increased. -- All people are addressing me so kindly. Even my aunt has come from California to be with us today."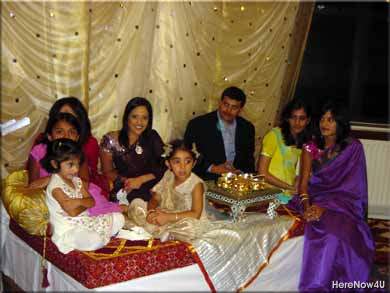 Meera was thanking all in the assemblee for being part of the ceremony; her brother had cared very much for her during her fast. His first query after coming home from office was 'How are you, Meera?" All family members, especially the little girls, are very proud of Meera.