On 21st and 22nd September, a camp for 37 Jain Gyanshala trainers was held at Terapanth Mahasabha Bhavan, Kolkatta, in the auspicious presence of Sadhvishree Nirvanshree. As in 2004, the main trainer was Sri Nirmal Nolakha who spends most of his time in giving training of Preksha Meditation and Jeevan Vigyan all over India.
In the inauguration session, Sri Rajkaran Sirohiya, president of Mahasabha, underlined the importance of spiritual Gyanshala for the future generation's character building and said that it is one of the main activities of Mahasabha.
Sadhvi Dr. Yogkshem Prabhaji gave detailed insights into the psychology of children by focussing on the children's motivation to accept and follow ethical values. She expressed her gratefulness for the guidelines given by H.H. Acharya Mahaprajnaji in this regard.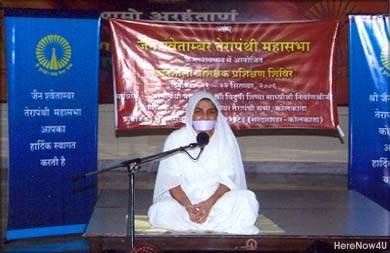 Sadhvi Dr. Yogshem Prabhaji addressing the audience
Sri Nirmal Nolakha emphasised the need of regular basic and advanced training for the trainers. Regional coordinator Sushil Bafana requested people to encourage their children to join Jain Gyanshala for their better future. Sri Karan Singh Nahata compered the function.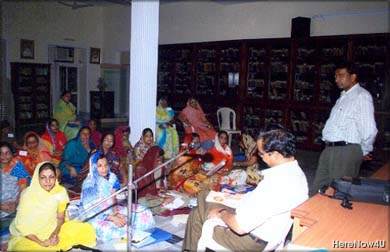 Main trainer Sri Nirmal Nolakha (sitting in front of the audience) giving training to Jain Gyanshala trainers
In Jain Gyanshala, ascetics and lay followers draw the children's attention to immaterial values and instruct them how to contact the inner self to build a balanced character. Jain Gyanshala classes are held generally on weekends by well-trained trainers, for who focussed courses and evaluation programmes have been developed.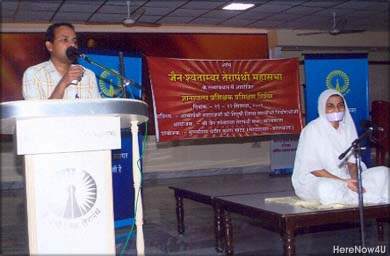 Sri Nirmal Nolakha expressing his views in the final ceremony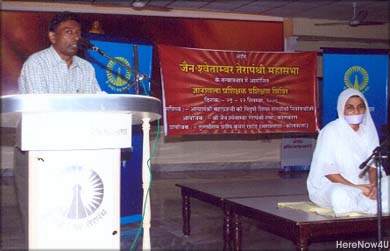 Sushil Kumar Bafana, regional coordinator for Jain Gyanshala, thanking to all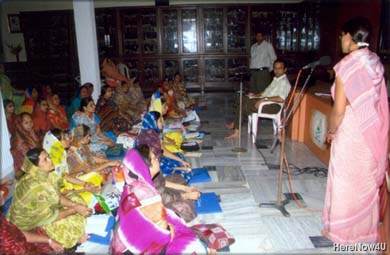 Sri Nirmal Nolakha taking oral and experiméntal exam of trainee (r)