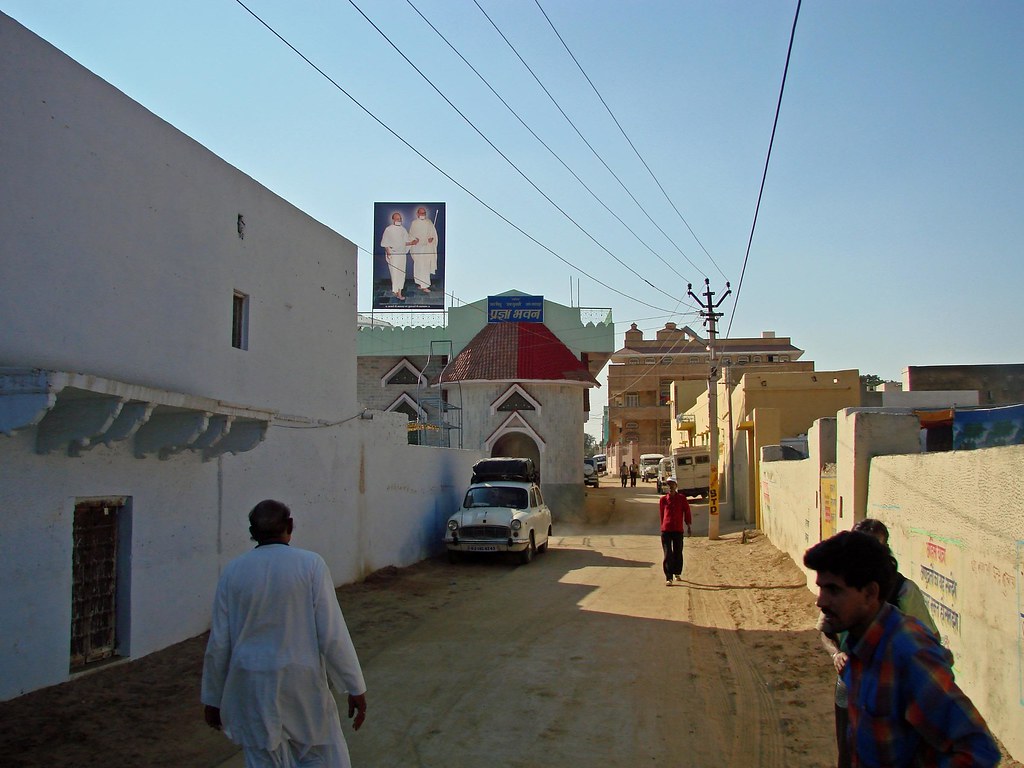 On the way to Acharya Mahaprajnaji's birthplace
24th November 2006, 15:45 – 16:15
Tamkor was well prepared for the joyful event. The town celebrated its great son with festive ornaments on all streets, Ahimsa Yatra was supposed to pass. Acharyashree's portrait greeted from walls, maximum-sized placards, and fronts. People were about to polish a decoration here, and to give some last paintbrush there. There was no nervosity in the atmosphere; the calmness of the town was not disturbed by loud voices or hectic action. The event was organised perfectly.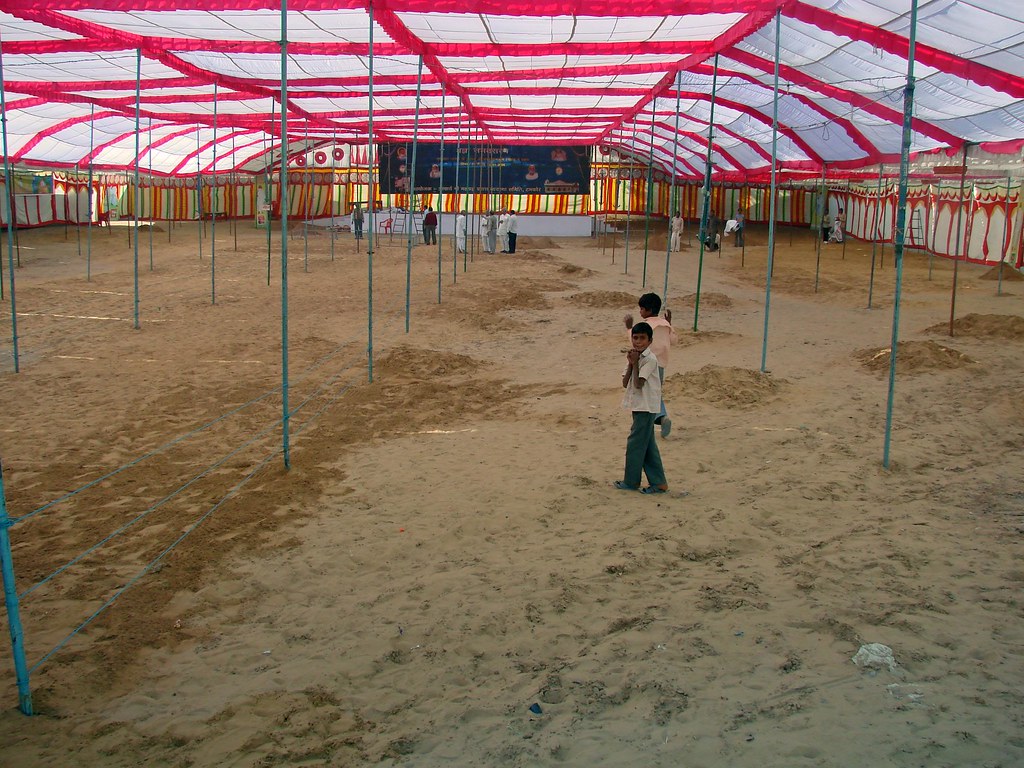 Assembly tent for reception of Ahimsa Yatra in Tamkor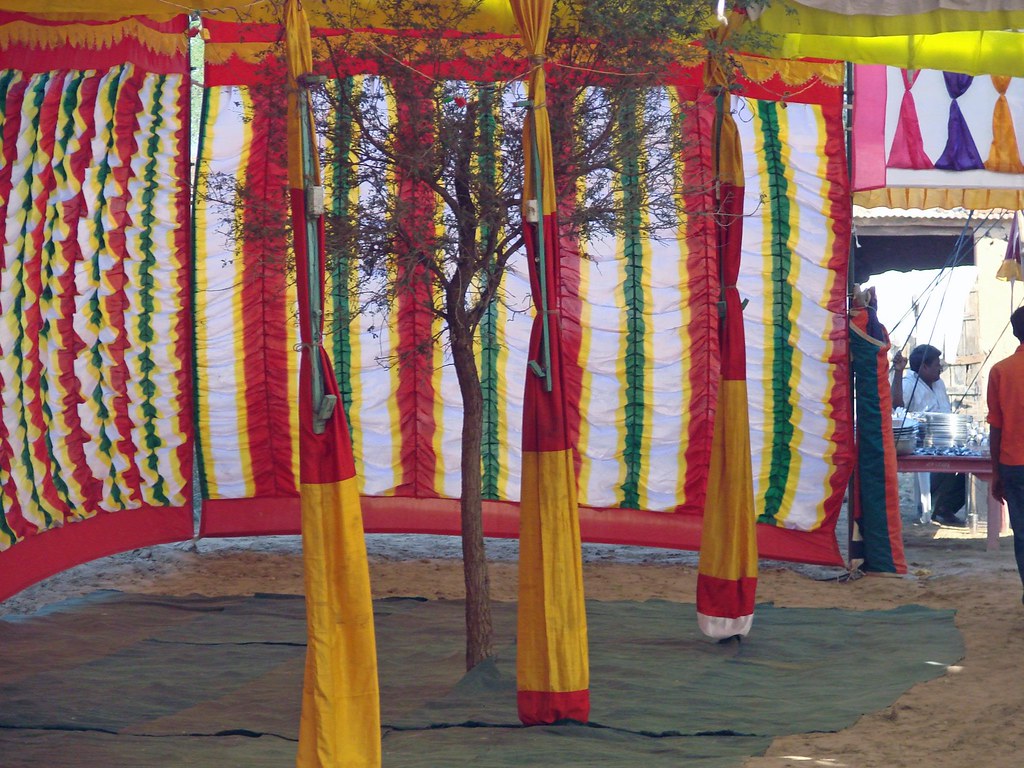 Entry of assembly tent for reception of Ahimsa Yatra in Tamkor
Next to Shri Ratan Lalji's beautifully renovated family seat, an assembly tent has been erected, apparently big enough for the number of visitors expected. In respect of Jain and local tradition, a small Kechary tree was integrated into the decoration.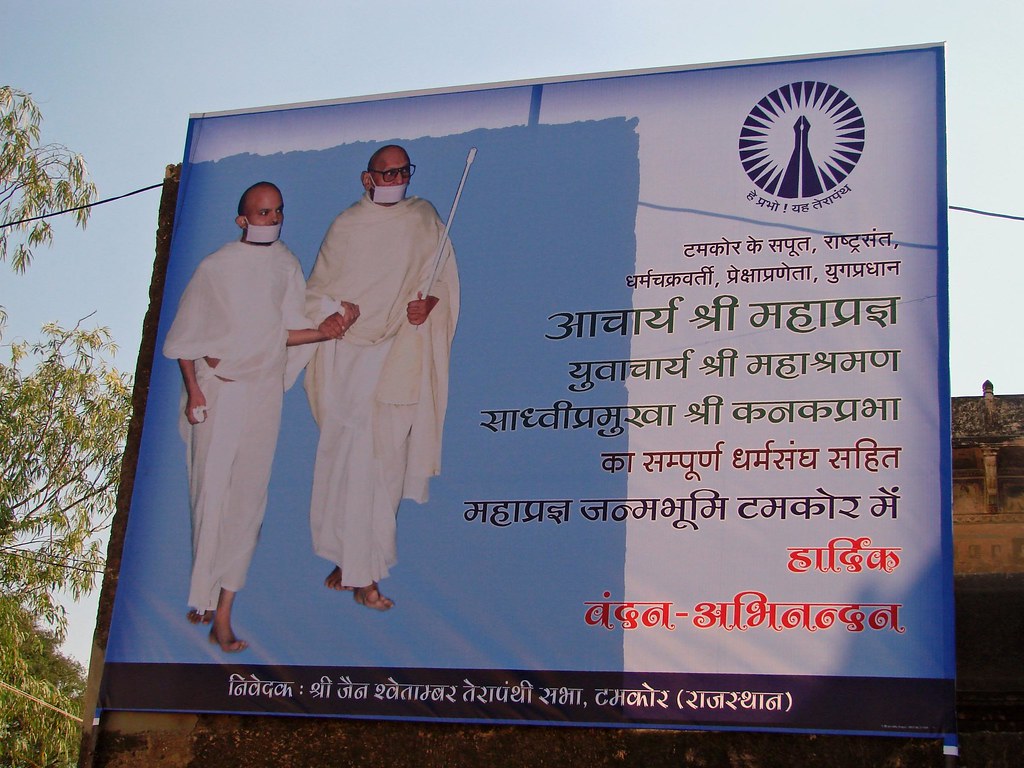 Placard in honour of Acharya Mahaprajnaji & Yuvacharya Mahashramanji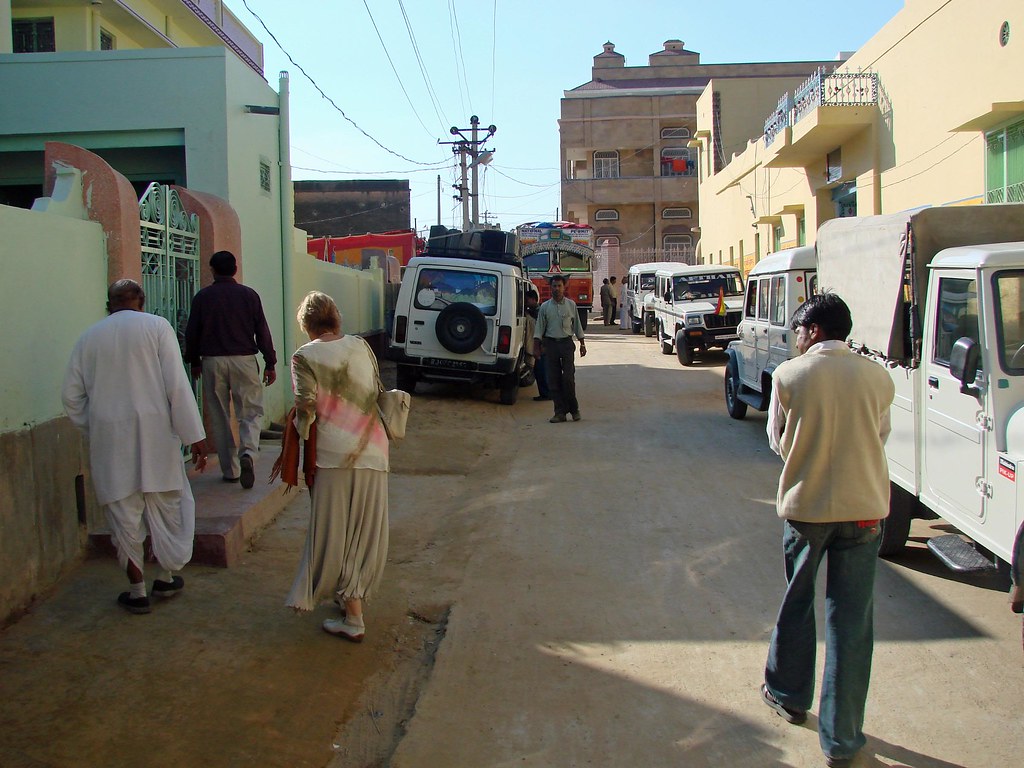 On the way to meditation hall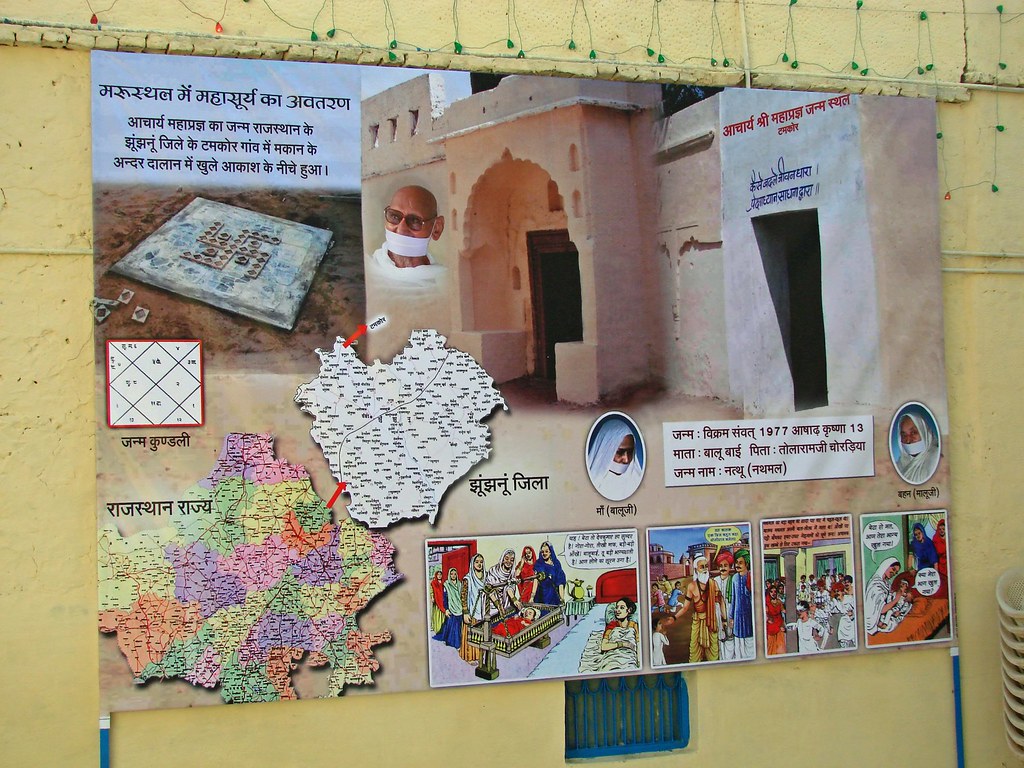 Poster at the entry of Acharya Mahaprajnaji's birthplace, telling details of his and his mother's life in pictures
A characteristic placard showing Acharyashree with Yuvacharyashree was in front of the tent. Ratan Lalji headed to Acharyashree's birthplace, which he insisted to show personally to us, in spite of his straight afternoon schedule. His family was deeply involved with the beautification of Tamkor, as put it Samani Pratibha Pragyaji, whose native place is Tamkor as well.
We passed amazingly painted houses, telling stories of the past. At the entry of Acharyashree's birthplace, a big poster gave detailed informations on his birth and his mother who had taken farewell from worldly life together with her son. Further, extraordinary events in his life were narrated in pictures, such as the incident when a sage came to Tamkor and predicted Nathmal, name given to the child by his parents to become a leader among men (more details on Acharyashree's life see: Wikipedia). Even photos of the entrance of his birthplace as it looked until 1979, date of his nomination to the function of Yuvacharya, were there.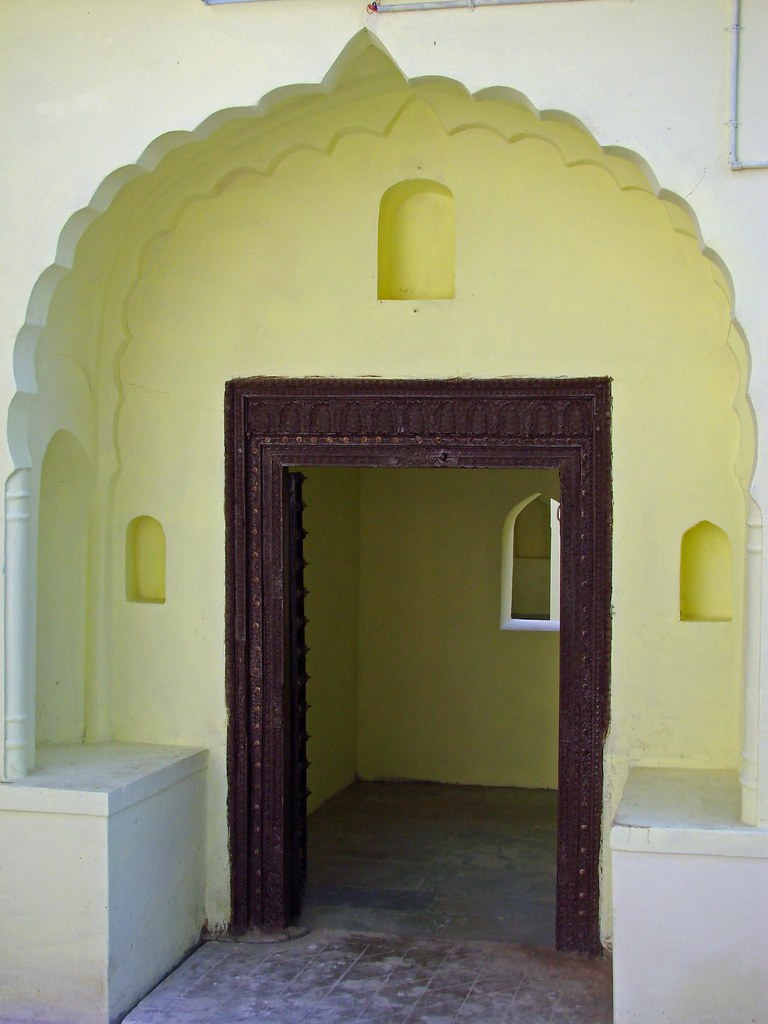 Entry to Acharya Mahaprajnaji's birthplace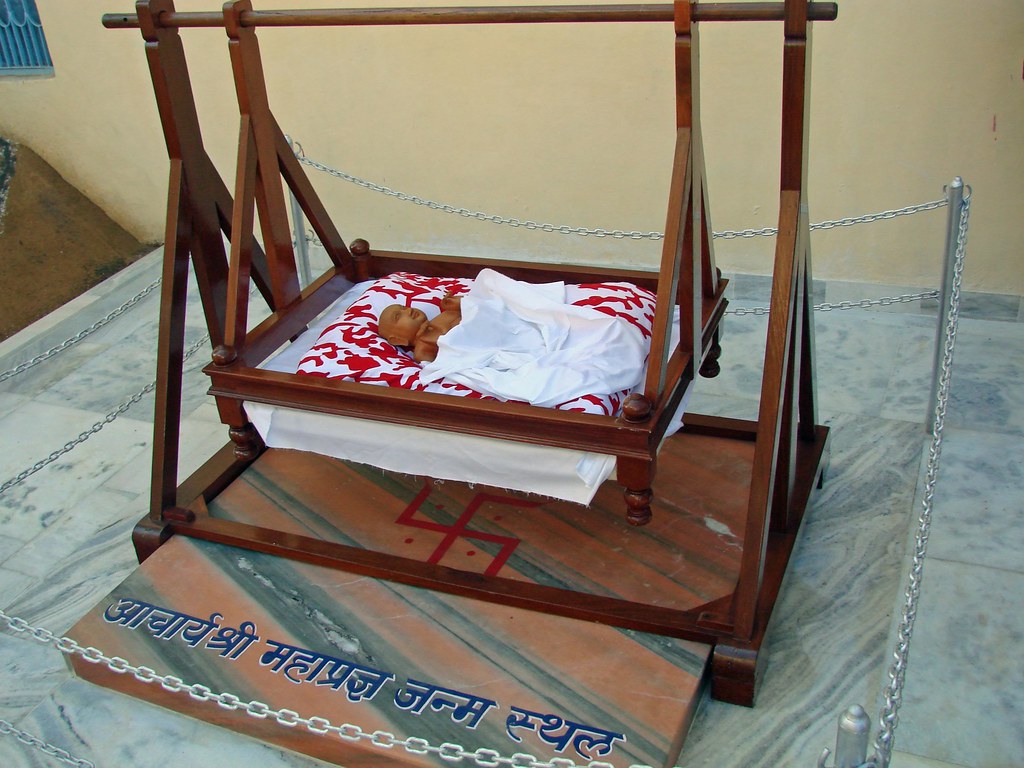 Traditional Rajasthanai cradle, built on the place, formerly a field, where Acharya Mahaprajnaji was born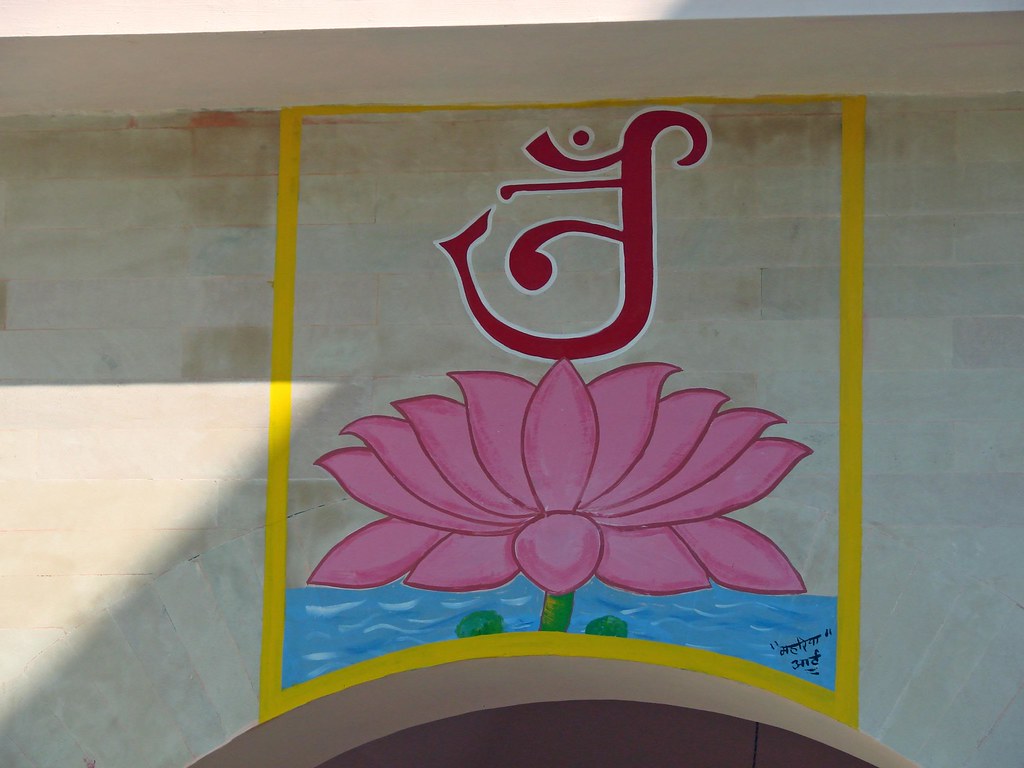 Wall painting in Acharya Mahaprajnaji's birthplace
Depiction in Acharya Mahaprajnaji's birthplace
The new entrance was accurately painted, and so were library and meditation hall. Devotees originating from and living in Tamkor succeeded in preparing the environment for receiving Acharyashree in his birth town with all merits and honours one is capable to show outwardly. Inwardly people are not knowable for others, but everyone's eyes started shining by simply mentioning his name.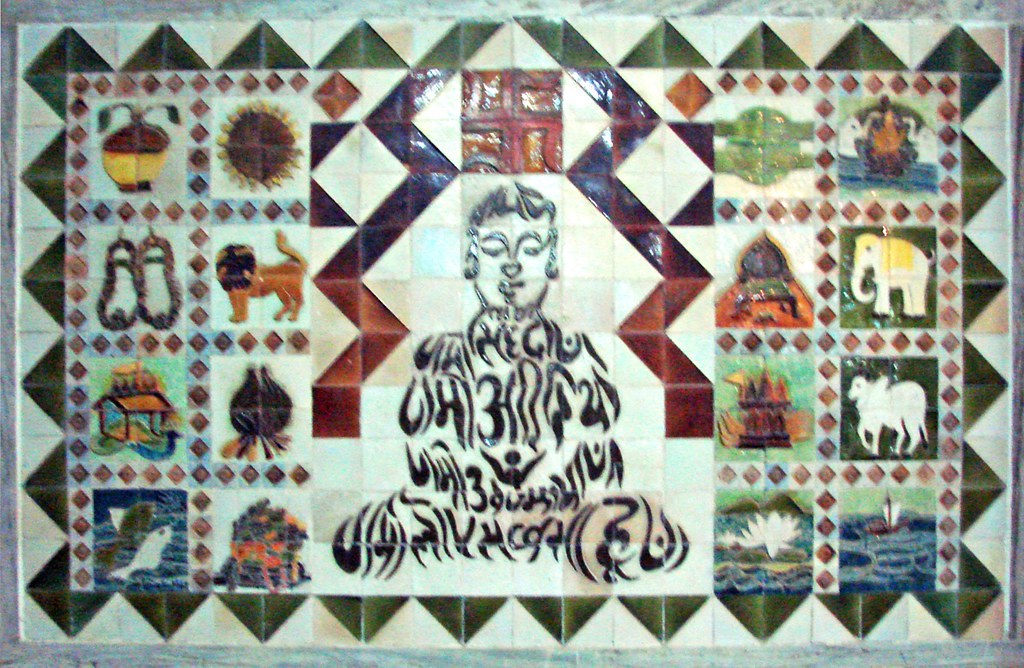 Depiction of Lord Mahavira in Sanskrit characters, forming words with blessings surrounded by auspicious Jain symbols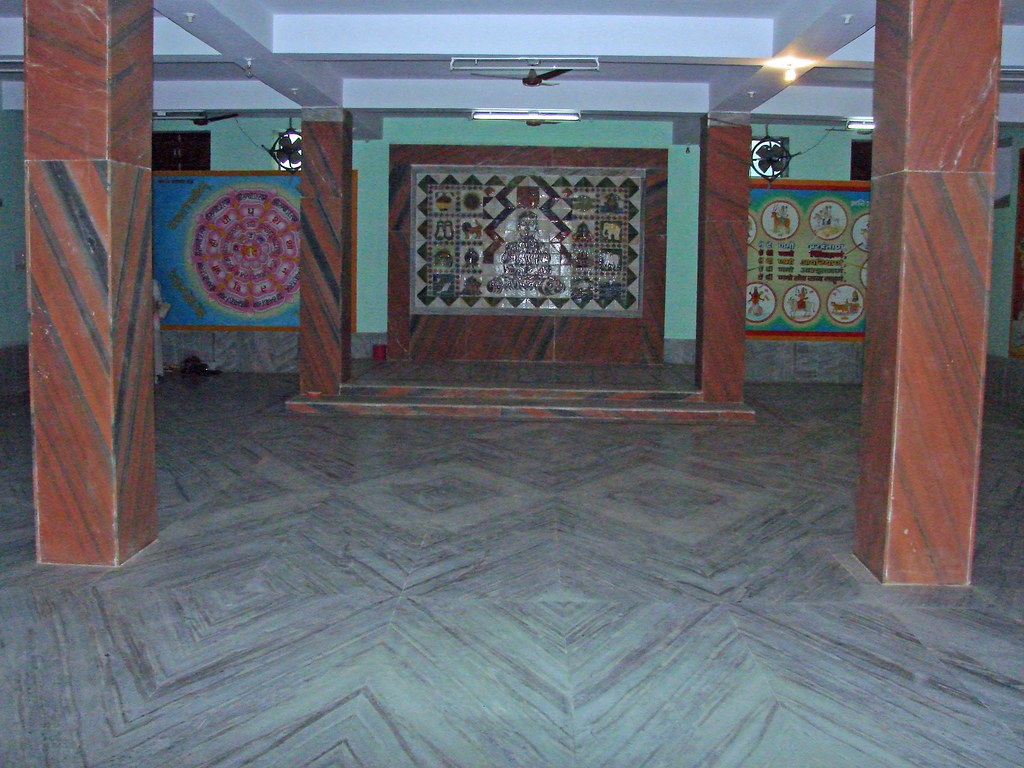 Basement of meditation hall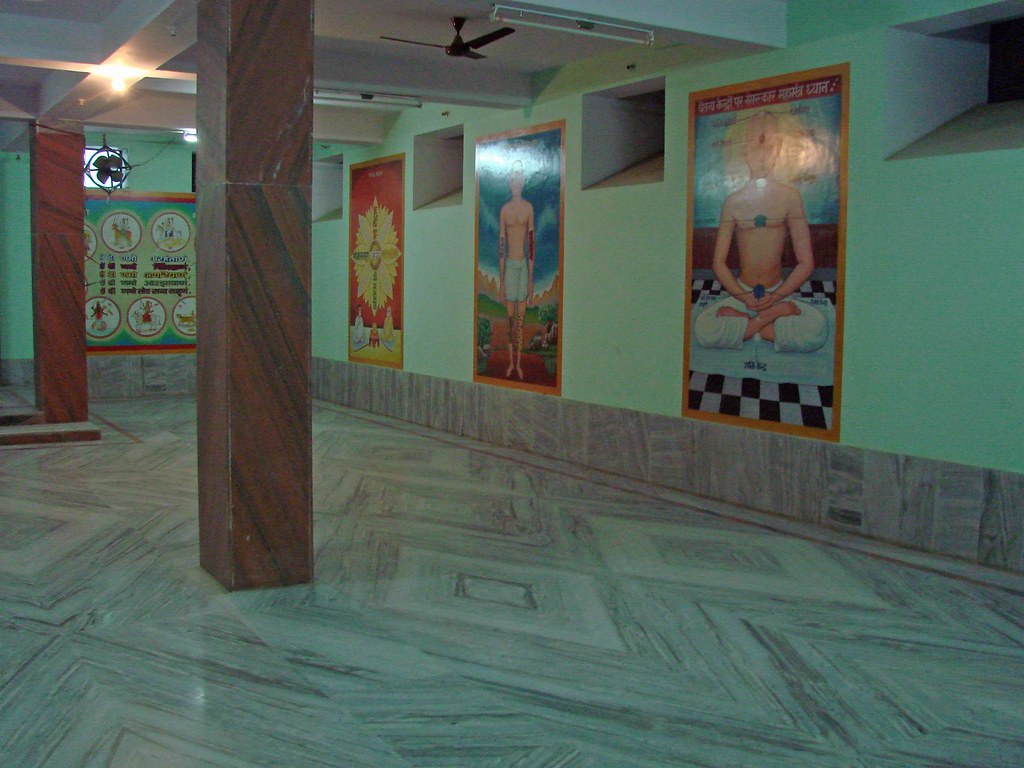 Basement of meditation hall, wall paintings showing Lord Mahavira, Acharya Bikshu, founder of Terapanth sect, and auspicious Jain symbol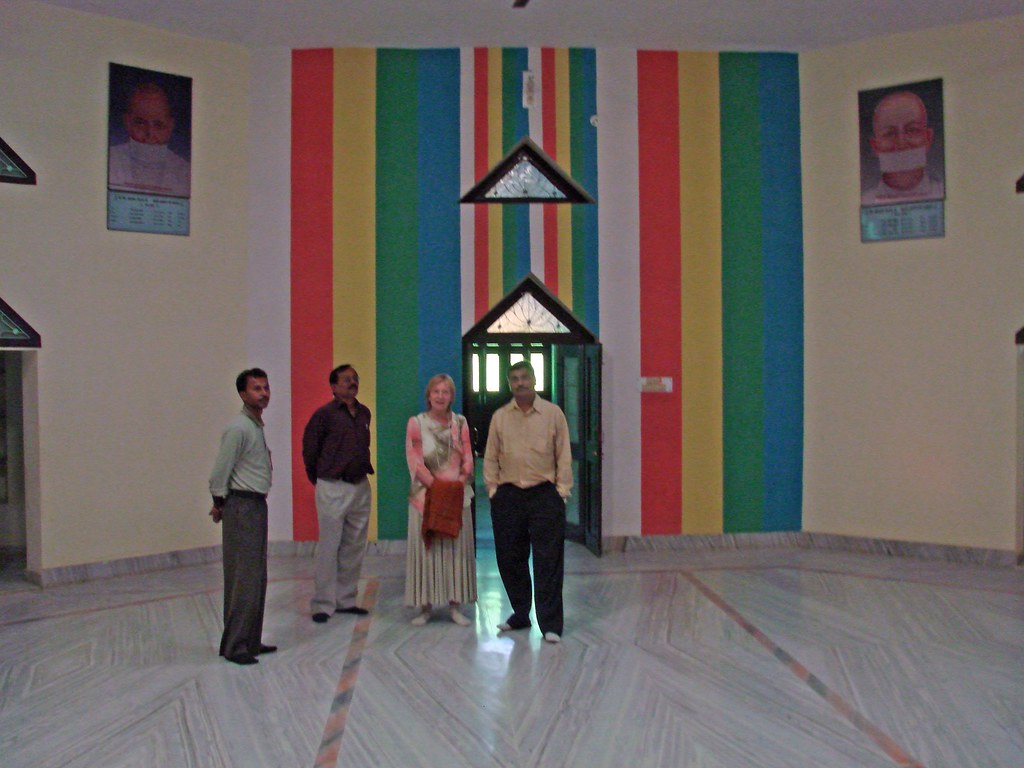 Ground floor of meditation hall with painted wall in colours of Jain flag
Shri Ratan Lalji had to leave and asked another person to take us around. The basement of the meditation hall was decorated with a depiction of Lord Mahavira on marble, made of Sanskrit characters forming words of blessings, surrounded by auspicious symbols. The walls had paintings of Lord Mahavira, Acharya Bikshu, founder of Swetamber Terapanth sect, and Jain symbols. The big hall in the ground floor was destined for Acharyashree's lectures to Munis, Sadhvis, Samanis and for reception of visitors; he would be accommodated in a nearby room. One wall in the octagonal shaped hall, the one in front of the place he was supposed to sit was completely painted in stripes with colours of the Jain flag.
The library could not be visited at this time, as it was closed and the key holder not available for the moment.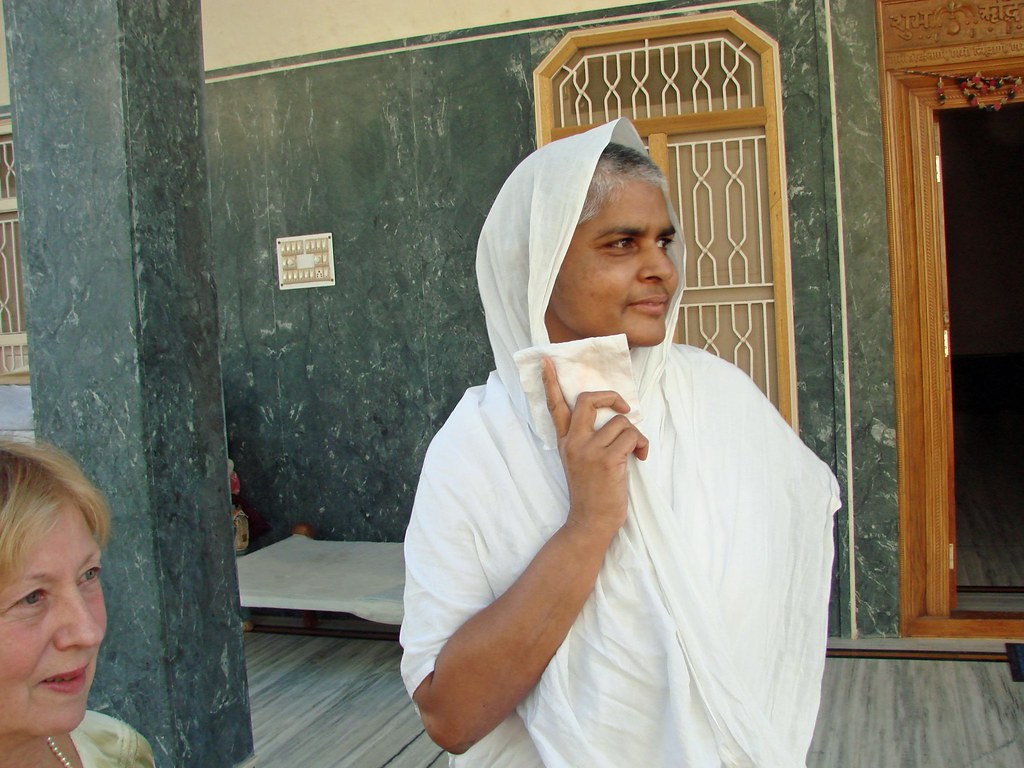 Karuna & Samani Seal Pragyaji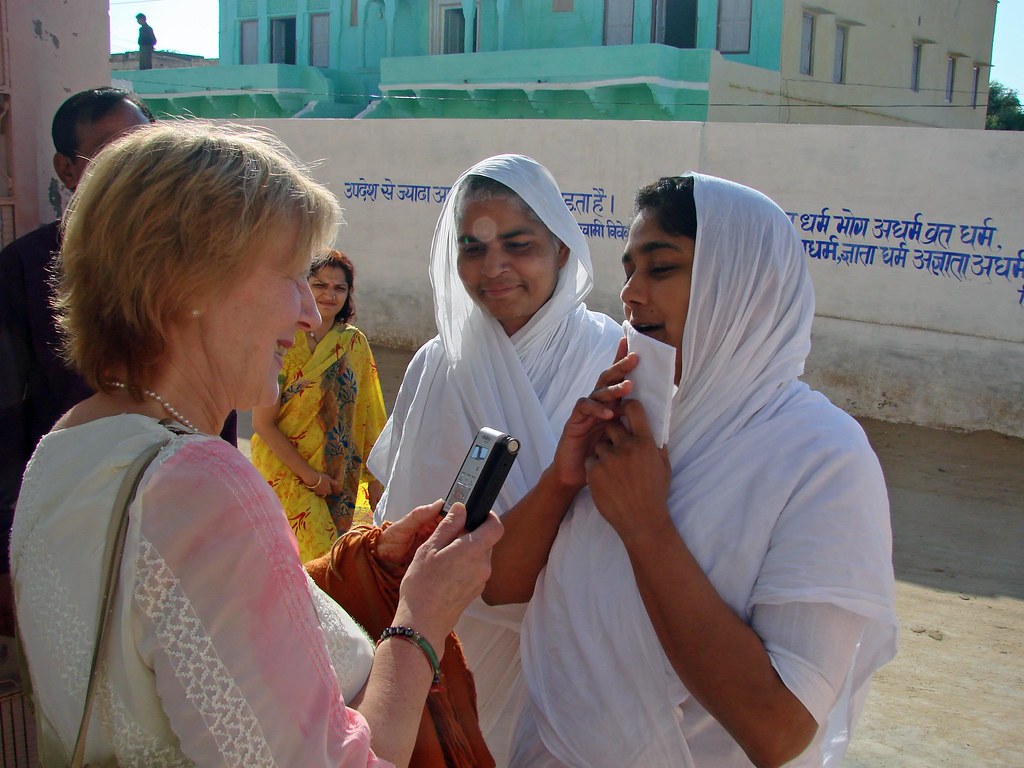 (F. r.) Samanijis Pratibha & Seal Pragya, Karuna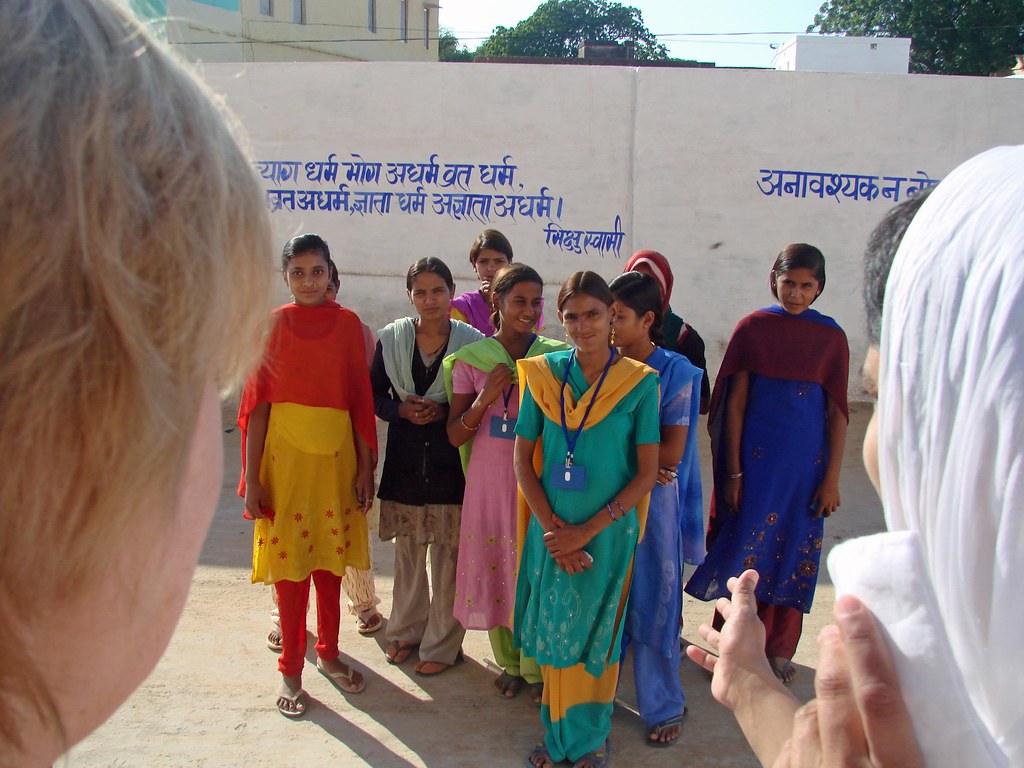 Rural students of Samani Pratibha Pragyaji, having attained 2nd place in all India stitch contest
Outside, we met Samanijis Seal and Pratibha Pragya. Samani Pratibha Pragyaji felt very happy about the many changements she noticed in the little town of Tamkor. Many new families came to settle and the youngsters she knew have grown up. She was busy with attending groups of arriving Samanijis and showing places of accommodation to them. She also expressed her joy to see many members of her worldly family on this occasion. Further, people of the village had asked her to be mistress of ceremony at the big event planned after arrival of Ahimsa Yatra the next day. Her students waited outside, they had learned to stitch, and in an all over India stitching contest attained the second place.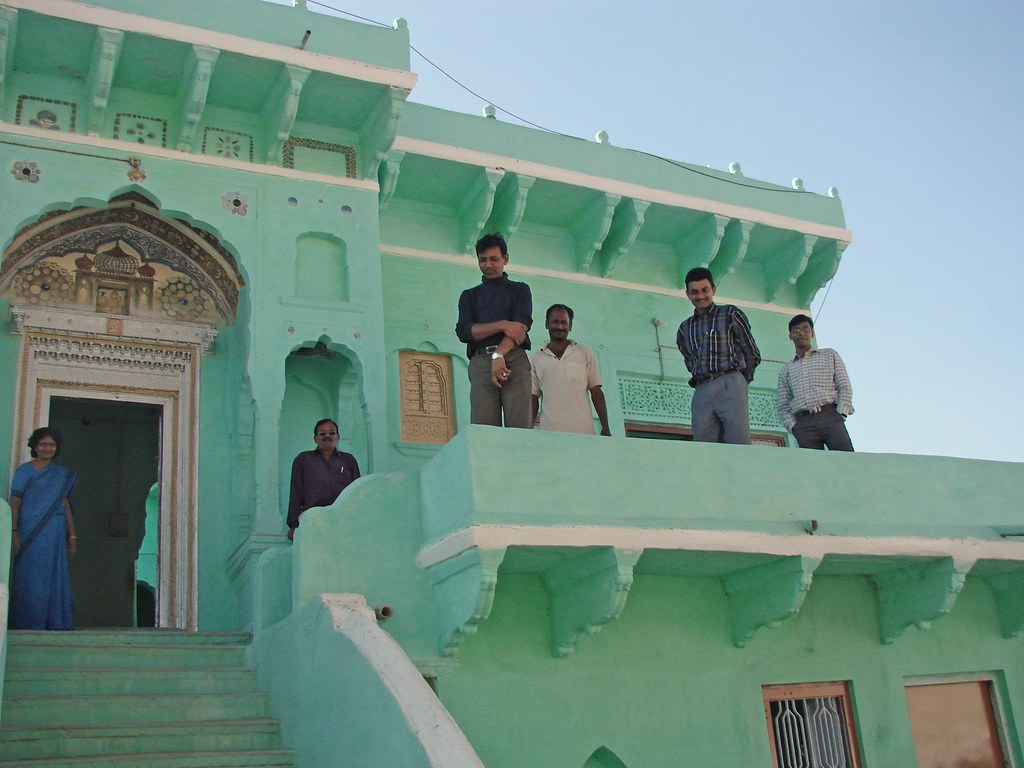 Mrs. Indra Devi Jain inviting Karuna & Aparigraha to enter their house, her husband & sons & nephews approving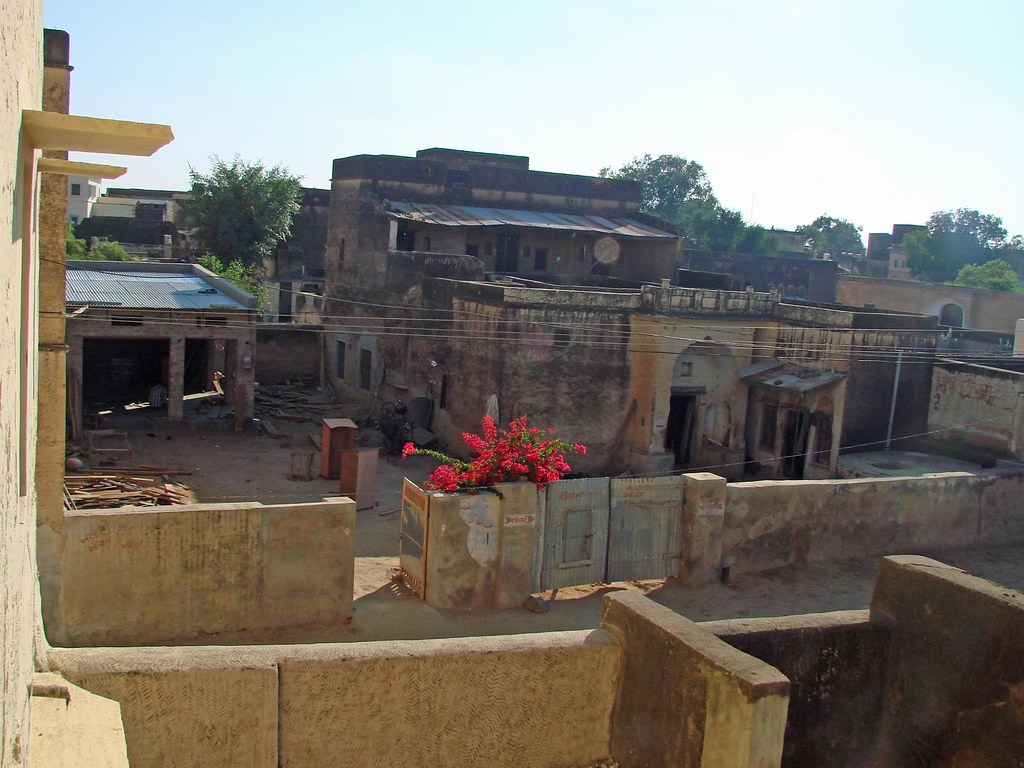 View from the Jain family's balcony
On our way back to Ratan Lalji's home, Mrs. Indu Devi Jain invited us to her balcony to enjoy the view on Tamkor from there.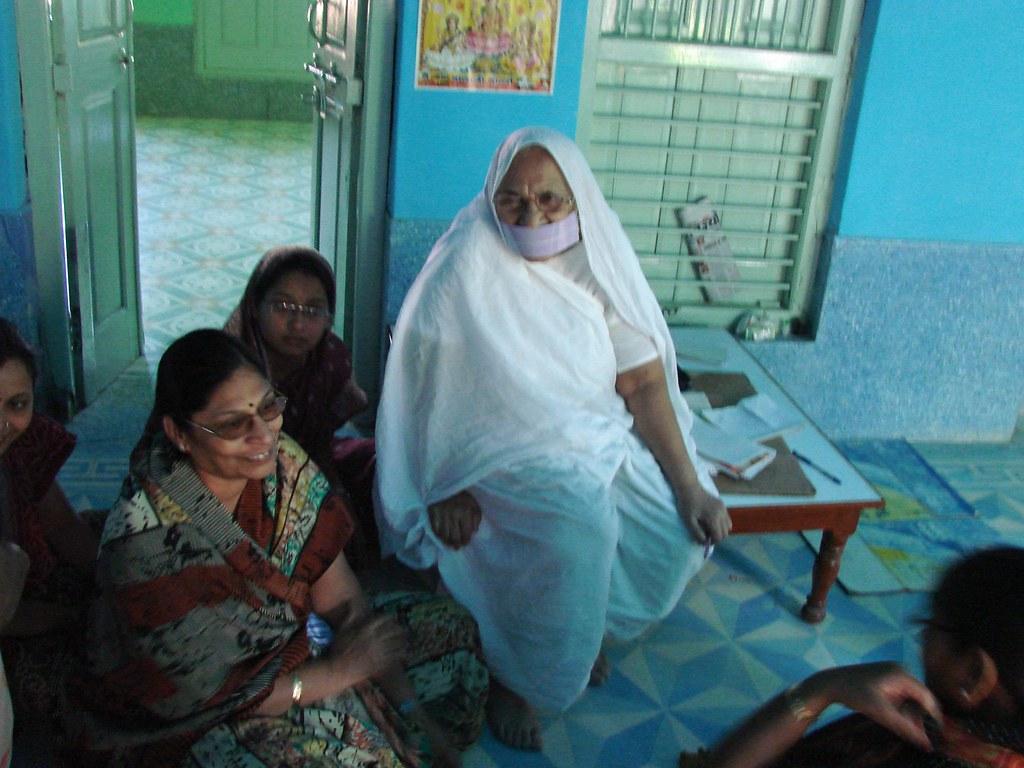 Sadhvi Kamalshreeji, in worldly relations cousin sister of Acharya Mahaprajnaji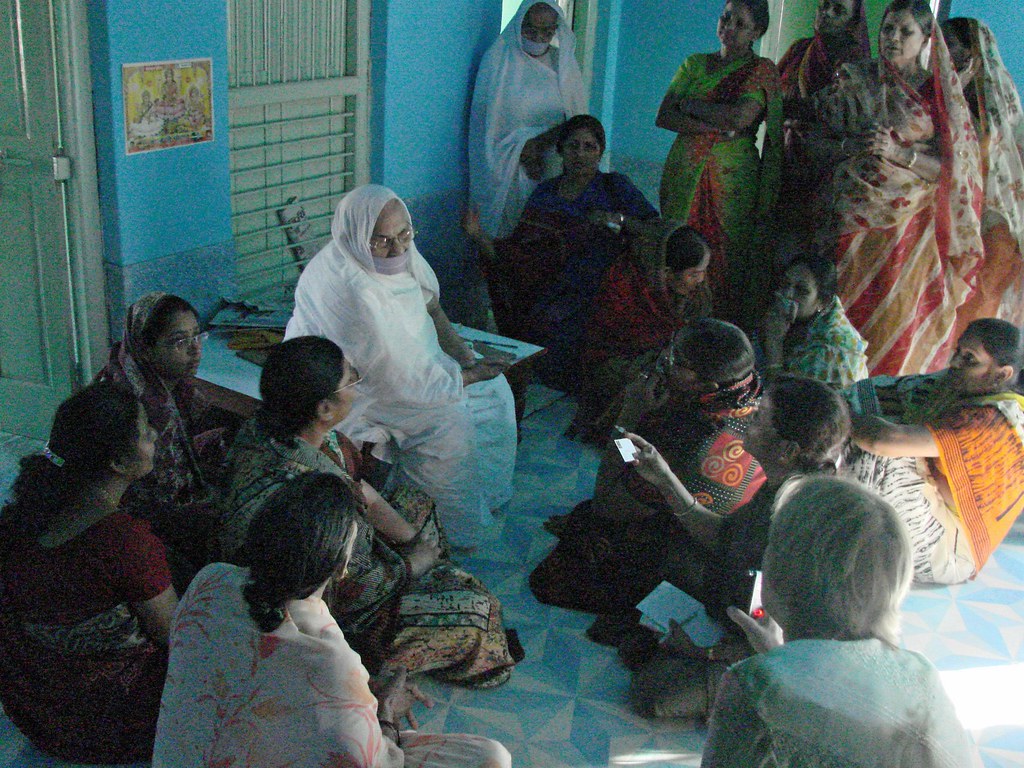 Sadhvi Kamalshreeji passing over Karuna's card to visitors for further use
Another halt was made in a house where local people invited us to enter, saying that we could meet with someone very interesting. Indeed! Sadhvi Kamalshreeji wanted to talk to us. She is in worldly relations the cousin sister of Acharyashree, the daughter of his uncle. She is 14 years younger than Acharyashree and took Diksha at the age of 18, in 1952. As we could not speak directly to each other, some visitors kindly served as interpreters. In the course of the conservation we learned that she had walked on foot one lakh of kilometres in her life, visiting Nepal, Bihar and several South Indian states. Due to knee problem, she actually is no longer travelling. When we affirmed to meditate regularly, she smiled at us.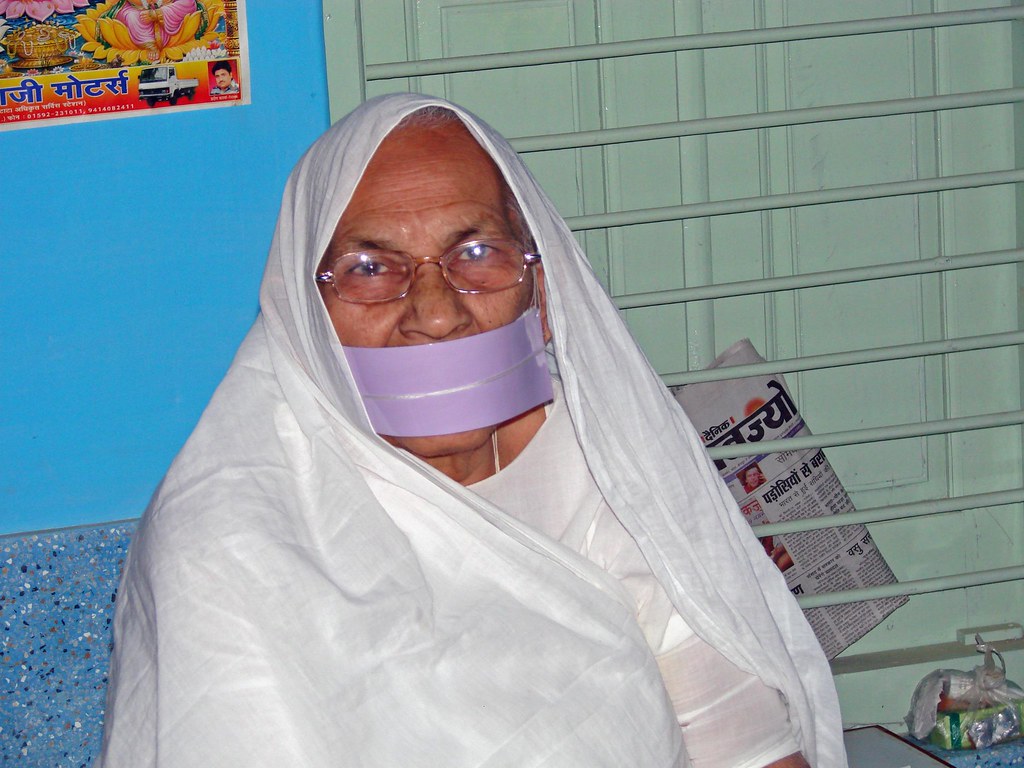 Sadhvi Kamalshreeji, in worldly relations cousin sister of Acharya Mahaprajnaji, 14 years younger than him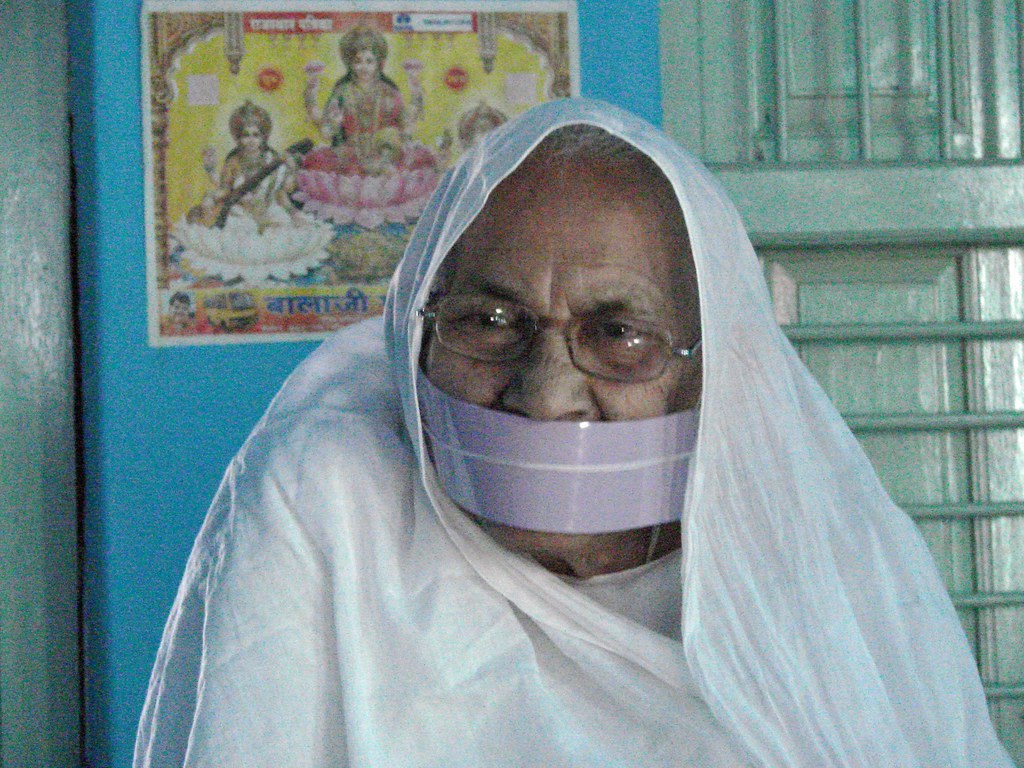 Sadhvi Kamalshreeji, aged 72, has walked 1 lakh of kilometres all over India and Nepal