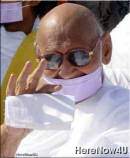 Monday 2nd July 2007
Breath control helps us ignite the fire within.
We are fortunate that we are human beings. We possess the potential for developing sense-consciousness, mind-consciousness and pure-consciousness. Every living being has sense-consciousness. It is found even in the most undeveloped living beings. Living beings, possessing two, three or four sense organs, too, possess sense-consciousness, but men alone are capable of developing it.

This is also true of mind-consciousness. Living beings other than men also possess a mind, but human beings alone can develop their powers. The possibility of such development is not available to other living beings. Men can develop mental powers in various directions.

Forming memory, thinking and imagination are some of the functions of the human mind. All these powers point towards the great potential of our mind. Human mind, being the most powerful organ, can perform many such functions, other than those mentioned above. We can understand these powers only when they manifest themselves in the course of the development of mental processes.

So far, we remain circumscribed by memory, imagination and thinking, we will not be able to know the further possibilities of the development of the mind and its powers.

We have drawn a circle around our mind, which we do not want to cross. It is not possible to assess the full potential of human mind without breaking this cordon. Human mind can appreciate the thoughts of others, besides influencing them. It can exchange messages with other minds. Both conscious and unconscious beings can be affected by our mind. The mind can move objects and transport them. A well-trained and energised mind can perform all these functions easily.

How can we train our mind and energise it? The only way to energise the mind is to change the orientation of our life, which can be done by changing the breath process. Breath or prana is the most powerful instrument that we possess.

Life depends on breath. Let us, therefore, keep the lamp of life burning. There are lights which keep burning for centuries. Ordinarily, lamps burn only for a limited time. Oil lamps give light for a few hours. But the light emitted by human beings enlightens forever.

An Italian peasant was once working on his field. Suddenly, his spade got stuck on a particular spot. When he removed the soil, he found a door beneath the spot. When he tried to go inside the door, he saw a light burning there. He suspected it to be a ghost. But when he went near the source of the light, he found no lamp; there was just a flame - an eternal flame.

An eternal flame is burning within all of us. It can never be extinguished. Breath is one of many such fuels that keep it burning. Such lights are the centres of energy. Those who have not practiced breath perception will never reach at the core of energy. So far as memory and thought processes continue, these lights can never be perceived.

It can be said with confidence that the Tirthankaras and those accomplished in sadhana had ignited such lights with the fuel of breath. Such an achievement is possible even today. Breath control and the way we manage our breathing process are the preconditions for success in sadhana.