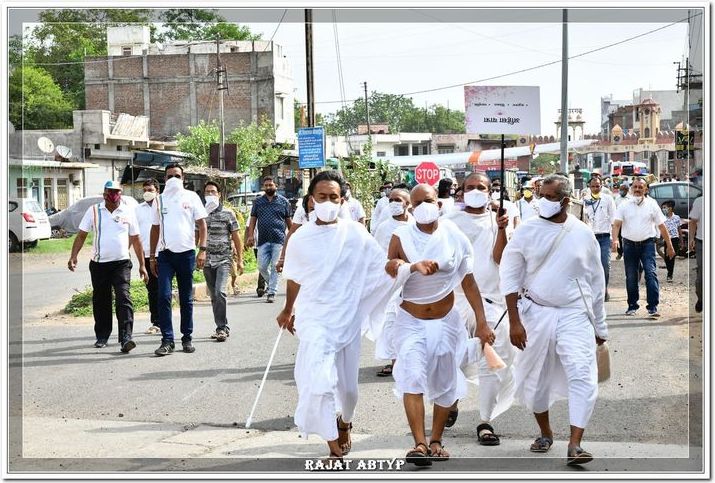 Source: © Facebook
Acharya Mahashraman started his Ahimsa Yatra from Red Fort, Delhi on 9th Nov. 2014. Ahimsa Yatra covered 3 countries and 20 states. It will cover around 20000 kilometers when it will reach Delhi. It's main purpose to spread message of Harmony, Morality and to stay addiction free.
Acharya Mahashraman will stay Delhi during 20 to 28th March and during that stay he may announce ending of ongoing Ahimsa Yatra.
However to walk on foot is life long vie of Jain monk and his journey on foot will continue.
Timetable
| Date | Area |
| --- | --- |
| 25 Nov 21 | Begum |
| 02, 03 Dec 21 | Kota |
| 12, 13 Dec 21 | Sawai Madhopur |
| 23 - 02 Jan 22 | Jaipur |
| 05 Jan 22 | Jobner |
| 10 Jan 22 | Kuchaman |
| 13 Jan 22 | Didwana |
| 16 - 30 Jan 22 | Jain Vishwa Bharti Ladnun |
| 31 - 1 Feb 22 | Sujangarh |
| 02 Feb 22 | Chadwas |
| 03 Feb 22 | Bidasar |
| 04 - 17 Feb 22 | Maryada Mohatsawa Entery |
| 18 Feb 22 | Chadwas |
| 23 Feb 22 | Fatehpur |
| 24 Feb 22 | Ramgarh |
| 25 Feb 22 | Ratan Nagar |
| 26 - 28 Feb 22 | Churu |
| 03, 04 Mar 22 | Tamkor |
| 05 Mar 22 | Malsisar |
| 08 Mar 22 | Pilani |
| 19 Mar 22 | Gurgaon |
| 20 - 28 Mar 22 | Delhi |
| 29 Mar 22 | Nangloi |
| 30 Mar 22 | Bahadurgarh |
| 05 Apr 22 | Rohtak |
| 08 Apr 22 | Hansi |
| 09 Apr 22 | Jindal School |
| 10 Apr 22 | Hisar |
| 11 Apr 22 | Arya Nagar |
| 13 Apr 22 | Siwani |
| 16 Apr 22 | Rajgarh |
| 17 Apr 22 | Sadalpur |
| 20 Apr 22 | Taranagar |
| 25 Apr - 16 May 22 | Sardarshahar |
| 22 May 22 | Kalu |
| 23, 24 May 22 | Lunkaransar |
| 30 May 22 | Udasar |
| 31 May - 1 Jun 22 | Bikaner |
| 02 - 05 Jun 22 | Gangashahar |
| 06 Jun 22 | Bhinasar |
| 09 Jun 22 | Desh Noke |
| 10 Jun 22 | Rasisar |
| 12 Jun 22 | Nokha Gaon |
| 13 - 14 Jun 22 | Nokha Mandi |
| 16 Jun 22 | Morkhana |
| 19 Jun 22 | Kuchor Aguni |
| 21 Jun 22 | Derajsar |
| 23 - 25 Jun 22 | Sri Dungargarh |
| 26 Jun 22 | Toliyasar |
| 27 Jun 22 | Adsar |
| 28 Jun 22 | Momasar |
| 30 Jun - 1 Jul 22 | Rajaldesar |
| 03 - 04 Jul 22 | Ratangarh |
| 06 Jul 22 | Parihara |