Rishabhdev, Rajasthan, 313802, India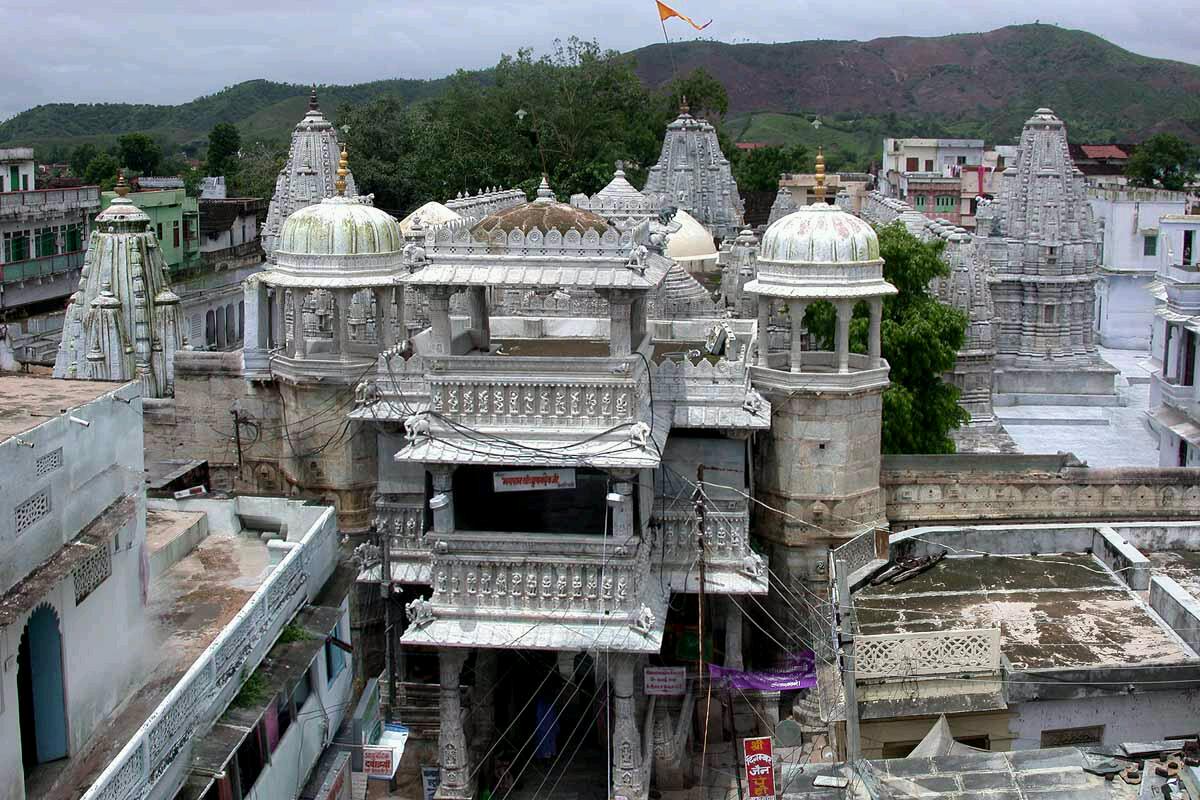 Kesariyaji Digambar Jain Temple
The history of Kesariyaji Temple is not ever known clearly. Different different communities puts their own ideas for the temple. Therefore, temple's history is controversial.

Kesariyaji Temple is believed to have beautiful architecture before 15th century.

The temple is believed to have been built in the ninth century by Digambara Jains. A 1376 (samvat 1431) inscription on the temple wall mentions that Punja and Kota, sons of Shah Harda had the structure built as a result of the preachings of Bhattaraka Dharmakirti of Kashtha Sangh. That is when the garbhagriha and the khela mandap was constructed.
The main idols in the temple
The main idol in the temple is of Tirthankara Rishabha, carved in black stone in padmasana posture, about 3.5 feet (1.1 m) tall. Two oxen are carved in the center of the simhasana (platform) of the main idol, which also has 16 dreams of the mother of Tirthankar. Surrounding the main deity, there are 23 idols, 2 standing and 21 seated, in an ashtadhatu (composed of eight metals) parikar. Here, pilgrims are bound to be lost in unstinted devotion; both Jain and non-Jain visitors and pilgrims experience a sort of sacredness, thanks due to the simply indescribable aura of the image of Shri Prabhu. The round face of Shri Prabhu is extremely attractive and pleasing to the mind. The whole temple, with the main inner apartment, the deep pandal, nine chowkis, the assembly pandal, the Bhamati, the small shrines of gods, the Shrungara chowki, the peak and the encircling fort is simply majestic. Even from a distance, the gorgeous 52 Jinalayas can enrapture the viewer. In the north and south sides of the Khela Mandapa of the temple, idols of Tirthankaras Vasupujya, Mallinath, Neminath, Parshvanath and Mahavir Swami (collectively referred to as Panch-Balayati) are installed.[3]

There are 52 secondary ornate shrines (devakulikas) of the Tirthankaras.

Elephants carved of black stone stand at the entrance of the temple. On the north is the image of Goddess Chakreshvari, and on the southern side is an image of goddess Padmavati.

The structure and architecture, of idols and temple, show clearly that it is a Jain temple, but since all Hindu castes and Jain sects have been offering prayers here since a long time ago, the management of the temple is done by the state Government.
The temple dispute
The nature of the temple has been in issue between Digambara, Swetambers and other Hindus. However, the Supreme Court of India in its judgment delivered in 'The State of Rajasthan & Ors. Vs. Shri Sajjanlal Panjawat & Ors.' [reported as (1974) 1 SCC 500] has, after considering the material produced, decided that it is a 'Jain temple'.