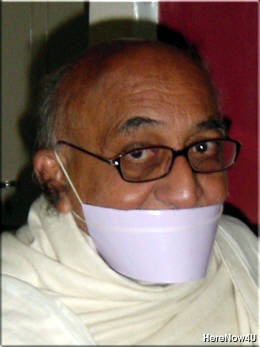 Intellectuality is undoubtedly a part of education but it is not all that there is to education. It has to be supplemented by a sense of social responsibility, humanistic values and sound character. In fact, mere intellectuality can prove dangerous.

Education must cater to all the three types of developments - physical, mental and emotional. Today we are laying a lot of stress on the first two and totally ignoring the third. Here it is worth remembering that in order to achieve integrated development, it is not enough to read and cite examples from religious literature. Such reading can be inspiring but it cannot bring about the desired change - the change of consciousness.

The Science of Living comprises combined training in the art of worldly success, spiritual progress and yoga. Modem education lays emphasis on physiology, anatomy and psychology. If all the six are combined, a total and integrated course of complete human development can be devised. We should inculcate in students the power of concentration, will-power and determination.

Then it will be able to build a new generation of people enjoying perfect and all-round health: physical, intellectual and emotional.
The following illustration elucidates the basic concepts of Jivan Vigyan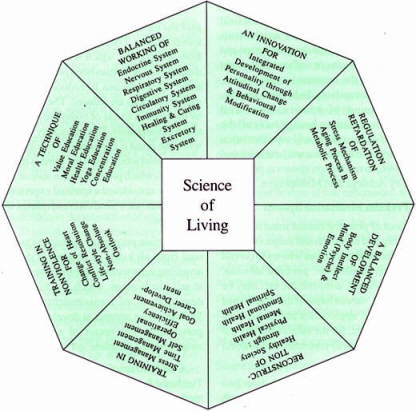 A New Dimension in Education
does not mean we exspect you to turn yourself upside down
or to do so with your monitor
to get the graphic.

The 8 sections read like this:
An innovation for integrated development of personality trough attitudinal change & behavioural modification.
Regulation, retardation of stress mechanism, aging process B., metabolic process.
A balanced development of body intellect, mind (psyche) & emotions.
Reconstruction of a healthy society through: Physical health, emotional health, spiritual health.
Training in stress management, time management, self management, operational efficiency, goal achievement, career development.
Training in non-violence for chance of heart conflict resolution, life-style change, non-absolute outlook.
A technique of value education, moral education, health education, yoga education, concentration education.
Balanced working of endocrine system, nervous system, respiratory system, digestive system, circulatory system, immunity system, healing & curing system, excretory system.