For those of us who for some reason or other have lost faith in humanity, a visit to Dharmasthala in Karnataka should help to activate one's immunity to this kind of modern ailment. But it would have to be a stay longer as a halfday sightseeing tour. One's request to stay overnight is readily complied with by being offered lodging in one of the many rest-houses for pilgrims. Westerners are advised to inquire at the office of the Secretary to the Heggade.
Dharmasthala, located among wooded hills at the foot of the Western Ghats, is not one of those modern ventures one sees advertised as new solutions of man's perennial problems. Having a history of over eight hundred years, Dharmasthala may be looked upon as the realization of a Utopian dream which has not failed its founders.
The main ingredients of Utopia are all there. There is, first of all, the enchanting landscape which ought to be approached at the hour of sunrise when layers of silvery mist withdraw into nothingness while the sun's rays penetrate deeper into the low-lying valleys calling the birds and animals of the forest to life on a new day.
Watching - at the other end of the day - the setting of the sun beyond the giant statue of Bahubali, the Jaina symbol of saying no to violence and worldly power, is another sight to be seen and absorbed by the pilgrim to Dharmasthala.
Another component in the make-up of Dharmasthala is its model character "as an experimental ground for practising what Indian sages propounded the idea of 'vasudhaiva kuturnbakarn', the whole world is my family" and its "proclaiming to the world the spirit of oneness of all religions."[1] "Dharmasthala" to quote from another leaflet, "is the perfect embodiment of the word 'Dharma'. As elusive of description, yet possessing a wealth of meaning to all who come in faith. The word 'Dharma' traditionally means religion, ritual, duty, righteousness, alms. It also implies justice, truthfulness, freedom from fear, faith, solace, fulfilment and peace."
Thus, the main temple of Dharmasthala is dedicated to Manjunatha (another name for Lord Shiva); the priests are Vishnuite Brahmins who traditionally worship Vishnu whereas the worldly lord, so to speak, is a Jaina. At present this is Shri Veerendra Heggade (born in 1948), the twenty-first of a long hereditary line of outstanding religious leaders and administrators.
True to a message delivered in form of a dream by celestial messengers, to the first Heggade, a Jaina chieftain then named Pergade, Dharmasthala developed into and has remained, throughout these many years, a haven of religious tolerance, charity and hospitality. This is all the more remarkable in view of the fact that during these centuries India was beset with inner warmongers and foreign invaders.
Today's visitors to India seem to be prone to hurrying from one old fort to another; whether of their own accord or simply in compliance with a general trend is an open question. Acquainting oneself, as an alternative, with a human enclave like Dharmasthala which does not lie in ruins like most of those 'houses' of warfare but lives on as a well-nigh Utopia of religious tolerance, charity and learning - to do this can indeed restore one's belief and trust in man's potential to building a better world.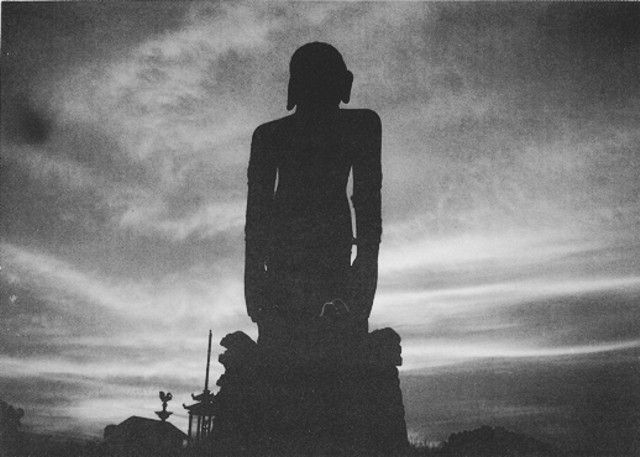 317. The Bahubali of Dharmasthala at sunset. Having had it sculptured from a single granite rock at Karkala (1967-70), hauled to Dharmasthala in 1973 - a distance of 72 km along a winding road - and set up on the chosen hillock in 1975 was a gigantic feat. The inauguration (mastakabhisheka) of the 15.8 m high statue took place in February 1982.
Providing lodging and meals to all pilgrims irrespective of creed, caste, sex and nationality has become a main concern of Dharmasthala's Jaina Heggades, and because they have never developed a liking for political power and personal luxury, all their administrative skills have gone into expanding their charitable activities towards building and maintaining hospitals, schools and colleges, research institutes, training centres for different arts, educational classes and workshops for people living in villages round about Dharmasthala, and other charitable institutions.
Direct bus services connect Dharmasthala with cities and towns such as Bangalore, Mysore, Mangalore, Karkala, Moodabidri, Hassan, Shravanabelagola and other places.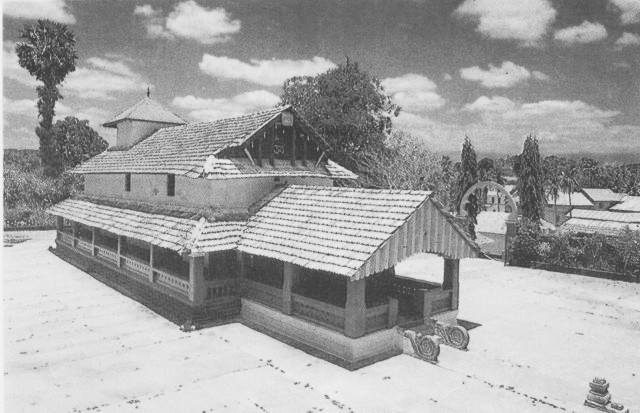 318. The Chandranatha Jaina Temple of Dharmasthala.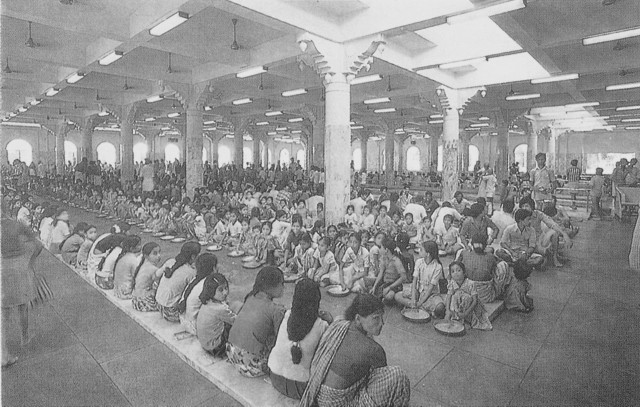 319. Dharmasthala. Annapoorna Dining Hall. Constructed to feed three thousand guests. Annapoorna is the name of the Hindu Goddess of Food. 'In the tradition of generous hospitality, initiated by the founder, every pilgrim at Dharmasthala is an honoured guest - whatever his or her caste, creed or culture. Everyone is provided with free food and shelter.' (Both photos courtesy Veerendra Heggade, Dharmasthala.)
Footnotes
From: The Holy Kshetra Sri Dharmasthala, 1982: 48.