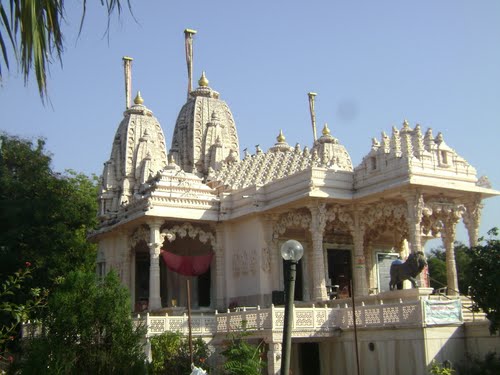 Shri Mahavir Jain Aradhana Kendra at Koba
is a dharma tirth and also a unique Jain pilgrimage center involved in nurturing the cultural and religious heritage and promoting age long religious tradition of Tirthankar Shri Mahavirswami. The place is famous for the unique event of 'Surya Tilak' on the forhead of Lord Mahavir Swami's murti.
Shri Mahavir Jain Aradhana Kendra was established on the 5th day of the dark half (Krishna Paksha) of the month of Paush in the year v.s. 2037 (26th Dec 1980) by the most revered Acharyadev Shri Padmasagarsurishwarji Maharaj Saheb, with the blessings of Gachchhadhipati Acharyadev Shrimad Kailassagarsurishwarji Maharaj Saheb.
Acharya Shri Kailasasagarsurishwarji harboured a divine ambition of founding a Jain temple, an Upashraya (monastery) and a study center at Koba. In fulfillment of the wishes of his Dadaguru (grand-guru), Acharyadev Shri Padmasagarsurishwarji inspired the establishment of Shri Mahavir Jain Aradhana Kendra at Koba. Being inspired by the Gachchhadhipati, Shri Rasikbhai Acharatlal Shah donated a prominent piece of land at a short distance from Koba, which falls on the highway between Ahmedabad and Gandhinagar.
Name:

Shri Mahavir Jain Aradhana Kendra

Location:

Koba

Year of founding:

1980

Adress:

Shri Mahavir Jain Aradhana Kendra,

Gandhinagar,Koba,

Gujarat,India


Phone no.:

+91 (0)79 23276204, 23276205, 23276252

Fax:

+91 (0)79 23276249

Email:

kobatirth@kobatirth.org, gyanmandir@kobatirth.org

Website:

http://kobatirth.org
---
Video on 'Surya Tilak' at Shri Mahavir Jain Aradhana Kendra: