Siddhachalam Jain Tirth
Siddhachalam is a Jain ashram and the first Jain tirth outside of India, located in an idyllic setting in rural north-western New Jersey on 120 acres of hilly terrain near the Pocono Mountain range. The huge temple of Siddhachalam is a wonderful combination of tradition, followed by different Jain sects such as Digambar, Shwetambar, Sthanakwasi, Terapanthi etc. and mirrors the Shikharji Jain Temples in Jharkhand, India. It is managed by International Mahavira Jain Mission, an independent, religious public charity registered as a non-governmental organization at the United Nations.
Siddhachalam was founded in 1983 by the Jain saint Acharya Sushil Kumar. It was here that Guruji, as he was lovingly called, perfected the secret science of sound behind the Navkaar Mantra. The mantra is considered by Jains to be the most auspicious of all mantras. It was also here that he practiced and taught the Jain form of yoga called Arhum Yoga.
Siddhachalam was a small but significant part of His Holiness Acharya Sushil Kumarji Maharaj's life, and a very important part of the lives of Jains in America. Guruji (as he was lovingly addressed to by his followers) was a renowned Muni in India before he embarked in 1975 on a controversial journey to the United States to spread the message of the Jinas and gather all Jains in a community. The founding in 1983 by him of Siddhachalam ("an abode of liberated souls") in the proximity of the capital of the world as the first Jain ashram outside India was part of his grand vision of spreading the message of peace, non-violence and truth as enunciated by the Jinas and of giving to the Jains of America a forum and a picturesque tirth to come together.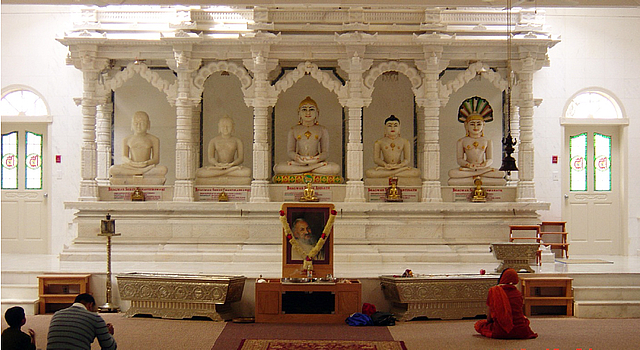 Location:

Blairstown, New Jersey

Name:

Siddhachalam Jain Tirth

Founded by:

Acharya Sushil Kumar

Year of Foundation:

1983

Adress:

Siddhachalam Jain Tirth
111 Hope Road
Blairstown, NJ 07825, USA

Website:

www.siddhachalam.org

Phone:

(908) 362-9793
(908) 362-5487
---