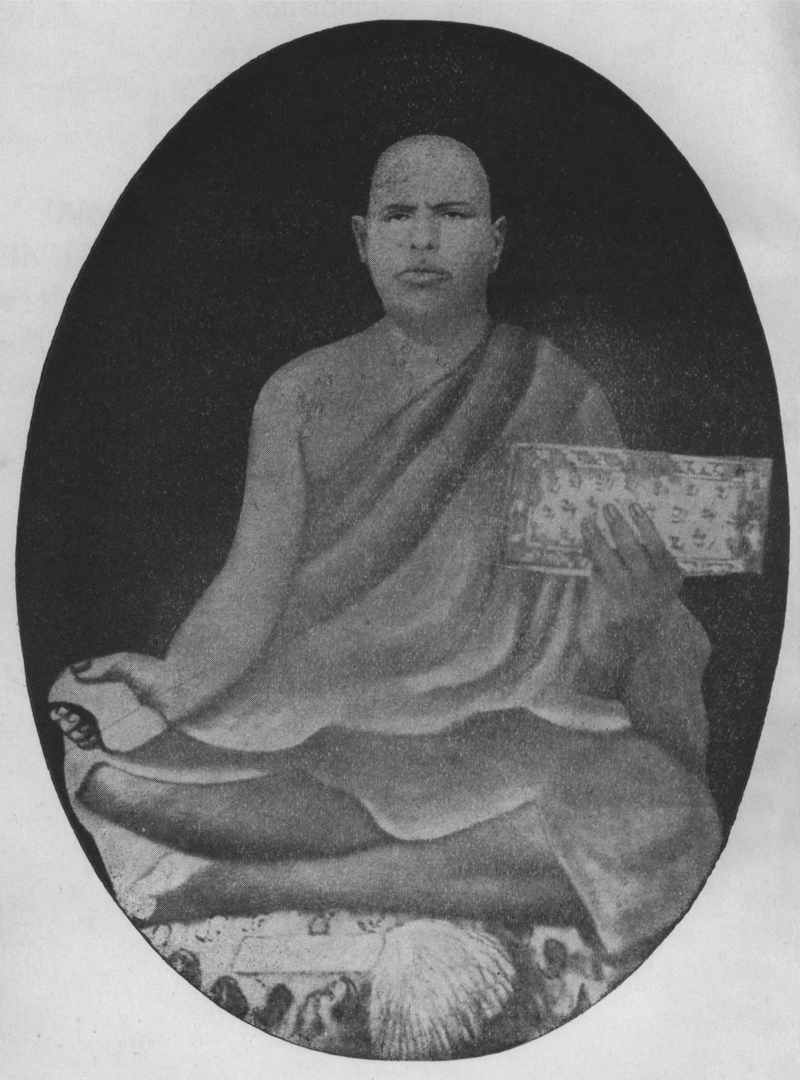 "No man has so peculiarly identified himself with the interests of the Jain Community as Muni Atmaramji. He is one of the noble band sworn from the day of initiation to the end of life to work day & night for the high mission they have undertaken. He is the high priest of the Jain Community and is recognized as the highest living authority on Jain Religion and literature by Oriental Scholars."
(The World's Parliament of Religions Chikago in Amerika, Page 21)
A short account of the life of Shrimat Vijayanandsuri - popularly known as Shri Atmaramji
Twenty two years have gone by since the death of Shrimat Vijayanandsuri, the well-known Jain Sadhu of the Swetamber sect. He was born in the village of Lahara, District Ferozpur (Punjab) on the first of Chaitra Shukla in Vikram year 1893. He was a Brahma Kshattriya by caste. His father's name was Ganeshchandra and mother's, Rupdevi. He lost his father in early childhood and was brought up by his mother. He was given in charge of Seth Jodhmal of Jira (Punjab) for education in Vikram year 1903.
He studied Hindi and Arithmetic. At times he used to visit Sthanakvasi Sadhus of the place and began to study about religion. In Vikrama 1910 he was initiated as a Sthanakvasi Sadhu. His intellect was keen: He used to commit to memory 100 verses a day. He had learnt the Shastras from the Sthanakvasi Sadhus but he began to entertain doubts as regards the interpretation as given by them. Fortunately he began to study Sanskrit Grammar and other philosophical and logical works with a Pandit.
He fearlessly gave up the Sthanakvasi doctrine and came to Ahmedabad in V. year 1932. He was initiated as a Swetamber Sadhu by Buddhivijayji a Jain Sadhu of the place. In the V. year 1943, he went to Palitana, Kathiawar and stayed there for four months during the rainy season. Here he was given the title of 'Acharya' by the Sangha; and from that time he was called by the name of Shri Vijayanandsuri.
Then he travelled on foot from Gujarat to the Punjab. During the travel he brought to light the hidden Jain Literature. The Jain Bhandars of different places of Rajputana were examined by him. He got many old important manuscripts fairly copied out.
For many years he lived in the Punjab. His fame spread through the different parts of the country. Many people of other sects came and discussed with him on matters of religion. He answered their arguments in a mild, courteous and dispassionate manner. His tone was inspiring, and the hearers were at times astonished at his peculiar tact of answering the questions. His ideas were liberal. He was serene and calm of disposition.
Many questions on Jainism were put to him by Dr. A. F. Rudolf Hoernele through Maganlal Dalpatram in the Vikram year 1945. Dr. Hoernele was greatly satisfied with the answers. He wrote to Maganlal in 1888: "Please convey to the latter (Muni Maharaj) the expression of my thanks for the great trouble he has taken to reply so promptly and so fully to my questions. His answers were satisfactory." In the introduction of the Upasakdasanga, which Dr. Hoernele has edited and translated he writes: "For some of this information I am indebted to Muni Maharaj Atmaramji, Anandvijayji, the well-known and highly respected Sadhu of the Jain Community throughout India and author of (among others) two very useful works in Hindi."
In Vikram year 1949, he received an invitation from Chicago to attend the World's Parliament of Religions. On account of religious and personal restrictions he could not go, but he sent his representative, Mr. Virchand Raghavji Gandhi, B. A. to Chicago to represent Jainism at the Parliament.
He was the author of a number of works in Hindi. The important works are as follows: Tatwanirnaya Prasad (तत्त्वनिर्णयप्रासाद), Jaina Tatwādarsha (जैनतत्त्वादर्श), Agnāntimir-bhāsker (अज्ञानतिमिर्भास्कर), Samayktwa Shalyodhār (सम्यक्त्वशल्योद्धार्), and Chicago-Prasnottar (चिकागो प्रश्नोत्तर).
Many Jain temples were built in the Punjab by his teaching. About 15000 persons were converted to Jainism by his strenuous efforts. Many Pathshalas and Libraries were established by him in the districts of the Punjab and in different other parts of the country.
Spending his life in doing good deeds he passed away from this world in Vikram year 1953, Jyesta Shukla 13, in Gujranwala (Punjab). The event of his death was mysterious. At midnight he got up from bed and sat in the posture of Padmasana. He called his pupils before him and said to them: 'Oh, Now I go, Arhan!'
Lives of great men all remind us
We can make our lives sublime,
And departing leave behind us
Foot prints on the sands of time.
(Longfellow)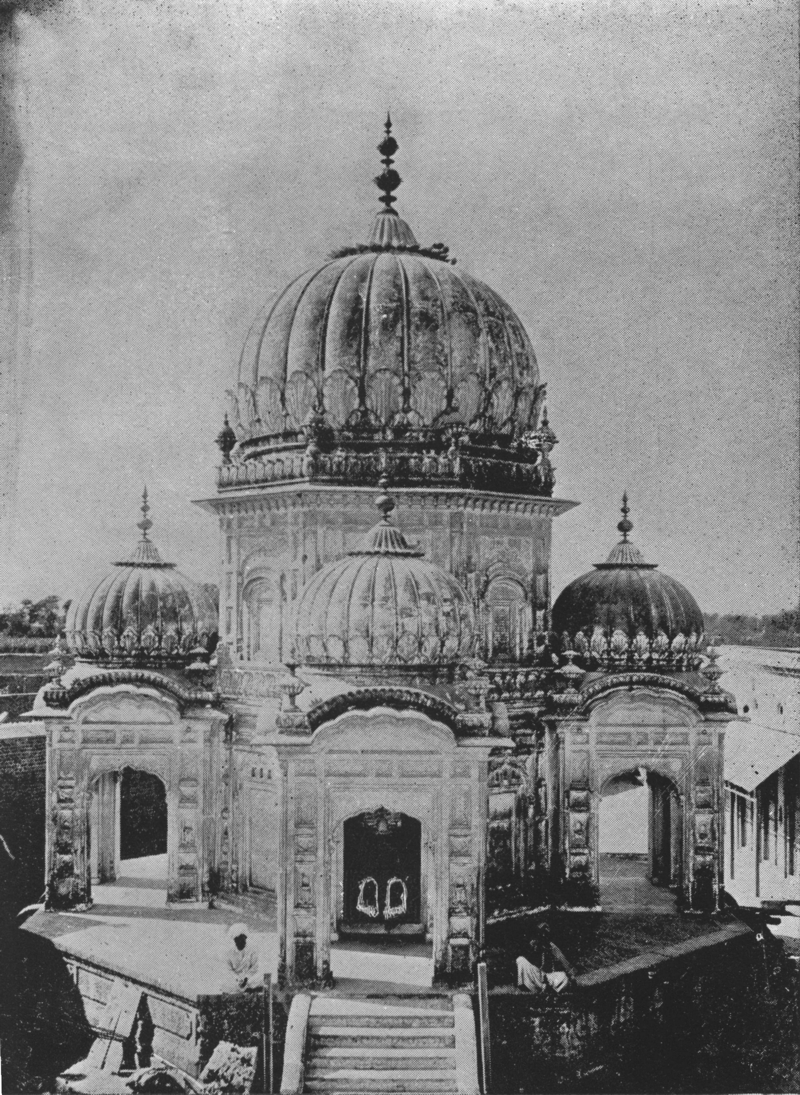 The shrine of late Mahamuni Shri Atmaramji, Hujranwala, Punjab, V. 1953
बन्धु नर्नः स भगवानरयोऽपि न्नग्ये
सात्तान्न दृष्टतर एकतमोऽपि चैषाम्।
श्रुत्वा वचः सुचरितं च पृथग्विशेष
वीरं गुणातिशयलोलतया श्रिताःस्म॥१॥

(श्री हरिभद्रसूरि)
Haribhadrasuri