Dharwar
Dharwad, also known as Dharwar, (Kannada: ಧಾರವಾಡ) is a city in India's Karnataka state.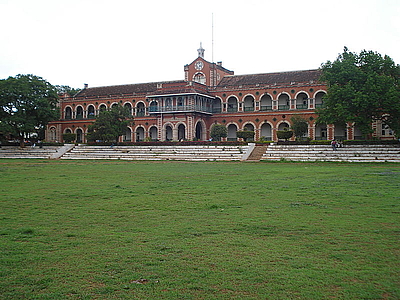 Dharwad is the administrative seat of the Dharwad District. The municipality of Hubli-Dharwad (resulting from a merger in 1961 with its twin city Hubli, 22 kilometers away) covers an area of 200.23 km². Dharwad is located 425 km northwest of Bangalore, on National Highway 4, the main highway between Bangalore and Pune in Maharashtra. The climate is mildly hot during the summer, wet during the monsoons and pleasant during winter.
The twin cities have a history behind them dating back to the Hoysala period. Dharwad is famous for its contributions to Indian culture, most notably to classical music and literature, and prestigious educational institutions, such as the Karnataka University. The Dharwad pedha - a milk-based sweetmeat - from this town is very popular.


Today, Dharwad is well-known as a quiet and pleasant city popular with students and pensioners. It continues to grow, with industries dotting both its northern and southern boundaries. In the years ahead, it promises to be a beehive of commercial activity. The location of the city on the NH4 makes it equidistant from 2 of the most industrialised centers in the country - Bangalore, the capital of Karnataka, and Pune the 2nd most industrialised city in Maharashtra.