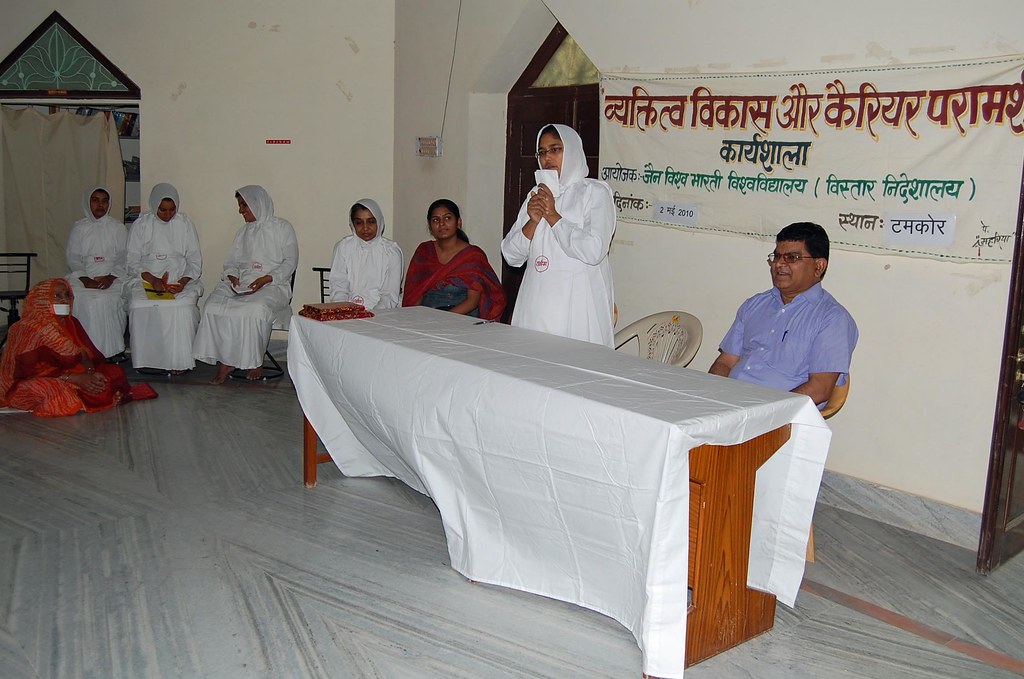 A workshop on Personality Development and Career Counseling at Tamkore was organized on May 2nd by Directorate of Extension, Jain Vishva Bharati University & Mahapragya Seva Sansthan at Pragya Bhawan. Dr. Anand Prakash Tripathi delivered a keynote address.
He elaborated the various key points required today for the making a carrier& how to make right effort for achieving them. He said that "Today life is not easy. There is a tough competition for the jobs. The feelings of competition generate a sharp tension in youth's life". Everybody should set his or her goals to proceed in the real life. After getting School Education one should chose his goal and focus on it."
Samani Pratibha Pragya delivered a welcome address. She inspired youth that at village environment have less exposure but one can open horizons for the personality development. Jain Vishva Bharati University Ladnun is putting its effort sincerely in the area of education. Samani Punya pragya inspired the youth through inspirational song. Samani Maitri Pragya anchored program. Approximately 150 teachers and student & youth from various schools were participated in the programme with great enthusiasm.
On the successful impact of the programme same event was held at Dhani Motisingh on May 7. 2010.
More than 200 villagers participated in the event with great enthusiasm and energetic way. Event was greatly appreciated by the near by areas & interested to have more these types of programmes regularly in near future. Dr. Sumedha Pragya also motivated young girls for higher education. Samani Pratibha Pragya inspired the villagers to have a healthy quality of life for healthy living. Local leader Ms Sunita Serva and schoolteacher Sh. Vikram Singh Shekhawat graced and contributed to the event.