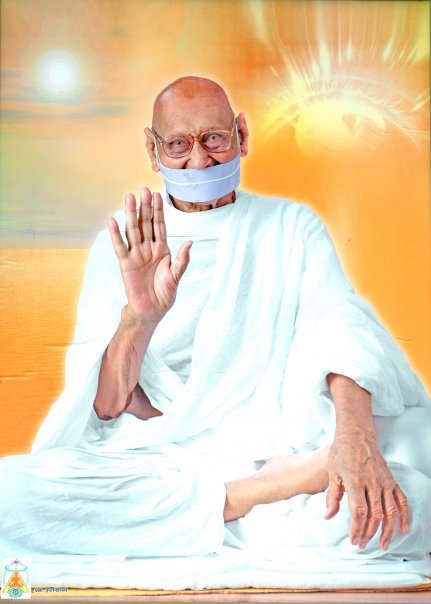 On the morning of Monday 10th May when I picked up a local newspaper in Mumbai and read That Acharya Mahapragya ji has passed away, I was deeply hurt and saddened. I was also very angry and disappointed at myself for not visiting him this time as I had planned. I felt very guilty for making other matters a greater priority over going to see Acharaya Mahapragya ji. On further reflection I realized how fortunate I was to have actually met this great soul many times. He was a great Jain philosopher, a great spiritual leader who was admired and respected by all Jain and Non Jain Indians, politicians, and also among all other religious leaders all over the world.
I still remember vividly when I first met him many years ago. He knew I was coming from UK to visit him as I had already written to him. It was late at night and he had a very busy day as usual but he saw me straight away and asked me about my journey. He was more concerned about my welfare than anything else. We were given a very special treatment during the three days we stayed. The next day he asked Mahashraman Ji to talk to my children in English which was greatly appreciated by them.During those three days thousands of peoples visited him but had to be satisfied from a view from a distant whereas I was very privileged to have been able to sit near him at all times so that I could learn and get first hand experience of everything. Acharya ji had also arranged for me to speak to any sadhu or sadviji that I wished to.
Each time I visited him after that he would recognize me immediately and say you have come, who else has come? How are the Samani ji working in UK? What do you do to better yourself?
At my request a few years back he agreed to send a mamukshu ben with Samani ji to Birmingham UK. He was always willing to learn and listen had an open mind. We in Birmingham and UK are indebted to him for continuing to send Samani ji for our benefit. He was full of encouragement and a loyal devotee to Acharaya Tulsi and his Guru. He was telling his Samani ji to master the command of an English language to be able to get the message of Lord Mahavir to public at large. He once told me that if his guru has told him to learn English he would have learnt that as well but there was no need felt at the time but now we live in a time when English is must.
Acharaya Mahapragya Ji had such a fantastic memory and concentration and at his age is to be admired. I had seen him doing multitasks i.e. teaching sadhu / sadhvi, assisting with translation of shastra, talking to visitors and reciting Mangaal Path, and also talking to me without forgetting what the last thing we said. He always found time to talk to children in between. He was an incredible person.
I was in Delhi when he was given the President's Award. I felt as if I and the whole Jain community was awarded and made me feel very proud to be a Jain.
The World has lost a great soul, a unique person, a great humanitarian whilst Jains have lost a great Acharaya, but fortunately he has left a great legacy behind him and Mahashramn Ji to continue his work.