As usual the decoration was dazzling. We reached Taal Stadium early enough to have an eye for it. Before the location deserved to be named Taal Stadium it was a rough place on the outskirts of the small town. Such locations numerously can be found in rural areas. But to change such a location into "Taal Stadium" is some kind of a masterpiece. How was it done?
The first requirement is the motivation for change. When it is lacking, no change will take place, and things will stay for a long time in the future as they were in the past. For bringing about such almost miraculous change as to transform a rough place into Taal Stadium, super strong motivation has to be carried on for a rather long time.
The second requirement is cooperation. Such a change can only be realised with the bundled energies of many motivated people.
The third requirement is donation. Donation of time, man power, money, support.
The fourth requirement is honesty. Honesty in keeping word and doing what had been promised. Not for own profit, but for the community.
This listing can be continued according to own focus and attention. To see the realisation of the four requirements was uplifting. Breathtakingly fast the organizers like magicians had created a presentable frame for Maryada Mahotsav, the constitutional festival of the Jain Terapanth community. It was made from solid drapery, desert-proofed material in adequate colours and design. Further stakes, cables, and locally generated electricity. Not only presentable, but also spacious enough for the attended quantity of visitors. The location was light and functional enough to be the right frame for an annual meeting of white-clad saints and colourful-clad lay followers from all over India and abroad.
More and more people came to Taal Stadium, and all of a sudden, groups of monks, nuns, and novices had arrived. We had not witnessed their coming. But noticed how the noise level decreased the more of them were present. When it was nearly silent, H.H. Acharya Mahapragya and Yuvacharya Mahashraman were announced.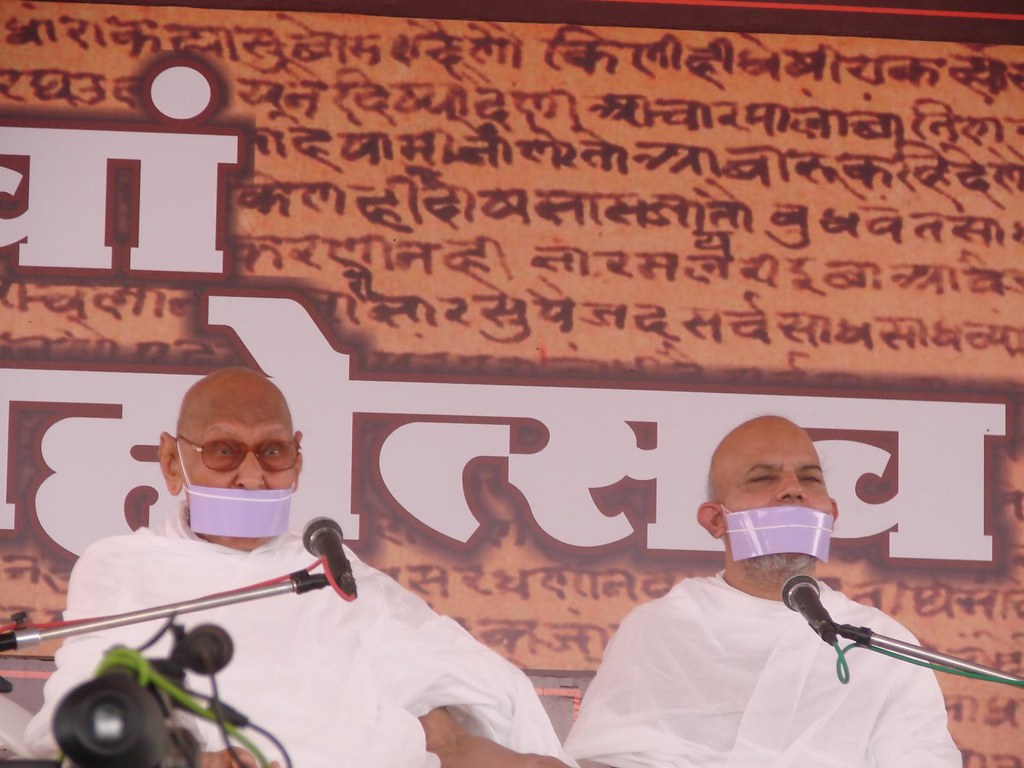 H.H. Acharya Mahapragya & Yuvacharya Mahashraman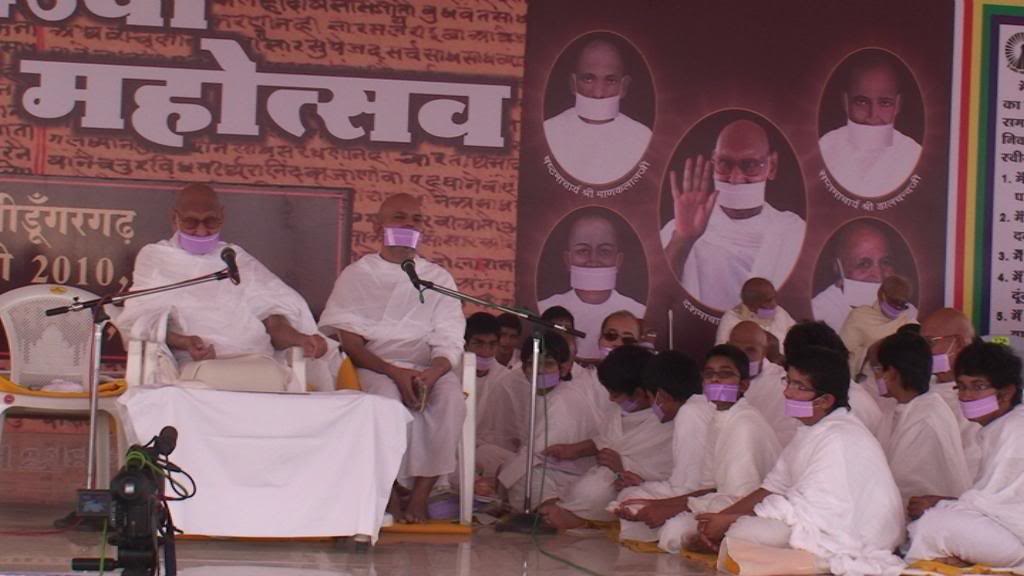 H.H. Acharya Mahapragya & Yuvacharya Mahashraman, young monks sitting near to them on the stage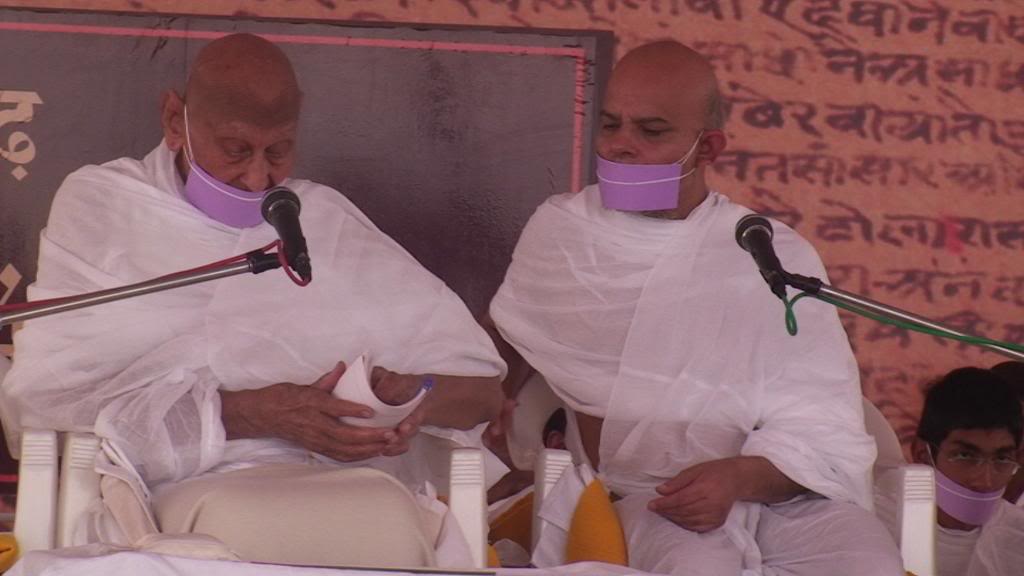 H.H. Acharya Mahapragya & Yuvacharya Mahashraman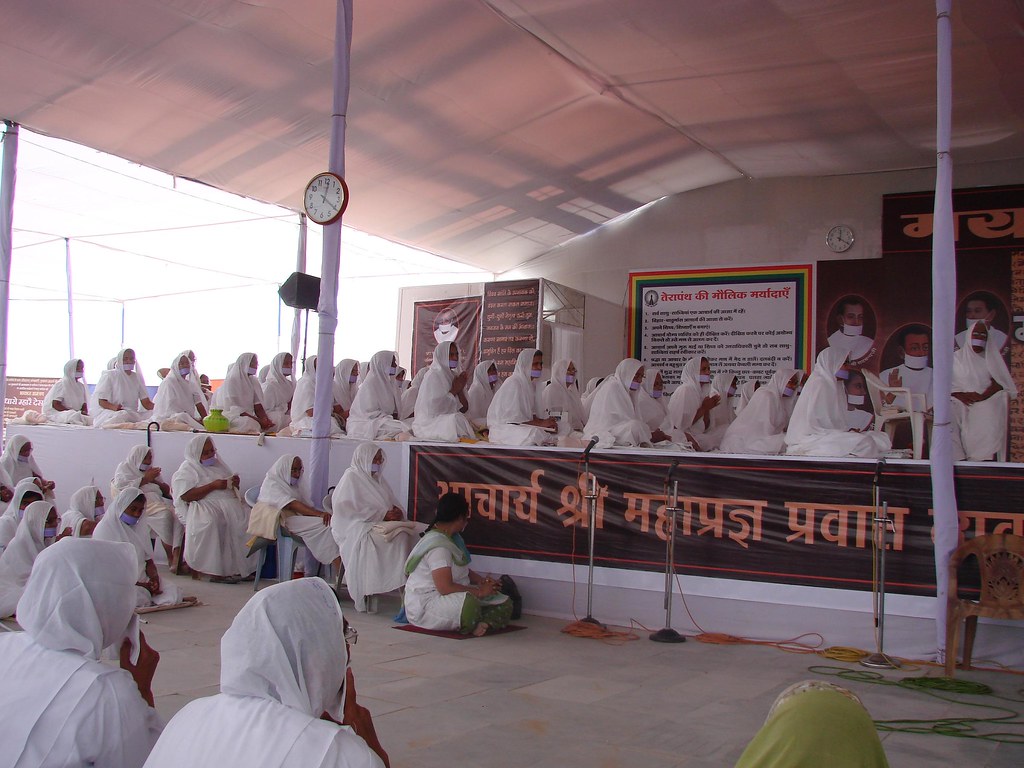 View on Sadhvi Pramukha Mahashramani Kanakprabha (r), Sadhvis and Samanis (back of heads)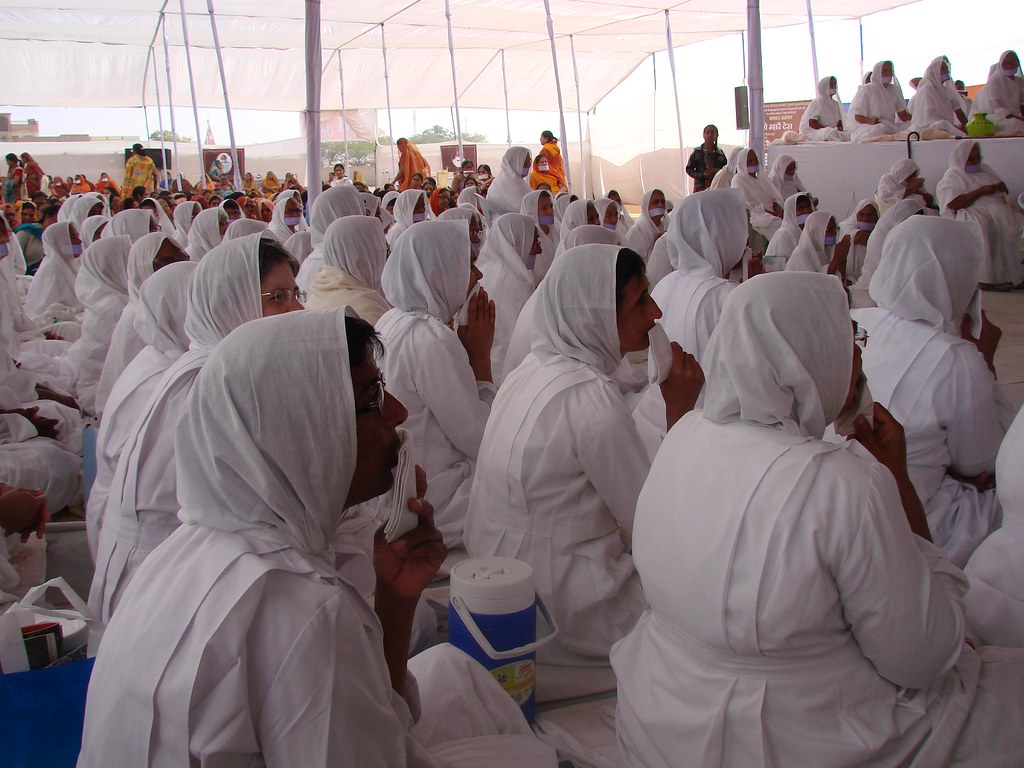 Samanis listening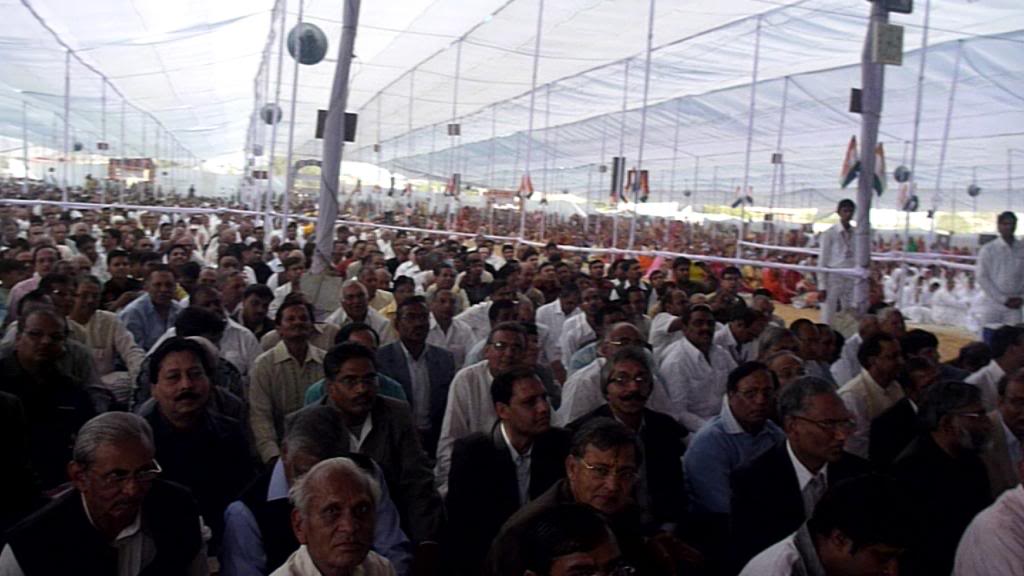 Male lay followers in the audience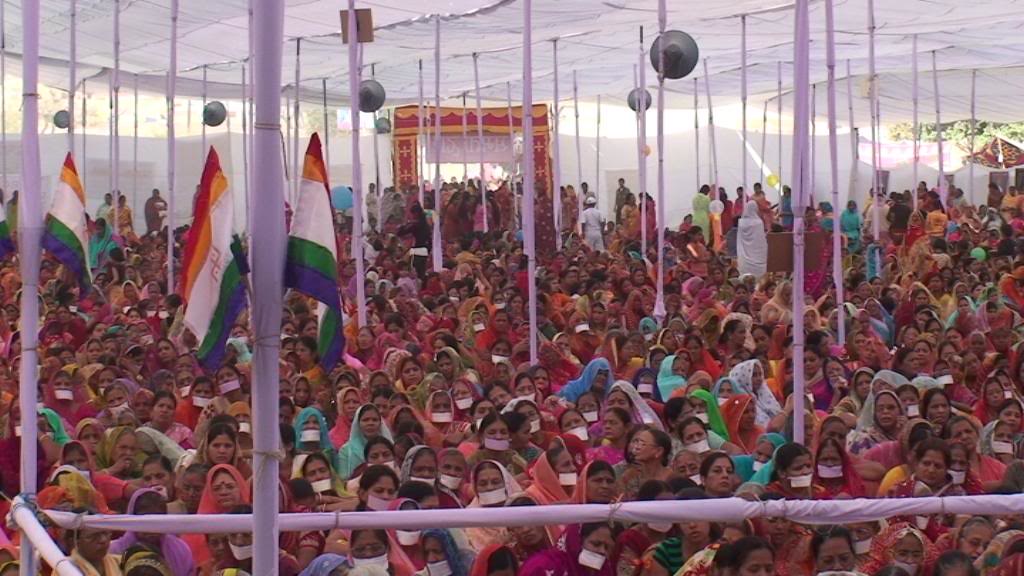 Female lay followers in the audience
The Festival of Rules was no opportunity for hasty rushing to get a first-row glance on the saints. The audience was sitting and waiting. They had stopped talking and focused their attention on the stage. H.H. Acharyashree entered, leaned on two junior monks, escorted by Yuvacharyashree and about ten young monks. The audience got up and saluted them. The elder monks and Sadhvi Pramukha with her group of Sadhvishrees already were sitting on stage, most of them cross-legged. Most of the nuns were sitting near the stage on the floor, consisting of stones. Further the sandy ground had been covered by carpets and blankets for the audience.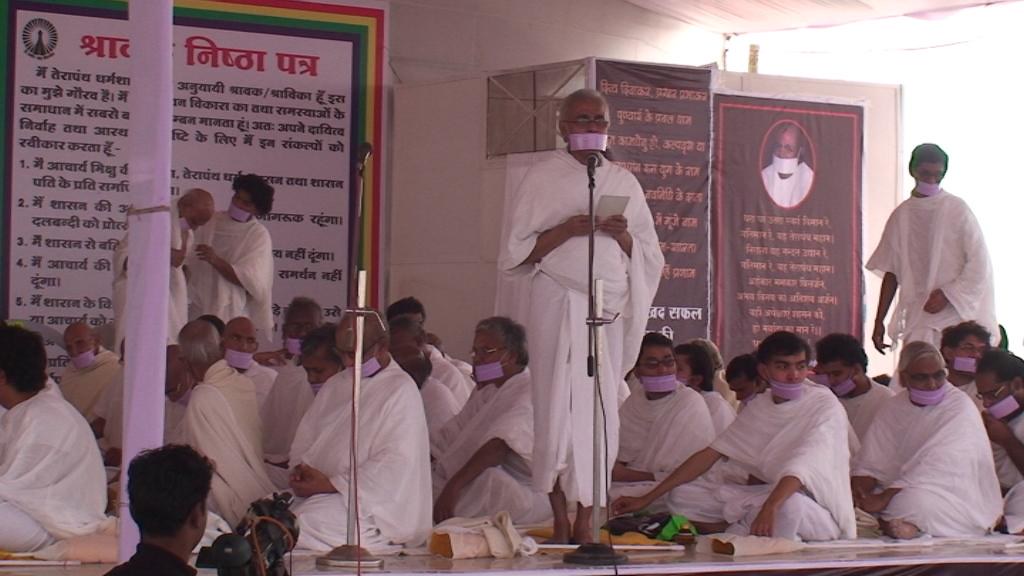 Muni Dinesh Kumar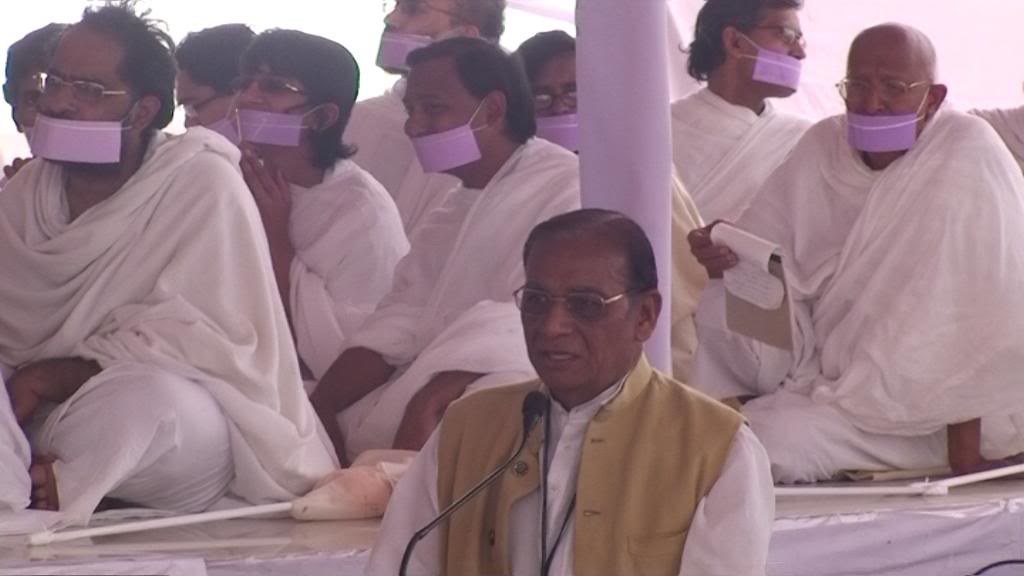 Sri Banechand Malu in his speech
Then the function started. Muni Dinesh Kumar was the first monk speaker, followed by Sri Banechand Malu, first lay speaker.