NATIONAL YOGA WEEK 2010
by
Moraji Desai National Institute of Yoga
12th to 18th February, 2010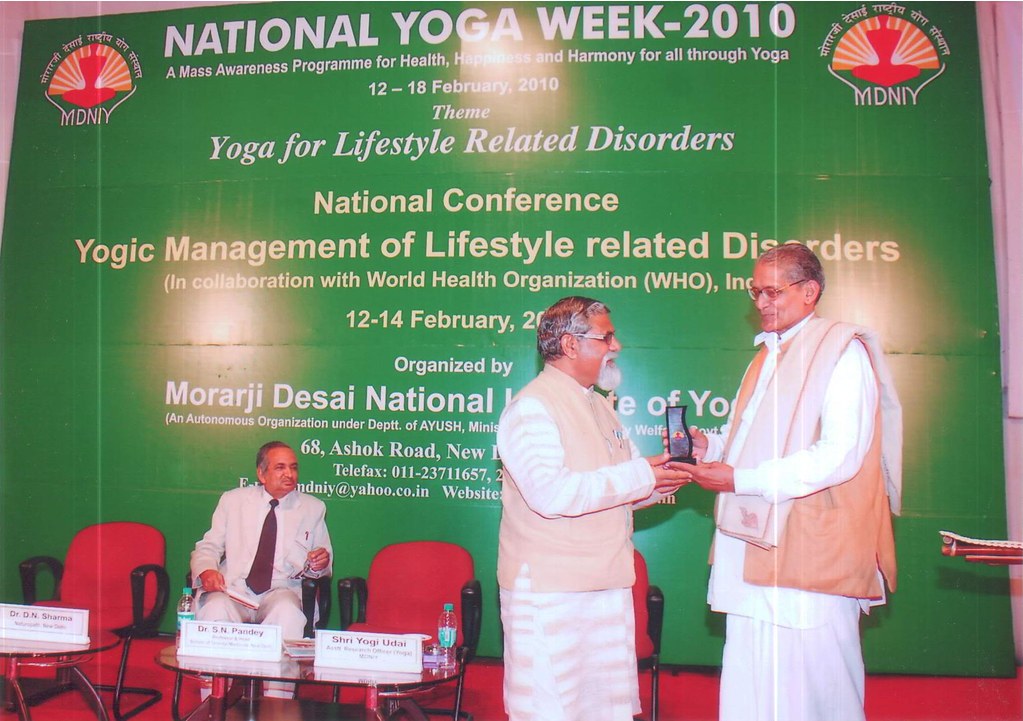 THEME: Yoga For Life Style Related Disorders
 
The National Yoga Week for 2010 was inaugurated by Smt. S. Jalaja, Hon'ble Secretary, Deptt. Of AYUAH, Ministry of Health and Family Welfare, Govt. Of India on12th February,2010 at 4 p.m. and the NATIONAL SEMINAR on the theme " Yoga for Healthy Lifestyle was inaugurated by Sri S.Gandhi Selvan, Hon'ble Minister of State for Health and Family Welfare.
Nearly 800 persons including delegates, students delegates from various colleges and universities all over India, more than 60 eminent experts in Yoga and Allied Sciences, more than 20 expert faculties from leading Yoga Institutions, 61 delegates from Italy, and the senior officials from the Ministry have participated in this mega event. The experts and the delegates presented their views papers and research papers on the topics relevant to the themes of the programmes.
Cardiologist Dr. S.C. Manchanda the former Head of the Deptt of Cardiology AIIMS New Delhi and the chief consultant of S. G Hospital presented his paper on Yogic Management of Lifestyle Disorders. He pointed out that Cardio Vascular can be successfully managed by Preksha Meditation Practice. In the afternoon session Dr. Bimal Chhajer had also mentioned in his presentation that Preksha Meditation has helped thousands of heart patients in reversing their heart problems. Dr.J.P. N. Mishra, Prof J V B University also presented his paper in which he also mentioned about the technique of Preksha Meditation.
Swami Dharmananda presided over the session Yoga for Stress Management & Anxiety Depression.