New Delhi, January 28th, 2010
Gani Rajendra Vijay tieing Raksha Potli on Shri Lal Krishna Advani's wrist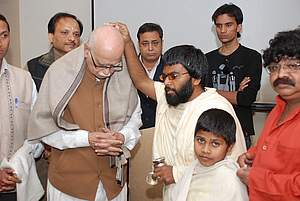 Gani Rajendra Vijay give blessing to Senior BJP Leader and Ex-Deputy Prime Minister Mr. Lalkrishna Advani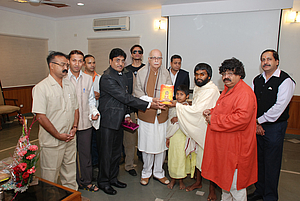 Senior BJP Leader and Ex-Deputy Prime Minister Mr. Lalkrishna Advani launching a new book "Mahaveer ka Samajshastra" written by Gani Rajendra Vijay. Secretary of Sukhi Parivar Foundation Mr. Lalit Garg and Shri Gopal Sharma are seen in picture
Senior BJP Leader and Ex-Deputy Prime Minister Mr. Lal krishna Advani said that it is necessary to promote humanity and non-violence in our country. This is possible only by instigating such feelings in people internally and not by legalizing matters. We should always be ready to render our support in such a mission like Sukhi Parivar Abhiyan. Social and non-governmental institutions should come forward and participate in services like education, health and public welfare. Sukhi Parivar Movement is a special creative and constructive undertaking to develop and uplift the tribal people. In the leadership of Gani Rajendra Vijay many public welfare activities are working in tribal areas of district Vadodara. Gujarat Government will cooperate as much as possible to boost these activities.
Welcoming Gani Rajendra Vijay founder of Sukhi Parivar Movement and other Jain Saints at his residence, Mr. Lal krishna Advani expressed the above statements. A delegate of Sukhi Parivar Movement was present at this meeting. Mr. Lal krishna Advani also launched the book "Mahaveer ka Samajshastra" written by Gani Rajendra Vijay. He said that this Book is very useful and Mahaveera's teachings focus on overall enrichment of the Social and individual life. He also said that Gani Rajendra Vijay is one of the distinguished personalities of the Indian saint tradition. The programmes given by him for the welfare of humanity really helps in saving the religion. The culture and traditions that were prevalent during the tenure of Mahavir are still alive. His efforts in spreading the message to each corner should be successful.
On this occasion Sukhi Parivar Abhiyan founder Gani Rajendra Vijay told him that in current circumstances the training of democracy and humanity are greatly required but attention is not given to it. He said that Naksalvad is flourishing because of persons holding powers and those who are making show off of money to the extreme. Disparity, hunger, unemployment and communal struggle are increasing Naksalvad. Giving a solution to this, he said it can be wiped by using politeness as a weapon rather than by any punishment. Gani Rajendra Vijay said that Ahinsa is the absolute truth. It had its importance in the past, is still there in the present and will always be there in the future. The ultimate achievement of non-violence is the state of human soul. That is why it is said 'Parasparo Grah Jivanam'. (Living beings exist with mutual support). Non-violence is not only a religious practice needed out side this world but is also required in our day to practical life.
He further said today everyone is busy with their personal interest and society's responsibilities are not even touching their thoughts. He by explaining the vows of Mahavira said that Mahavira had given the concept of limitation to personal consumption which is applicable to all in today's time.
According to Gani Rajendra Vijay "First alphabet of religion is morality. There are three bases of practicing the religion - morality, rituals and spirituality based practice. Today morality based practice has vanished and only rituals have become the primary religious practice. All these problems are because of dual personality of religious practices." Gani Rajendra Vijay told Mr Advani that the teachings of Mahavir should be a part of the democracy pattern, so that it can reach every man.
Mr.Lalit Garg Secretary of Sukhi Parivar Foundation, Mr. Mukesh Agrawal also welcomed Senior BJP Leader and Ex-Deputy Prime Minister Mr. Lal krishna Advani with flowers, Shawl and a Memonto and presented him latest issues of publications.
The main members of foundation Mr. Mukesh Agrawal, Shri Gopal Sharma, Mr. Gyanchand Jain, Mr. Subhodh Sharma, Mr. Nilesh Bhai Shah were also present during the meeting.