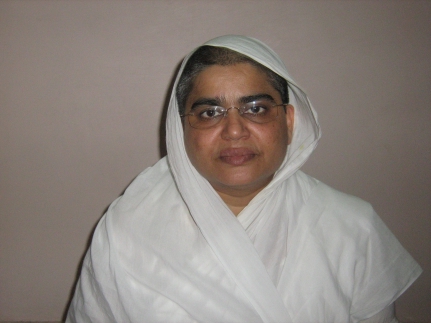 Samani Nidesika Bhavit Pragya


Samani Nidesika Bhavit Pragya while addressing audience in Raipur, Chhattisgarh said that in ancient Indian traditions Saints and Seers are always honored. They have been apt in their devotion. Therefore their lives are great. There are a few ways by which students can also make their life great and those things that are necessary in childhood. A child who has bad habits like anger, superiority complex, laziness, sickness and improper utilization of time will not be successful and he will not gain knowledge. He can neither be progressive nor can he become a scholar. Therefore, students if you want to be successful in life, listen carefully to these five things that are described hereunder:
1. Stambh: means Jadata:
Jadata means superiority. Children with superiority complex will feel envious of others who excel them. The student should be gentle and polite to their elders. They should not be stubborn to whatever the teachers teach in school. It is very essential to be soft, polite and gentle with them. But in life where politeness occurs highly, they shine out as Mahatma Gandhi, Nehru and Swami Vivekananda.
2. Anger:
The child which is gentle is having a strong body. By becoming angry, children turn weak. The child should not answer angrily in front of parents. If you are angry then you must think that what is the cause of anger and as repentance avoid eating one of your favorite foods for a day or for a particular time. Thus, by adopting this measure, your anger will disappear.

3. Pramad (Improper utilization of time):
Certain children do not utilize their time for reading. They spend their whole time in playing and jumping thus avoiding their studies. These kinds of children are unsuccessful in life. Read regularly what you are taught in daily teachings otherwise your situation will be similar to that child who in examination hall wrote in his answer book-"Hazaron ki kismat tere haath hai, agar paas kar de tho kya badi baat hai," which means –You are the fortune maker of thousands if you promote me, what is so great.

The examiner on collecting his book wrote -" Kitabon ki dheree tere paas thee, agar yaad karata tho kya badi baat thee," which means- When you had a huge collection of books with you, you could have memorized too.
4. Sickness:
If a child is sick, then how can he gain knowledge? What is the reason for the occurrence of sickness? Those children are eating at irregular and indefinite times, and those who do not plan their life in proper way are subjected to sickness. Do right work at the right time. There is a saying that work while you work, read while you read, play while you play, sleep while you sleep, this makes a man healthy, wealthy and wise. If you know the value of time, you will be happy. Food habits of child should be simple, nutritious and health providing. Children should avoid eating from street hawkers. Unhygienic environment is also the root cause for all diseases. The things from street hawkers are not good because flies and other insects sit over them. Therefore, it is best to eat good homemade food.
5. Laziness:
Laziness is harmful for students. Lazy children continue sleeping and do not get up even when they are awakened. Children should get wake up at proper time and study or learn their lessons. They should be enthusiastic. If these fine qualities are imbibed in them, then they will progress.
6. Other bad qualities:
There are some qualities that also require attention. Children should not steal the things of other students. Nowadays, even very young children start smoking following their father's footsteps. Smoking is very injurious to health.