South Asia Mail
---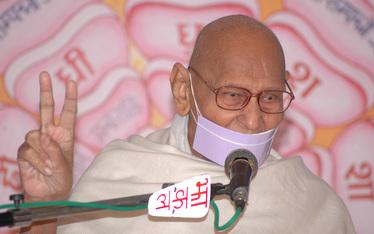 I wish I had been an artist and a connossieur, but I happen to be an ascetic. I am, therefore, a practitioner of spiritual discipline and not of art. Art appears to be the opposite of spiritual discipline. This dichotomy disappears when I find that everyone who speaks and has hands and fingers is an artist. And so am I.
It is the nature of man to communicate with others. We have made tremendous progress in communications. Speech came to develop in the course of man's attempts to express himself. Man's thinking also developed alongwith the development of speech. In the absence of speech he would not have been able to communicate his thoughts to others. What is art except self-expression and the communication of conceptual thinking?
According to the Upanishads, the creation of the universe is an art. Brahma felt the urge for self-expression and expressed himself in terms of names and forms. An artist is one who feels the urge for self-expression and does so.
The first step of the painter is to draw lines. He them arranges them in such a way that they produce a shape. The original shape of the lines is lost into the shape that emerges out of them. Everything passes through the stages of arrangement and rearrangement. Rearrangement, modifications and rejuvenation are inherent in the development of everything.
The artist employs his body, hands, fingers and other physical organs. Bhagwan Mahavira advised us to discipline our physical organs. Art is a kind of perception of the external world. Asceticism is the opposite of art. The ascetic looks within himself. The artist keeps his eyes open to see the world. The ascetic keeps his eyes closed to see something other than the world. Artistic expression is inspired by the self-discipline of the artist. Self-discipline also inspires us for self-expression. But the self-expressions of the artist and that of the ascetic are not the same thing: They are not complementary to each other. Everything is a unity of opposites. Even an atom is composed of mutually contradictory particles. Even an atom is composed of mutually contradictory particles. Nothing exists except through its inherent contradictions.
In one sense art and self-discipline are mutually complementary also. Art is an integrated attempt. It implies the cooperative coexistence of opposite tendencies. My philosophy is that of Syadvad. From the relativist point of view art has developed as a coordinated activity. Truth is larger than what the artist perceives. The artist's perception of truth has been helpful in the progress of human life. When fire is applied to incense, it spreads fragrance. Life makes progress through the combination of truth and beauty. The progress of life ultimately leads to the realization of the good. What is good stands between truth and beauty. Truth, goodness and beauty are the highest ideals of human life. Beauty cannot be perceived except though a beautific vision.