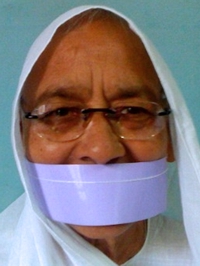 Children are the future of society and nation. They are the wealth of family. Security and improvement is the primary responsibility of society. Overall development of the coming generation by Sanskar Nirman - This thought has been expressed by Sadhvishri Kanakshriji in "Gyanshala Prakoshtha" at Terapanthi Mahasabha. Addressing to the audience present at the Mahasabha Bhavan, Sadhvishri said- "In present there are many things done for children, but how to build children is becoming secondary."
Better education, good school and college, high degree & good job for children - in the anxiety of these, parents forget that thinking, nature and behaviour of children also should be good. Protection of our children from the western culture, materialistic attractions and sowing the seed of Sanskar on the growing mind is of prime importance. It is expected that society will concentrate on this.
Sadhvishri said - In the leadership of Acharya Shri Mahapraghyaji & in the guidance of Yuvacharyashri Mahashraman, thousands of workshops are doing commendable work in this direction. Gyanshalas are labs for Sanskar Nirman. In Kolkata, approximately 16 regional committees together with support of Terapanth Yuvak Parishad and Mahila Mandal are working for Sanskar Nirman among the upcoming generation. Shri Mahaveer Pratap Dugar, the regional convener of Kolkata introduced the Gyanshalas and presented their success descriptions.
"Ghyanshala Sampark Pakhwada", organized in the inspiration of Sadhvishri Kanakshriji witnessed the presence of senior office bearers of the Greater Kolkata Sabha, representatives of Terapanth Yuvak Parishad and Mahila Mandal and active members of other supporting organizations. Regional convener, Shri Mahaveer Pratap Dugar, assistant convener - Shri Malchand Bhansali and approximately other 45 Gyanshala teachers were among the other participants. The meeting was presided by Shri Ratan Dugar, ex-president of A.Bha.Teyup.

At present, 16 Gyanshalas are operating in different regions of Kolkata. The teachers of 13 Gyanshalas presented their thought and requested the parents to send their children to the Gyanshalas to help them earn etiquettes.
General Secretary of Terapanthi Mahasabha, Shri Binod Choraria presented a kit to Sadhvishri and expressed his thought saying - "Gyanshala is a special work of the Maha Sabha". This is the effect of inspiration of Sadhvishri that on Sadhvishri's arrival first a three-day Gyanshala trainers training camp ended with a success and today is meeting also proved its capability.
Shri Karan Singh Nahta, President of Kolkata's Terapanthi Sabha, addressing Gyanshala as Nirmanshala praised all the regional committees, Terapanth Yuvak Parishad & the active workers of Mahila Mandal and teachers saying that due to their alertness the Gyanshalas are working in a systemized manner throughout different regions of Greater Kolkata...
Soon after the speech of the President Shri Ratan Dugar, Smt. Rajkumari Lunia - Secretary of Kolkata Mahila Mandal, Shri Janwarimal Nahta- President of South Howrah, Shri Jatanmal Gelra - Secretary of Purvanchal Sabha, Shri Surendra Dugar - President of South Kolkata Sabha expressed their views. The program was well compeered by Shri Malchand Bhansali.