The Signatories Of The
Surat Spiritual Declaration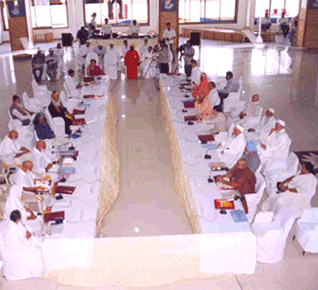 Shri Shri Balagangadharanatha Swamiji

The 71 st Head of Shri Adichunchunanagari Mahasamithi Matth, located near Bangalore. The Math has been striving for the betterment of common people, specially in the rural areas with regard to education and health.

Dr. Homi B. Dhalla

Founder of the Zoroastrian Cultural Foundation in Mumbai. Dr. Dhalla represents parsi community in various national and international forums focusing on the Zoroastrian view of peace, ecology, human rights, inter-religious dialogue and the like, and has launched many cultural projects for the Parsi community.

Bishop Dr. Thomas Dabre

Secretary General of Council of Catholic Bishop's of India and first Bishop of newly erected Dioces of Vasai by his H.H. Pope John Paul II. A scholar of theology, Dr. Dabre has lectured widely in India and abroad, not only in Christianty but also presented papers on comparative religion for many journals.

Yuvacharya Mahashraman

A disciple of H.H. Acharya Mahaprajna, the Spiritual leader of Swetamber Terapanth Community, has worked tirelessly in fulfilling the ideologies of Ahimsa and secular concept of Co-existence.

Sadhvi Pramukha Kanakprabha

A disciple of H.H. Acharya Mahaprajna, the Spiritual leader of Swetamber Terapanth Community, has been working tirelessly in fulfilling the ideologies of Ahimsa and secular concept of Co-existence.

Jagadguru Sri Sri Sri Shivaratri Desikendra Mahaswami

The 24 th pontiff of Sri Suttur Math, Karnataka, Swamiji's focus has been on the service of the community with spiritual attainment. Also as president of JSS Mahavidhyapeeth Educational and Cultural Institutions in South India, Swamji's concept of "Service Before the Self" and his philosophical and spiritual view of life has won him hearts of million including followers belonging to different faith.

Rev. Stanislaus Fernandez

Archbishop of Gandhinagar is a spiritual scholar with in-depth knowledge of humanities and religions who believes "religion cannot be a palliative to one's selfishness but call to service".

Swami Jitatmananda

A monk of Rama Krishna order, Swamiji is an editor of Prabuddha Bharat journal started by Swami Vivekananda, speaks on the co-relation of Science and Spirituality. His mission work on upliftment of downtrodden and cyclone effected people.

Shiek-E- Tarigat Hadrat Syed Muhammad Jilani Ashraf

The 28 th descended of Hadrat Ghuthe-Azan Syed Abdul Qadir Jilani. For preaching human, moral, spiritual values and promote peace and unity of faith and international brotherhood, Rev. Syed Muhammad Jilani Ashraf has established a Spiritual Complex in Dargah Kichhachuvi Sharif in UP. A sincere work has done by his followers in many countries of the world. Sufi Sheik is at Luckow, where central office of the Spiritual Foundation is established.

Rev. Ezekiel Isaac Malekar

A distinguished scholar, a human right activists, a priest, he is the Honorary secretary Judah Hymn Synagogue, New Delhi and member of many interfaith organization. He has been representing Jewish Community in India and also at national/international journals. He has authored many articles and books on meditation, national integration through education. Book on the "Education for Global Society - Interfaith Discussions' being the latest.

Prince Huzaifa Mohynduddin

Son of H.H. Dr. Sydena Muhammad Barhanuddin, the 52 nd incumbent of the august office the Dal-Mutg. The Prince is an accomplished scholar, and illustrious philanthropist and next head of Dawoodi Bohra community which is domiciled all over the world.

Brahma Kumari Sudesh Didi

A teacher and administrator, with Brahma Kumaris world Spiritual University, has actively promoted and encouraged women to play a leading role in the social and spiritual development of the humanity. Currently Director of sixty centres in United Kingdom and Germany, she has been an outstanding lecturer and broadcaster on human development, mediation and creative abilities of mind.

Dr. Jaswant Singh Neki

A psychiatrist of repute, Dr. Neki is an Honorary Secretary of Bhai Vir Singh Sahitya Sadan an organization that propogates Punjabi literature and learning and has won the best professional of the year award in 1989. In the field of literature and poetry, he has won Sahitya Academy award. An outstanding Sikh theologian, Dr. Jeki has been decorated with Order of Khalsa Award in 1999.

Ven. Rahul Bodhi

Founder President of Bikku Sangha United Buddhist Mission-Sarvodya Maha Suddha Vihar, Mumbai. Under the leadership and guidance of Venerable Bodhi this organization is working through out India and is spreading the message of Brotherhood, love, kindness and compassion for the Service of Humanity.

Maulana Wahiduddin Khan

An Islamic and spiritual scholar who is well versed with classical Islamic learning and modern science. Maulana has presented to the world the real face of the Islam based on peace, tolerance and co-existence. A prolific writer, he has established the Islamic Centre in New Delhi. Maulana, recipient of several national and international awards, has represented Islam and spirituality at various international interfaith and peace conferences and has been awarded Damiurgus Peace International Award 2002.