Deepa/dipa = "light of the dharma", avali = "a continuous line"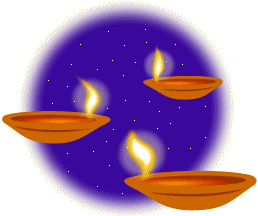 The night may be dark,
The path may be difficult,
Light lamps of love and affection
Anounce Diwali of heart.
Indians of all religions celebrate Divali, the festival of light. It takes place during new moon between end of October and midst November [e.g.: 11.11.2000, 25.10.2003, 12.11.2004, 01.11.2005, 28.10.2008]. In many parts of India, it marks the homecoming of King Rama to Ayodhya after a 14-years exile in the forest, in others Lord Krishna's defeat of the demon Narakasura.
Parents will often give sweets to their children. All over India lamps are lit. The festival of Diwali extends over five days. Because of the lights, fireworks, and sweets involved, it's a great favourite with children.
Jains celebrate Diwali in remembrance of the day Lord Mahavira attained nirvana in Pavapuri the dawn of amavasya, new moon. According to Kalpa Sutra, a pictorial description of Lord Mahavira's life and past lives written by Acharya Bhadrabahuswami about 3rd century BC, many Gods were illuminating the darkness of the dawn when Mahavira gave his last teachings and attained ultimate liberation (Moksha).
For contemporary Jains, Diwali is 'New Year Day' in the sense of 'New Year in Spiritual Life'. The festival of light remembers the depart of the Great Soul Mahavira who left his enlightened teachings for those who are looking for their inner light to cultivate their human nature & transcend the boundaries of bondage to deliberate the spiritual potential inherent in all of us, giving hope & strategy for a happy life. Jains will also fast for the two days of Divali, following the example of Mahavira.