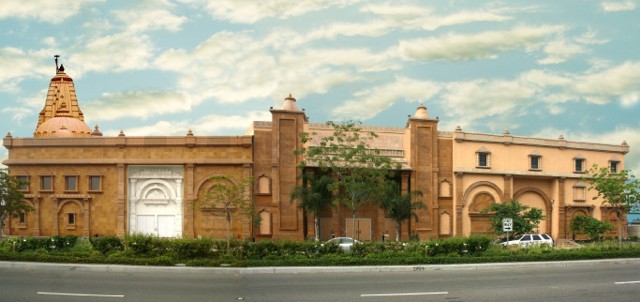 Address:
8072 Commonwealth Ave

Buena Park, CA 90621-2520

Maps & directions
About:
The Jain Center of Southern California (JCSC), located in Buena Park, California, was founded on September 15, 1979 by 30 families with one important mandate -- to practice, promote and teach Jainism with no sectarian bias. Today, with over 1000 families as members, the JCSC's major activities include: religious celebrations, educational programs, lectures from visiting dignitaries, free medical camps open to all, humanitarian relief projects and much more. The JCSC is one of the four original Jain organizations that helped establish the Jain Associations in North America (JAINA) in May 1981 which has been honored with numerous awards and honors, including one from the United Nations.
Contact:
Main Board Number: (714) 523-5246

Name of person

Contact Phone

email Address

PRESIDENT

Ashok Savla

(H) (626) 287-6560

VICE PRESIDENT

Ramesh Jhaveri

(H) (714) 827-0510

SECRETARY

Jiten Vasa

(H) (714) 995-1660

TREASURER

Pramod Shah

(H) (949) 951-3830

PUBLIC RELATIONS

Narendra Jain

(H) (310) 320-5570

Amrit Bhandari

(H) (949) 551-9424

Pinkal Jogani

(O) (213) 453-6700

Savita Mehta

(H) (714) 898-3156

Adhir Shah

(H) (714) 577-7919

Alpesh Shah

(O) (213) 479-3023

Rajesh Shah

(H) (818) 952-1939

Ashish Sheth

(O) (213) 924-0807

Pankaj Sheth

(O) (213) 880-3666

Pragnesh Vadecha

(H) (714) 992-1667

Mahesh Wadher

(H) (951) 898-0276
Magazine:
JCSC Connect