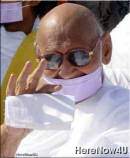 08.08.2008
The objective of modern economics is neither peace, nor non-violence. Its goal is economic prosperity. It aims at everyone becoming rich. In order to fulfil the objective of pervasive prosperity, it also expects that desires, needs and production are expanded, and as a consequence thereof, greed promoted.

The expanding greed presupposes expanded needs, which calls for expanding production. This, in turn, requires higher economic growth. Economic growth calls for competition. In this context, peace and non-violence are relegated to a secondary position.

Mahatma Gandhi opposed industrialism and concentration. He said that concentration of power and of capital tends to increase violence. Wherever power and capital get concentrated in the hands of a few, problems arise. This view of Gandhiji has come wholly true. Wherever concentration of power and capital took place, violence has intensified. Gandhiji made another vital point. Any government, the foundation of which is based on violence, cannot survive. Based on violence, nothing can be enduring. It is for a similar reason that he opposed industrialism.

Industrialism, in its ultimate analysis, is only a variation of economic slavery; it is one of its synonyms. As industries become centralised, economic slavery will prevail. This will lead to exploitation. Exploitation would not be limited to one country but it will extend to exploitation of one nation by another. The nation with increased industrial capacity will use that power to exploit other nations.

With industrialism two other things go together: power, and exploitation through power and violence. Where industrialism gets a free hand, the problems of conflict and war are also created. In opposing industrialism, therefore, Mahatma Gandhi called for decentralised industry; in opposing concentration of capital, he advocated dispersal of capital and trusteeship. This really means that Gandhiji propounded non-violence and peace.

Mahavira too maintained that where self-restraint and peace prevail non-violence is also ensured. Economics is moored in the fulfilment of wants. What is aimed at is that the people should be able to satisfy their wants. Satisfaction and enjoyment have remained the main targets of economics. To Mahavira, the question of satisfaction and comfort was secondary; that of peace was primary. When the objective of peace becomes primary, the whole approach changes. When peace is primary, purity of means gains supremacy.