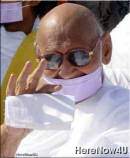 Saturday, June 21, 2008
The principles of mental health as well as those of the feeling of equality are one and the same. The feeling of equality can be achieved through tolerance only. It will always make the mind wholesome. And a wholesome mind faces the ups and downs of life with a smiling face.
The mind undergoes innumerable modifications. It changes every moment. It cannot be tied down to a single former state. It is always uncertain and unpredictable. Tolerance stabilises it. The feelings of tolerance and equality make it behave in a uniform way in all kinds of circumstances.
Ayurveda takes into consideration not only physical health but also mental health. The question as to who can be called a healthy man is answered thus: If the metallic contents of the body are well balanced, if the body has the required heat in it, and if it functions normally without being oppressed by elements which produce disease, if its sense-organs are not wayward but controlled and if it keeps the mind cheerful, the body can be said to be healthy.
If one is healthy, his body functions smoothly and his mind remains cheerful. Cheerfulness of the mind is not joy because joy is always mixed with sorrow. Joy and sorrow always follow each other by turns. Cheerfulness of the mind means purity of the heart, which is different from joys and sorrows. Purity of the heart is like purity of the sky. There are no clouds and dust in a pure sky. Joys and sorrows are like clouds. A healthy mind and a healthy body are inseparable. In the same way mental health and the feeling of equality are inseparable.
There are certain constant factors in each personality. Psychologists speak of personality parameter. They take the following factors into consideration in defining personality. The first is dress. A man's dress shows how much self-conscious he is. The cheerfulness of his mind can be measured in terms of his dress. The second is behaviour. In defining the personality of a man we have to see whether he behaves uniformly in the midst of joys and sorrows or whether he is erratic.
A mentally healthy man will never lose the balance of his mind in adverse circumstances. He will impress others with his modesty, tolerance and behaviour.