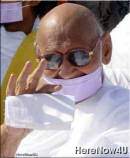 Saturday, March 22, 2008
Man performs different kinds of tasks. While one is independent in doing one's work, no one is totally independent in this world. When there is good motivation, work also can be done well. If the instrumental causes are not appropriate, there will be obstacles in the work.
There are five types of instrumental causes found in Bhagwati Sutra: Dravya karan (causes related to substance), kshetra karan (causes related to place), kaal karan (causes related to time), bhaav karan (causes related to emotions), bhav karan (causes related to existence).
Substance, space, time, emotion and existence -- these are five instruments. Among these five, time is an important auxiliary factor. Action and time are intertwined. The two cannot be separated from each other.
How should we utilise our time? The sun rises and sets. Night comes and goes. The day is 24 hours long. Man keeps on working. The very first step that we encounter before doing work is laying down a daily routine. A person who does not make right use of a daily timetable wastes most of his time. For success, it is necessary that each and every minute should be utilised. Those who have utilised each second of their life have become great people in the world. For that, it is necessary to fix a daily routine from the time of waking till the moment of falling asleep. Waking hours and sleeping hours are the two parts into which time has been divided. There should be a proper management of waking hours and sleeping hours.
What should be the time to wake up. What should be the time to sleep? Both have their own time. The saying goes that morning is whenever you awake. While this is fine, there is a particular time to wake up. This has been arrived at after a great deal of experience and intuition. The period from four am till sunrise is called brahma muhurt. This is a significant time to wake up. If we can understand it in scientific terminology, the time from four am till sunrise is the time for the secretion of the hormone serotonin. At that time serotonin is secreted from pineal gland, which is very useful to man from many points of view.
In today's world, it is very difficult for us to get up at four, as we sleep very late in night. If a person wants a successful, pleasant and peaceful life, it is necessary that he should rise in brahma muhurt. It is good to wake up one or two hours before sunrise. We should, therefore, sleep around 10 am.