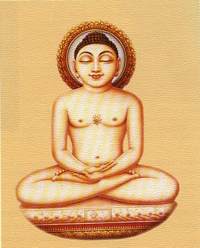 JVB London - Souvenir 2007
on
Ahimsa
Non-violence
A Key To Holistic Health
Once upon a time, Health went to man and said, "I went to many people and requested them to make me a friend but nobody did. The man said, "How foolish the people are! Come to me, I will make you my best friend." Health said, "I can be your friend only if you fulfil my three conditions. First, you will practise yoga every day. Second, you practise relaxation. Third, you practise Preksha meditation."
Man asked "What are Yoga, Relaxation and Meditation?"
Health said "Yoga keeps a man physically fit. The human body is like a machine. Just as a machine left idle cannot work efficiently, similarly an inactive body also gives rise to many physical ailments.Yoga helps keep the body constantly active and in perfect working order. Stress is like a fire that burns the mental health of a person. Relaxation is like water which extinguishes that fire and makes a person healthy.
Preksha meditation is a practice which purifies the emotions of man and therefore makes him emotionally healthy.
If these three are practised by man I can be his long living friend".
Man said "Of course, I will! But I need some guidance. Where can I get that?"
Health replied "The guidance can be received from Jain Vishva Bharati London."
For last four years, JVB London has been serving the community by running yoga classes. Some yoga experts like Om Chohan and Jiwan D.Jain hold the classes on weekends. In addition to daily classes, regular camps and workshops are held as well. Once a year, the JVB centre conducts a 3-day "Preksha Meditation camp" during Christmas and New Year's holidays that is immensely popular and invariably over-booked. The camp mainly includes Yoga, Relaxation, Meditation and also lectures on related topics together with question and answer sessions.
Some of the comments made by people who have benefited from yoga and meditation…
I used to lose my temper very quickly but now I am calmer than before. My weight has increased which I wanted.... Bharati Dattani

My B.P. before breathing exercises measured 150+ and after breathing exercises became 132…Ashok Gudka

I am 60% relieved from my knee and back pain and got more strength in both legs to walk longer distances…R.N. Jhavar

I have benefited a lot; my body was very stiff and painful but now it is very flexible. Samanijis have even given
me training to conduct yoga classes…Pushpa Halai
If these three constituents of health - Yoga, Relaxation & Meditation become a part of our daily routine, the day is not far when health will truly come knocking at our door.