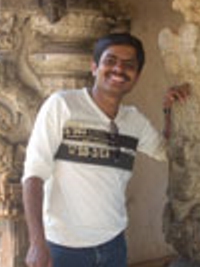 Lifetime
Born:
10.01.1980, Hubli, Karnataka, India
Contact
Phone:
91 9880818869
E-Mail:
Links
www.jainheritagecentres.com
About
Nitin H.P. is the key person behind the websites
Nitin H.P. was born at a place called Hubli in Karnataka on the 10th of January 1980 as the son of Dr. H.A. Parshwanath and Smt. H.A. Jayanthi. He completed his primary and higher primary education at the Rotary English Medium School Hubli and continued his high school education at Ideal Jawa Rotary High School, Mysore. After completing his Pre University education at Sharadha Vilas College, Mysore, he did his technical graduation in B.E. Mechanical at Vidya Vardhaka College of Engineering, Mysore.
Curently he works for the information technology giant Accenture Services Pvt. Ltd., Bangalore as a web developer. He has put up 2 plus years of working experience in internal communications over here. Prior to this he worked as a Web analyst and graphics designer for 6 months at IBM India Pvt. Ltd. Before joining IBM he was working as a freelance web developer and was involved in handling websites for different organisations. He has also worked as a local resource person for Discovery Channel in one of their projects.
He is being greatly influenced by his father Dr. H.A. Parshwanath since childhood and is keenly interested in dramatics and has acted in about 15 dramas in Kannada which include Kindarijogi, Araginabetta, Misfortune, Mother Courage and many more. He is also a good painter and is especially interested in landscape sketching. His other hobbies include philately, numismatics, swimming and cover design of books.