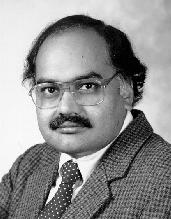 Contact
Phone:
(970) 491-7031
Fax:
(970) 491-2466
E-Mail:
Links
http://www.cs.colostate.edu/~malaiya/
About
Dr. Yashwant K. Malaiya is a professor of Computer Science at Colorado State University.

He has extensive published in the fields of VLSI fault modeling and testing, Software Reliability and Security Vulnerabilities.

He served as the General Chair for Institute of Electrical and Electronics Engineers (IEEEE).

In his own right he is a Jain scholar. He also maintains a

web site

of his own on Jain philosophy and literature.

He has published several articles on Jain history, and has been a speaker at several JAINA conventions in USA.

Dr Malaiya is the coordinator for office of Alumni Affairs for ISSJS.