Contact
E-Mail:
About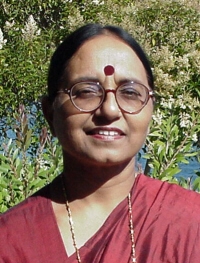 Professor Shashi Tiwari, winner of 7 gold medals for academic distinctions during student life, National Scholarship holder and winner of 4All India, 2 UP State awards and the Best Sanskrit Teacher award by Delhi Sanskrit Academy, has an M.A., Ph.D. in Sanskrit, with proficiency in German.
Professor Tiwari has 33 years of teaching experience in graduate and undergraduate classes at the University of Delhi. Her research areas include the Veda's and Upaniṣhads, Sanskrit Literature, Ancient Indian Culture, religion and philosophy.
She has authored 12 published books: Ṛigvedic Aprisūkta, Mundakopanishad, Isavasyopanishad, Surya Devta, Indian Religion & Culture, Sanskrit Lokokti Kosha, Upaniṣhadon ki Bodha Kathayen, History of Sanskrit Literature, Upaniṣhad Khanda, Ṛigvedic Studies and Homage to Sun. Eight other books, all on the Veda's, are under publication. She has to her credit about 100 papers published in various journals and the Encyclopedia of Hinduism. Dr. Shashi Tiwari has written and acted in several Sanskrit/Hindi plays. She has given several talks on 'All India Radio' related to Indian culture, mythology, festivals, education, women, and other general topics. She is associated with several International and national level of organizations in India, and is a member or office bearer of several academic committees at the Govt. of India Ministry of Education, University of Delhi.