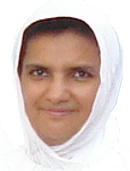 Lifetime
Born:
19.06.1976, Shree Dungargarh, Dist. Churu, Rajasthan
Terapanth Info
Diksha:
16.03.2005 by Acharya Mahaprajna
About
B.A., L.L.B., M.A (Science of Living)
Samani Maitri Pragya was born in Shree Dungargarh, Churu District, Rajasthan on 19th of June 1976. She was iniciated at Shree Dungargarh by H.H. Acharya Shree Mahapragyaji on 16th March 2005. She completed her BA , LLB From Nagpur University. She did her MA in Science of Living from Jain Vishva Bharati University, Ladnun. She also did a diploma in Naturopathy. Currently she is working in Tamkor.