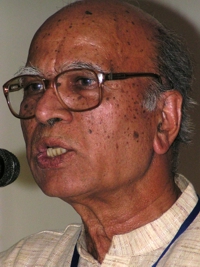 Lifetime
Born:
1937, Udaipur district
Address
55, Ravindra Nagar
313003 Udaipur, Rajsthan, India
Contact
E-Mail:
About
Emeritus Professor
Author of "JAINA DOCTRINE OF KARMA, The Religious and Scientific Dimensions", Published by: Dharam Darshan Sewa Samsthan, Udaipur, India.
Born in Udaipur district Dr. Narayan Lal Kachhara passed B.E. (Mechanical ) in 1961, M.E.(Mech) in 1969, and Ph.D. in 1973 from University of Salford, UK. He taught at University of Jodhpur, Malviya Regional Engineering College, Jaipur, University of Salford UK, Harcourt Butler Technological Institute, Kanpur, University of Aden, Yemen. He was Director of Kamala Nehru Institute of Technology, Sultanpur and Principal of Motilal Nehru Regional Engineering College, Allahabad. He also served as expert and advisor to various institutions, Universities, Organizations and Boards in India and abroad.
Since retirement in 1997 he has been working for religious and social cause. Scientific spiritualism is his fond subject. He is particularly exploring the scientific nature of Jain philosophy on which he has authored half a dozen books. He is currently engaged in interpreting Jaina beliefs and theories, particularly Doctrine of Karma and Duality, in scientific perspective.
He was invited by Parliament of World's Religions at Melbourne in Dec 2009 and presented a program on Jainism.
He has lectured on Jain philosophy in many National and International conferences and forums.

Affiliations:
Secretary, Dharam Darshan Sewa Samsthan, Udaipur
Convener: Jain Philosophy and Science Study Center, Udaipur
Honours:
Jain Agama Manishi (Scholar of Jain Scripture) Award 2008, by Jain Vishva Bharati, Ladnun, and M.G.Saraogi Foundation, Kolkata.
Arhat Vacan Purushkar for second best paper 2008, by Kundakunda Jnanpitha, Indore