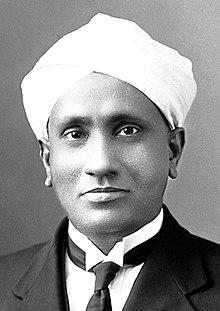 Lifetime
Born:
07.11.1888, Thiruvanaikoil, Tiruchirappalli, Madras
Passed away:
21.11.1970, Bangalore
About
Sir Chandrasekhara Venkata Raman (Tamil:சந்திரசேகர வேங்கட ராமன்) (7 November 1888 – 21 November 1970) was an Indian physicist born in the former Madras Province in India presently the state of Tamil Nadu, who carried out ground-breaking work in the field of light scattering, which earned him the 1930 Nobel Prize for Physics. He discovered that when light traverses a transparent material, some of the deflected light changes wavelength. This phenomenon, subsequently known as Raman scattering, results from the Raman effect. In 1954, India honoured him with its highest civilian award, the Bharat Ratna.
Known for:
Raman effect
Spouse:
Lokasundari Ammal (1907–1970)
Awards:

Knight Bachelor (1929)
Hughes Medal (1930)
Nobel Prize in Physics (1930)
Bharat Ratna (1954)
Lenin Peace Prize (1957)
Fellow of the Royal Society