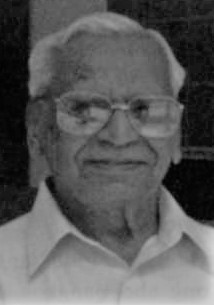 Lifetime
Born:
27.12.1919, Mahuva, Saurashtra, India
About
His full name is Mansukhlal Amritlal Doshi. He was born at Mahuva in Saurashtra on December 27 1919. After initial education at Mahuva his family migrated to Bhavnagar where he completed his High School and College education. Thereafter he got M.A. degree with Economics and Political Science from University of Bombay in 1947.
He joined the State Govt, service in 1948 and retired in 1976 as Assistant Commissioner of Industries. During that period he had to work in various capacities. While he was Export Promotion Officer of Gujarat, he conceived the idea of having Export Corporation for the State and brought into being Gujarat Export Corporation. He also used to write speeches and articles for high dignitaries of State right from Chief Minister downwards.
He came in contact with writings of Shrimad Rajchandra through Jiyankalā in 1974. His interest therein grew after he went to U.S. in 1979. That resulted in writing several books, which can be seen from the list of his books on the pre-page. Moreover, he has translated Apoorva Avasar, Amoolya Tattvavichar, Chha Padano Patra, Kshamāpnā and various letters of Shrimad. He has also written at length on Dash Laxana Dharma, Yog, Call for Unity of Jains, etc. and has devised English Pratikraman, Wedding Ceremony etc.
He is the founder-editor of monthly Jain Darshan since 1990 and a regional editor of Jain Digest since 1995. JAINA has honored him with Jain Rama award in 2005.
He has traveled widely in India and U.S. and has visited Europe, Japan, Hong Kong and Bangkok. He has three sons, one daughter, eight grandchildren and one great grand child.
He is in good health and is active at the age of 88.
Other Publications by the Translator
Essence of Jaiinism
Spiritual Code and Restraints
Sāmāyik
Shatrunjay, A Pilgrimage Jain Stories of Ancient Times Dev Vandan
Life and Mission of Shrimad Rajchndra Atmasiddhi, Adhyātmgeetā & Ātmopanishad Biography of H.H. Laghurājswāmi (Under Print) Apoorva Avasar (Under Print)
The first six books can be obtained from Indira Mansukhlal Doshi Memorial Trust
931 Goldenrod Lane, Lake Forest IL 60045 U.S. the seventh from Shrimad Rajchandra Ādhyatmic Sadhnā Kendra, Koba, Dist. Gandhinagar, and the remaining from Shrimad Rajchandra Ashram, Agās.