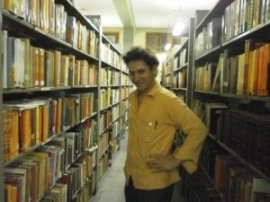 Address
9000 Gent, Belgium
Contact
E-Mail:
Links
http://www.jainastudies.ugent.be/TilloDetige
About
Faculty of Arts and Philosophy,
Ghent University
Research
Tillo Detige is currently (2015) working on a PhD in the framework of the Research Project 'North Indian Digambara Jainism (13th – 17th century): the age of the Bhaṭṭārakas'. His other interests, academic as well as non-academic, include Buddhism, Vipassana meditation, Jainism, Indian Sufism, Hindi, Indian classical music, Indian vegetarian cooking and birdwatching.
Publications:
Detige, Tillo. (2013). "Een haan van deeg en een hert van goud: verhalen over karma en hergeboorte uit jaïnisme en boeddhisme." In India. Een wereld van verhalen, eds. Eva De Clercq and Saartje Verbeke. Gent: Academia Press.
De Clercq, Eva, and Tillo Detige. (forthcoming). "Colossi and Lotus Feet: Paṇḍitas and Bhaṭṭārakas in the north Indian Digambara Legacy." [In a volume on Jaina manuscripts and book illustrations - dedicated to the memory of Paolo Pianarosa], ed. Julia A. B. Hegewald. Berlin: EB publishers.
Papers & presentations:
"Taking stories seriously: Jaina narrative literature and re-modeling the study of Jainism (An essay)." Presented at the Seventh International Würzburg Colloquium "Perspectives of Indian Studies" (2013) – Exploring Jain Narrative Literature (30th Sep. -1st July 2013, Würzburg).

"India, religies & verhalen - Verhalen over karma en hergeboorte uit boeddhisme en jaïnisme." Lezingenreeks 'India. Een wereld van Verhalen', Universiteit Gent, 13th Nov 2013