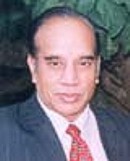 Lifetime
Born:
20.10.1942, Alwar
Address
302005 Jaipur, Rajasthan, India
Contact
Phone:
0141-2222519
Mobile:
9414066665
E-Mail:
Links
justicenagendrakjain.com
About
President, Digambar Jain Atishaya Kshetra Shri Mahaveer Ji
Former Chairperson, Rajasthan State Human Rights Commission, Jaipur
Former Chief Justice, Madras and Karnataka High Court
Chairperson, Rajasthan State Human Rights Commission
Born on 20.10.1942 at Alwar S/o Late Justice J.P. Jain, had primary education in Happy School, Alwar, secondary education in Mahaveer Digambar Jain School, Jaipur and college education in Maharajas College, Rajasthan College at Jaipur. Justice Jain did his LLB from Jodhpur University, Rajasthan. An accomplished sportsman during school and college days and recipent of best sportsman award from Rajasthan and Jodhpur Universities; Justice Jain had beena State Badminton Champion and has represented the State in Inter University in Nationals and Interstate Badminton Championships from 1955 to 1968.

Enrolled as an Advocate on 26.01.1968 he practiced in Civil, Criminal, Constitutional, Writ, Company and Tax Matters in the High Court of Rajasthan. He had also been a part-time Lecturer in Jodhpur University, Secretary of the Rajasthan High Court Bar Association and Rajasthan Bar Federation, Life Member, Bar Association of India and Member of Governing Council-1984. He was member Bar Council of Rajasthan since 1971 and Chairman during 1985-86, Member, Bar Council of India and India(trust)m and a Member National Law School of India University from 1987 till elevation. Justice Jain a well traveled person has visited U.S.A., Europe and Canada in 1983-84.

Justice Jain was Appointed as Judge in the Rajasthan High Court on 20.07.1990. After elevation, he was nominated by the Hon'ble Chief Justice of India as a Member, Academic Council of National Law School of India University, Bangalore for 3 years (1993-1996). Subsequently he was transferred to Madras High Court on 19.12.1997. He Was Chairman of Advisory Board under Criminal Law Amendment Act from 03.03.1998 to 07.01.1999, Presiding Officer of the Tribunal Under the Criminal Law Amendment Act from 08.01.99, Executive Chairman of Tamilnadu State Legal Service Authority. Later on he was appointed as an Acting Chief Justice on 22.01.1999, thereafter remained as Acting Chief Justice twice till permanently appointed as Chief Justice of Madras High Court on 13.09.2000. He was also Patron-in-Chief of Tamilnadu State Legal Service Authority till transferred as Chief Justice of High Court of Karnataka on 31.08.2001.

Justice Jain was Member in 3rd Meeting of the Judicial Group on strengthening Jucicial Integrity attended by Chief Justice Group attended by Chief Justice of different countries during Janauary'2003 at Colombo.

He had also been Member with two Chief Justice in the Committee constituted by Chief Justice of India to examine the recommendations of Arrears Committee Report 1989-1990 (Justice Malimath Committee Report) and First National Judicial Pay Commission (Justice K. Jagannath Shetty Commission) Report. Justice Jain on superannuation as Chief Justice of Karnataka, on 19-Oct.-2004 has also worked as Chairperson, Himachal Pardesh Human Rights Commission from 24.11.2004 and Lokayukta till resigned from 15.07.05, and now presently

He is working as Chairperson of Rajasthan State Human Rights Commission, Rajasthan from 16.07.2005.

The permanent residential address of Mr. Justice N.K. Jain is R-3, Tilak Marg, C-Scheme, Jaipur-302005, Telephone No. 2222519, Mobile 94140-66665.
2011 President, Digambar Jain Atishaya Kshetra Shri Mahaveer Ji