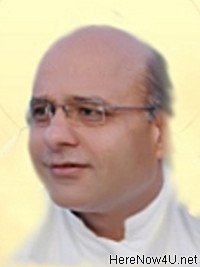 Lifetime
Born:
1966, Bhuj, Gujarat, India
About
Born 1966 in Bhuj, (Kutch) Gujarat, he took Diksha in the Terapanth order at the age of 20. For 18 years he was member of the Saman order. In November 2004, Shrutpragyaji left the Saman oder and took the name Swami Shrutpragya.

He travelled in the United States since December 2004 and was giving lectures on health management and how to prevent diseases through proper lifestyle. In India, he is based in Rajkot, Gujarat, where he is continuing his work of promoting proper life style.
In November 2005, he got the permission from his Guru Acharya Mahaprajna to continue to work for the 'Life' institution in Rajkot, Gujarat, to promote Preksha Meditation and Science of Living.
Foundation:
Shrutpragya Swamiji has established the "Peace of Mind Foundation" in Rajkot, Gujarat and the "Peace of Mind Yogic Center" in USA. The center in Rajkot aims to fight vices, educate students on creating a better lifestyle through inner peace and yoga, and help keep families united. Swamiji leads several programs through his foundation including health counseling, spiritual camps, yoga and meditation seminars, as well as scholarships for students.
website:
newsletter:
Postal Address (USA)
:
Peace of mind Yogic Center
C/O Sonal Shah
11701 Lemens Sugar CV,
Austin,
TX 78750
Email:
Phone # 281-305-8586
Postal Address: (INDIA):
Peace of Mind Foundation
'Abhavalay',Vinayak Vatika,
Opp. Madhapar bus stop,
Jamnager Road,
Rajkot
PIN code 360006
Gujarat
India.
Email: