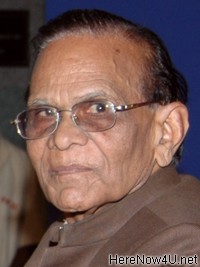 Lifetime
Born:
08.09.1928
Address
7-B, Talwandi, Commerce College Main Road
324005 Kota, Rajasthan, India
Contact
Mobile:
09460682465
E-Mail:
About
Born on 8th September, 1928 Shri S.M. Jain had his education at the then Government Herbert College, Kota. From 1949 to 1951 he worked as teacher (Maths) in the then Govt. Girls Inter College, Kota and Govt. High School, Bhawanimandi. Selected by Rajasthan Public Service Commission he had his Forestry Training at Forest Research Institute & Colleges in 1951-53 and again in Refreshers Course in 1967.
Shri S.M. Jain, is a retired Forest Officer. He worked on responsible and challenging posts in State Forest Department, covering every sphere of forestry activity. After retirement he did his innings in a leading paper mill, Rajasthan Tribal Area Development Cooperative Corporation (RTADCC), Apex N.G.O. and Indian Sugar Mills Association (ISMA), New Delhi. In RTADCC he started and organised first ever from the scratch the collection, storage and marketing of over forty different minor forest products in six tribal districts. In ISMA he planned, coordinated and guided various widely acclaimed rural development activities of 180 member sugar factories spread all over the country. He was member of four Sub Committees of the Federation of Indian Chambers of Commerce and Industry (FICCI) on behalf of ISMA and represented the President of FICCI in the Board of Governors of Indian Institute of Forest Management (IIFM), Bhopal. His project, "Forest for Food" was sanctioned by Department of Science and Technology and Ms. Sneh Sharma has done Ph.D. on it. Subsequently he started his consultancy services and worked as consultant in various industrial houses and mining firms and was instrumental in raising large scale plantations on wastelands, mined areas and waste dumps. The Government of Rajasthan awarded him and also the Associated Stone Industries Ltd., Ramganjmandi for the meritorious plantation work.
Since 1989 he is in the panel of Consultants in Government of India, Ministry of Environment and Forests (NAEB) and also in the Ministry of Rural Development and Employment. On assignments from these Ministries he has so far carried out thirty two evaluations and survival rate studies of tree planting, afforestation, soil conservation and watershed projects implemented by the District Rural Development Agencies, Divisional Forest Officers and Apex NGOs in Haryana, Punjab, Gujarat, Rajasthan and Madhya Pradesh and Uttar Pradesh. NAEB gives such assignments to retired forest officer not below the rank of Chief Conservator of Forests.
"Rajasthan Ke Vanya Pashu", a book written jointly by him and late Shri Mahendra Prakash was first ever pictorial and descriptive documentation of wild animals of Rajasthan and was published by Public Relations Department, Government of Rajasthan. His two more books "Pristine Jainism" and "Vanpal" have been published by Parshvanath Vidhyapeeth, Varanasi and Sahitayagar, Jaipur respectively. This Environment Ethics is his fourth book. He has written over seventy technical and general articles published in prestigious dailies and journals and have presented papers in national and international seminars. He is associated with charitable, social welfare and literary organisations.
Publications:
Rajasthan ke Vanya Pashu: It is the first ever pictorial and descriptive documentation of wild animals in Rajasthan and was published in 1970 by the Department of Public Relations, Govt. of Rajasthan, Secretariat, Jaipur.


Vanpal: A novel in Hindi, depicting the inside story of forest department, with introduction by late Dr. P.C.Vijayvargiya, ex Head of Department, Vanasthali Vidyapeeth and was published in2004 by Sahityagar, Dhamani Market Gali, Chaura Rasta, Jaipur.


Pristine Jainism: Elaborating fundamentals of Jainism, beyond rituals and superstitions, with foreword by late Dr. L.M.Singhvi and published in 2003 by Parshvanath Vidyapeeth, I.T.I Road, Karaundi, Varanasi -221005.


Environmental Ethics: With foreword by Dr. Karansinghji, ex-ruler, J&K and published in 2006 by Prakrit Bharati Academy,13-A,Main Malviya Nagar Jaipur-302017.


Essence and Substance of Yoga: With foreword by Dr. Kiran Bedi and published in 2010 by Prakrit Bharati Academy, Jaipur.


Collection of my selected articles in Hindi (Title- Jain Dharmavalambiyon ki Vichlit Astha ka Sthitikaran): Published in 2010 by Sarasvati Uchchstariya Addhyana Evam Anusandhan Sansthan, B-417, Pradhan Marg, Malviya Nagar, Jaipur-302017.


Collection of my selected articles in English: Being published by Dr. P.C.Jain, Director, Jain Study Centre, Jaipur.


Environmental Doctrines of Jainism: With foreword by Muni Mahendra Kumarji of Ladnun, being published by Prakrit Bharati Academy, Jaipur.


Indelible Footprints (A Novel): In progress.