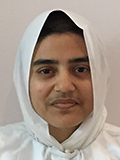 Lifetime
Born:
14.07.1980, Titlagarh, Orissa, India
Terapanth Info
ID:
163
Diksha:
15.02.2003, Mumbai by Acharya Mahashraman
Address
India
About
Qualification
:
M.A. in Philosophy and comparative Religion, Jain Vishva Bharati Institute, Ladnun
M.A. in Science of Living, Preksha Meditation and Yoga, Jain Vishva Bharati Institure, Landun
Intensive Training Course in Sanskrit, Prakrit, Indian Philosophy and Comparative Religion
B.A., Sambulpur University
Current Status
: Disciple of H.H. Acharya Shree Mahashramanji
Capabilities
Expertise in languages : Hindi, English, Oriya and can understand Sanskrit and Prakit.
Expertise in Yoga & Meditation
Expertise in Indian Philosophy, specifically in Jain Philosophy
Skillful in conducting camps, workshops on following subjects:

Jain Philosophy
Yoga & Preksha Meditation
Value Development
Personality Development
Time management, Stress management, Self-Management, Anger management
Happy and Harmonious Family
Achievements
Practising Spirituality in Terapanth religious order for last 12 Years
Participated in National seminar at Delhi University
Participated in Refresher course organized by Jain Vishva Bharati Institute
Accompanied in Anuvrat Samkalpa Yatra at various places of Maharashtra (on the occasion of Acharya Tulsi Birth Centenary)
Countries Traveled
USA, UK, Nepal, and many states of India.