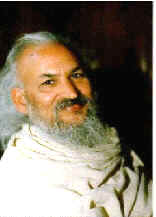 Lifetime
Born:
15.06.1926, Sikhopur, Hariyana, India
Passed away:
22.04.1994, New Delhi
Sthanakvasi Info
Diksha:
20.04.1942
About
Acharya Sushil Kumar was born into a Hindu Brahmin family on June 15, 1926 in a small village of Sikhopur, Hariyana. The village was later named Sushilgarh in Guruji's honor. He left his family and home at the age of seven to live with a Jain monk Shri Chotelalji Maharaj, who later became his living religious guru.
He pursued an academic career and obtained a degree of Shastri, Acharya, Vidya-Ratna, and Sahitya-Ratna. He also mastered classical Indian and yogic philosophies. He did not learn yogic systems from any master. His knowledge was realized through direct experience, and his powers were awakened through the grace of past lives.
Acharya Sushil Kumar was also widely known in the Jain community for his unprecedented and highly controversial international tour which began in 1975. Jain monks are only permitted to travel solely by foot, yet Guruji recognized the wisdom in breaking from this ancient restraint in order to share the Lord Mahavir's message of nonviolence, peace and oneness of all living beings with the world at large.
| | |
| --- | --- |
| Name at the time of birth: | Sardar Singh |
| Name given by his guru: | Shri Sushil Kumar Ji Maharaj |
| Date of birth: | 15th June 1926 |
| Place of birth: | Shikhopur (Sushilgarh) Haryana |
| Name of his father: | Shri Sunhera Singh |
| Name of his mother: | Smt. Bharti Devi |
| Caste: | Brahmin |
| Year of renunciation: | 1934 |
| Name of his guru: | Shri Chhote Lal Ji Maharaj |
| Date of diksha: | 20th April, 1942 |
| Place of Diksha: | Jagraon (Punjab) |
| Date of Acharyaship: | 21st April, 1980 |
| Punya Tithi: | 22nd April, 1994 |
Possessing all the qualities of a poet, writer, historian and speaker, which are essential for the life of refined knowledge and culture, he was thus able to give a new direction and dimension to whatever literary work he undertook. He has made commendable contribution to the literature by writing following books and texts, e.g.:
History of Jain Religion

Commentary on Shrimad Bhagwat Geeta

Bhagwan Mahavir

Words of Mahavir

Ahimsa Diary

Prakrit Grammar

Kundalini Yoga in Jain Religion

Jain Yoga

Healing and Meditation through Jain Religion

Science of Namokar and Matrika Vidya

Science of halo (Abha)

Science of colour and sound

He started various journals and magazines, e.g.:
Naya Sahitya

Dharam Bhaskar

Bhaskar Vani

Vishwa Dharam

Arham News Letter

Cosmic Science

Sidhachalam

Arhat Jain Times